Bronco Mentoring Program
Christopher Merritt, '09, Marketing Management 
It's been almost 10 years since this alumnus graduated, and he continues to appreciate his growing connections and involvement at the University. Chris graduated in 2009 from the College of Business Administration. He received a double major in International Business and Marketing with a minor in Management and Human Resources.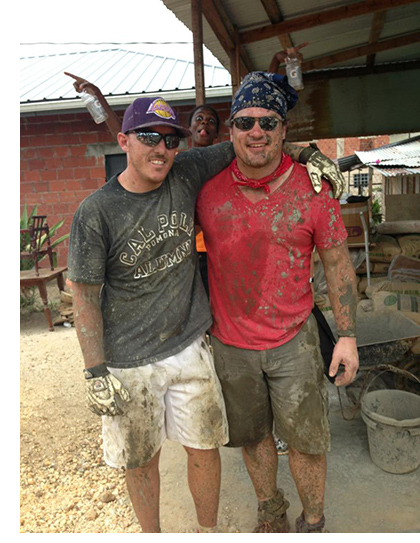 He prides himself on his campus involvement during his undergrad days and still loves staying connected today. A few of his roles on campus  included; being selected as a Bronco Stampede Ambassador, Vice President of the Student Alumni Association, VP of Recruitment for American Marketing Association, and being a Brother Mentor in his fraternity Sigma Phi Epsilon. 
During his Senior year he found a new passion within Habitat for Humanity. Being a Global Village Team Leader has allowed him opportunities to travel around the world raising funds for better living conditions while building homes for families living in poverty. He typically travels alone leading groups of 8-15. His builds have been in; Haiti (Les Cayes), Dominican Republic (Santo Domingo), Trinidad and Tobago, Philippines (Quezon City), Alaska (Anchorage), Guatemala (Retalhuleu), Thailand (Chiang Mai) and India (Bangalore). Within the next five years he plans to add to the list; Cambodia, Portugal, Argentina, Kenya, and Zambia. 
It wasn't too long after he stepped of the stage and into an interview where he quickly became blessed he spent time in the Career Center. He describes how the Advisers impacted his career by offering up services like; Career Workshops, Job Search Strategies, Resume writing, Mock interviews, and tips on how to manage anxiety. 
"I valued every moment I was with them because you could tell they cared about my future" - Chris. 
As of today Chris has spent almost 10 years in the Human Resources field and specializes as a Senior Talent Acquisition Sourcing Specialist. He is a subject matter expert in the area of recruiting and finding the top talent in the industry. And with over 17,500 LinkedIn connections and more than 2,000 of them being tied to the University you can tell he loves being a Mentor to past and present students. 
"Being apart of the new roll out to the Bronco Mentor Program through Handshake has been awesome! To see and hear the initial presentations in Professor Lydia Chen Shah Marketing Class you knew that this program was going to be nothing shy of advanced innovation. They took the time to understand how to merge past and present generations together using social media to form a larger network through University connections. In today's world it's not about what you know, but who you know. And with our Alumni presence through LinkedIn alone closing in on 108 thousand, I can almost guarantee that we'll know your hiring manager or interviewer before you do.
Join Handshake today and get a Mentor for your future tomorrow!"