2022 Distinguished Alumni Recipients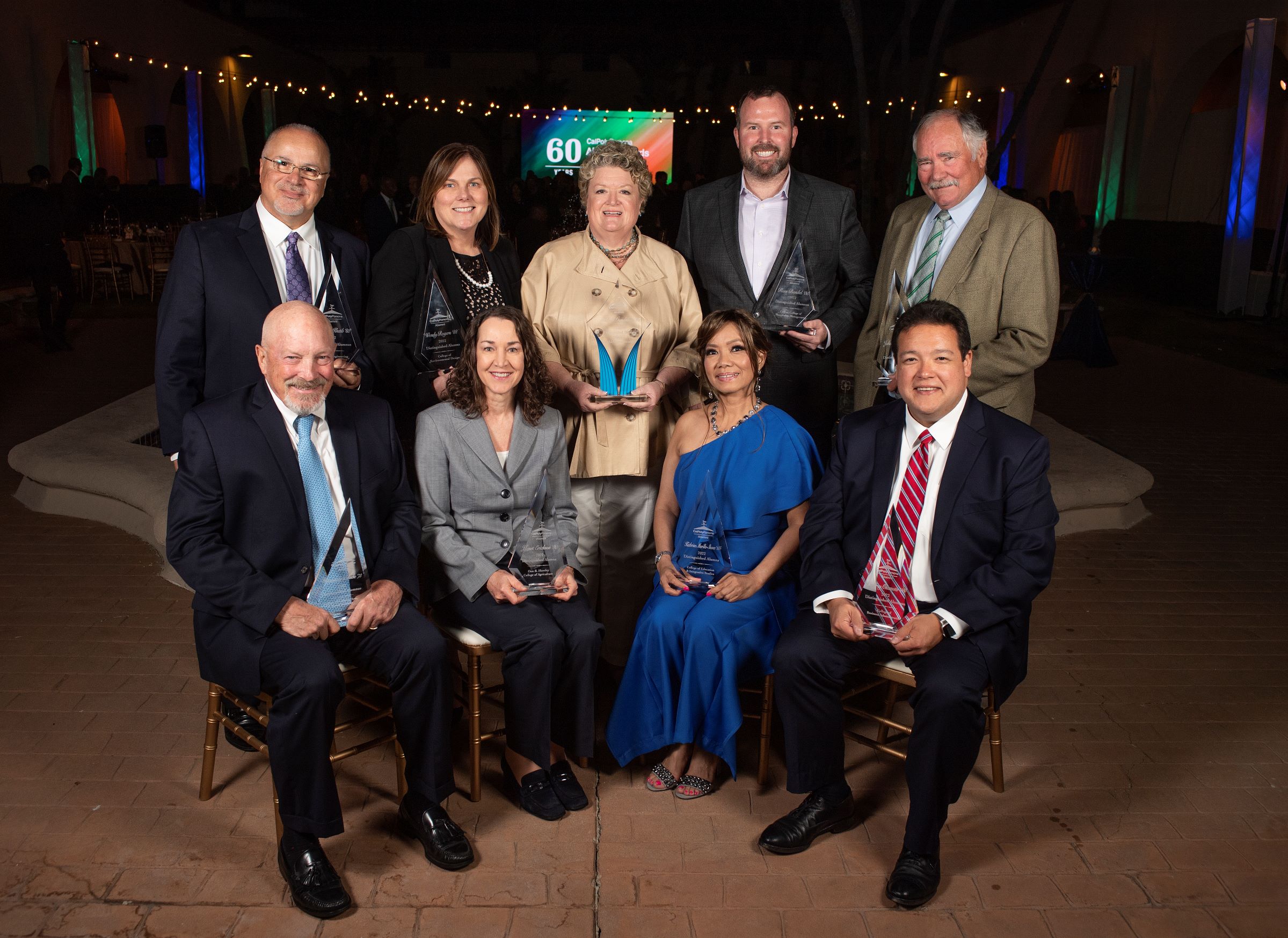 (From left to right: Ahmed Al-Khatib, Wendy Rogers, Michele Gendreau, Russ Bendel, John Wiegmann, Francois de la Roche, Janet Erickson, Katherine Morillo-Shone, Geoffrey Okamoto)
Michele Gendreau '83
Director, Food & Beverage;
Disney Parks, Experiences & Products
Michele Gendreau graduated from Cal Poly Pomona's School of Business in 1983 with a degree in hotel & restaurant management, and for the last 15 years, has been in leadership roles for the Walt Disney Company.

She is now the director of Food & Beverage Experience Integration for Walt Disney Parks & Resorts, U.S., responsible for strategic development, revenue growth and standards integration for the more than 150 food and beverage locations within Disneyland, California Adventure and the Downtown Disney District.

Just think about it: this Cal Poly graduate oversees all the drinks and food sold at the Happiest Place on Earth.

"Food at its basic core is sustenance," Gendreau says. "But the win comes from enjoyment and memories created while experiencing it with others, or in celebrating it."

She lived at her family home in La Verne so she could commute to campus. She was involved in the ski club and Rose Float Organization, where she "met some of my dearest friends." For Pi Sigma Epsilon, she worked in the Book Nook, where students could sell their textbooks to other students, and handled the budgets, funding and programming for the Associated Students. She also worked at the Fruit and Crop Unit packing and selling fruit to the public two or three days a week.

She values the learn-by-doing philosophy at Cal Poly Pomona, which exposed her to real-life experiences that she could apply to her career. She managed dining services at University of Southern California and San Jose State University. Her Disney roles have involved culinary development with storytelling, driving and developing cast and guest experiences, retail merchandise management and long term master planning  throughout various restaurants at the Disneyland Resort in Anaheim, Walt Disney World Resort in Orlando, Florida and Aulani, a Disney Resort & Spa in Kapolei, HI.

 Gendreau says she has never forgotten the value of her education at Cal Poly Pomona. Today she is involved with the Rose Float Alumni Association and is on the advisory boards of Collins College of Hospitality Management and the Cal Poly Philanthropic Foundation for the opportunity to give back "and to see others grow." For video of award winner View video of Michele Gendreau on YouTube.

---
Janet Erickson '80
President
48 North Supply Chain Consulting
Janet Erickson claimed her degree in food and nutrition in 1980, and has since managed quality assurance, procurement and distribution management through supply chains for several restaurant corporations. Most people outside the food business didn't know what a supply chain was. Then COVID-19 came along.

A food supply chain refers to the multiple steps that move food from the farm to the kitchen table. The economic shutdowns during the pandemic resulted in nationwide shortages and delivery delays.

"The restaurant industry is dynamic, but the supply chain is at the core of everything," Erickson says. "COVID-19 was a wake-up call for the CEOs, who are realizing the importance of having a strong supply chain team."

Erickson credits her parents for encouraging her and her two sisters to have careers, and Cal Poly for preparing her to thrive in the working world.

"Our parents raised us to believe we were capable of doing whatever we set our minds to do," she says. "There was more talk of careers than in marrying and having children. As an adult, I realized my upbringing wasn't typical for girls at that time."

Erickson recalls the classes at Cal Poly Pomona that had the biggest impact on her was a series on quantity food production, taught by Ruthanna A. Davis.

"We had to design a blueprint for a food production facility, including everything from equipment to the menu. I still have the blueprint," she says.

Erickson has worked for Denny's Restaurants, Carl Karcher Enterprises, Del Taco and Brinker International, and has been active in national restaurants and produce marketing groups.

"I didn't realize when I was starting out that women didn't have the same prospects for advancement as men, and I am proud of what I accomplished," she says. That includes becoming the first female chairman of the Produce Marketing Association in 2006.

When Erickson retired, she moved with her husband to Hayden, Idaho, and started the 48 North Supply Chain Consulting business.

Her advice to current students?

"Work hard and ask good questions; college is where you start to learn who you are going to be." For video of award winner View video of Janet Erickson on YouTube.

 
---
Geoffrey Okamoto '08
First Deputy Managing Director,
International Monetary Fund
Geoffrey Okamoto graduated from Cal Poly Pomona with a degree in computer information systems in 2008. Following that, he earned a graduate degree in public policy from Georgetown University and has worked as a consultant to the financial sector and on regulatory, tax, trade, and international economic issues in Washington, D.C for the U.S. Congress and the U.S. Treasury.

He is now the First Deputy Managing Director of the International Monetary Fund (IMF), the Washington, DC-based organization of 190 countries charged with fostering global monetary cooperation, maintaining financial stability, and promoting economic growth.

Okamoto's appointment as the IMF's second in command in March 2020 came just as the COVID-19 pandemic shut down economies worldwide.

"My first day in my post was at home, with the pandemic wave rippling across the world, and the global economy being tossed into chaos," he recalls.

The IMF provided critical financial assistance to 100 countries after the onset of the pandemic, helping to sustain lives and livelihoods and prevent poverty while national economies stumbled and froze.

"Public service has given me an opportunity to impact the lives of millions, if not billions of people globally," Okamoto says. "Few professions and positions allow for this kind of impact."

Economics and finance were not Okamoto's first career choice, and he says most people think it is peculiar that his college degree is in technology.

"But I think it is a huge benefit that I was trained at Cal Poly in a very systematic approach to diagnosing and solving problems," he says. "This helps you break down large and seemingly insurmountable problems into smaller ones and imbues you with a mindset that is oriented towards finding workable solutions."

Okamoto also credits Cal Poly's integrated General Education (IGE) program with helping him understand the interactions and interdependencies that make the world work.

He recently made a large, multi-year gift to the Cal Poly Student Managed Investment Fund.

"It's something I wish had existed when I was a student," Okamoto says. "There is no substitute for practical experience managing real money, especially in the unusual economic and financial market environment we're currently in." For video of award winner View video of Geoffrey Okamoto on YouTube

---
Dr. Kathrine Morillo-Shone '15
Director, Equity and Professional Development,
Pomoma Unified School District
Kathrine Morillo-Shone was born, raised and educated in Manila, the capital of the Philippines. She was the youngest of three children in a solid working-class family. Her parents believed that education was the greatest gift they could provide for their children and worked hard to pay for private schools from the elementary grades through college.

"I've always been a curious child who loves to learn, eager to help with chores at home and unwavering in my desire to please my parents and all those who tirelessly devoted their time to care for me and my siblings," she says.

Her older sister's health struggles meant frequent hospital stays and an inordinate amount of time their parents spent on caring for her, so it was up to Morillo-Shone to handle a lot of household responsibilities. But this self-described overachiever says she maintained honorable academic and arts distinctions while juggling duties at home.

Morillo-Shone moved to the United States in November 1992 to find her passion and purpose and to better support her family. In 1998, she joined the Pomona Unified School District, and has served in varied roles. She currently is the director of equity and professional learning.

In 2013, she enrolled in the educational leadership doctorate program at Cal Poly Pomona. It seemed the natural next step in her personal and professional growth, she says, to gain the expertise to propose and implement meaningful and sustainable reforms in classrooms, schools and school districts, particularly for underserved students and underutilized adult learners.

Completing the two-year course of study "allowed me to envision a clearer 'big picture,' acquire sharper analytical skills and gain the confidence necessary to address major problems in schools," Morillo-Shone says. She credits the program's leader, Dr. Betty Alford, as an equity and social justice role model.

Morillo-Shone serves on the program's advisory board.

"I owe a huge part of my success to Cal Poly Pomona, and I will never cease to pay it forward and support those who decide to follow a similar path," she says.

Morillo-Shone lives with her parents, husband Scott and son Jonathan, a third-year student at Cal Poly Pomona, in Fontana. For video of award winner View video of Dr. Kathrine Morillo-Shone on YouTube
---
Ahmed Al-Khatib '83
Founder & Executive Chairman,
AGILINE Software, LLC
Ahmad Adel Al-Khatib came to the United States from his native Lebanon at 19 to study electrical and electronics engineering at Cal Poly Pomona. He graduated in 1983. The next year, while studying for master's degrees in engineering and business administration, he started working with a friend selling personal computers. That launched his passion for computers and information technology, which he shared with students as an instructor at nearby Mt. San Antonio College from 1985 to 1990.

In 1986, Al-Khatib started the company that would become SIGMAnet Inc., which offered computer networking and consulting services to small and medium-sized companies. It grew to become one of the largest information technology companies in California, with more than 400 employees offering consulting, solutions and services to mid and large-sized companies, government agencies and educational institutions. It generated more than $250 million a year.

 In 2015, he sold SIGMAnet. Today he is chairman and CEO of Agiline, LLC, a software company that builds applications integration and business intelligence solutions for multiple industries. Al-Khatib oversees the vision and direction of the company, and is responsible for corporate development, building strategic partnerships and broadening business relationships.

His business success has allowed him to support education, healthcare and nonprofit initiatives through his family's foundation, including the Cal Poly Pomona's College of Engineering Leadership Development Initiative.

Al-Khatib has fond memories of his college days.

"It is all about giving back to Cal Poly Pomona," he says. "The College of Engineering's focus on applied research and practical problem-solving form a critical foundation for the success of all businesses, as they did in my own endeavors."

His advice to current students who wish to pursue a degree at Cal Poly Pomona?

"Have passion, ability and focus – together, they will bring success."

Al-Khatib lives in Newport Coast, CA, with his wife and six children.

For video of award winner View video of Ahmed Al-Khatib on YouTube
---
Wendy Rogers '88
CEO
LPA Design Studios

A very young Wendy Rogers at age 7 discovered her calling on a visit to a new home under construction in Studio City. A friend of her father's was the architect who designed it.

"That visit changed my life," Rogers said. "I knew I would become an architect."

Of the three California Universities that offered architecture majors, Rogers chose Cal Poly Pomona. It was affordable, she could keep a part-time job and commute to school for classes.

"Michael Folonis was my first- and fourth-year studio instructor," Rogers recalls. "He had a reputation for being tough. He challenged me to think about design differently. Fred Koeper, who taught architectural history, was brilliant and terrifying" as well as a stickler for details.

Rogers said Cal Poly Pomona taught her to think conceptually and to solve problems. The architecture degree is a highly competitive, five-year program.

"I appreciate that Cal Poly Pomona makes this commitment," Rogers says. "It is still the most affordable architecture program in the state, and in my opinion, the best in the state. It also is the most diverse. This university is reaching students who would otherwise not be able to pursue this profession."

Rogers was named outstanding second-year student and was one of six students named as the President's Council Scholars. She graduated in 1988 after completing an internship at LPA Design Studios, in Irvine. The company president hired her, and she has remained there for her entire career. In 2017, Rogers was appointed CEO.

"At LPA, we are changing an industry," she says. "Our team of architects, landscape architects, interior designers and engineers work together to achieve more informed, higher performing designs. We use research and data to develop sustainable design strategies for long-term environmental benefits. We are changing lives by design."

Rogers is a member of the program's advisory committee, and LPA has supported an integrated studio on campus.

Rogers and her husband, Scott (CPP '84), have two children and live in Anaheim Hills. For video of award winner View video of Wendy Rogers on YouTube.
---
Francois de la Roche '73
Country Director,
International Medical Corps
Francois de la Roche is passionate about helping people help themselves.

And that is precisely what he did for 40 years following his 1973 graduation from Cal Poly Pomona. He devoted his life to the field of humanitarian response, saving lives and, as he puts it, "making the world a bit safer and better for millions of displaced refugees and those affected by war and natural disasters."

His mission began when, as a newly minted college graduate, he reported for duty as an officer in the U.S. Marine Corps. After that, de la Roche was posted around the globe for various international relief and development organizations, including the International Medical Corps, World Vision and the American Red Cross, helping people who lacked access to food, shelter, water, health care and safety.

The settings were in challenging environments: Africa, Afghanistan, Angola, Iraq, Haiti, and other places under the threat of or in the aftermath of war or other disasters.

His last official post was to lead a medical team during the 2018 Ebola crisis in the Democratic Republic of Congo; he retired in August that year.

"However, retirement is elusive," says de la Roche, who is a Grey Shirt volunteer for Team Rubicon Disaster Response and a consultant to humanitarian agencies operating within the United States and overseas.

De la Roche transferred to Cal Poly Pomona for his last two years of college. He joined the wrestling team, did a stint as a disc jockey for KCPK, and fondly recalls barbecues, Poly Vue, and Cedritos Hall.

He majored in history, which fueled his passion to serve, "learning how those who came before me solved various problems and overcame challenges that affected people," he says.

Among the history professors who inspired him was Werner H. Marti, who was blind.

"He taught me that challenges are made to be overcome," de la Roche says. "I am grateful for the education that I received; Cal Poly Pomona opened the doors to the world for me."

De la Roche and his wife Bonnie live in New York; they have two daughters and two grandchildren.

For video of awards winner View video of Francois de la Roche on YouTube.
---
Mario Sorci '71
President
AES Inc.
A career in science seemed inevitable for Mario Sorci.

"As a child, I always wondered how things were made," he said. "And if I could borrow my dad's tools, I would try to build things." 

He was a transfer student to Cal Poly Pomona from a junior college.

"I needed an affordable school that was nearby with a good science department," Sorci says. "I was working full-time at a chemical company to pay for college, so having Cal Poly in my backyard was great."

His interest turned to chemistry, and to a biology student, Karen Dundas (class of 1971), who would become his wife and business partner. Her father, chemist and medical equipment designer George Dundas, was a role model.

"My father-in-law worked on the alkaloid curare to extract a pure form so modern anesthesia was possible," Sorci says. "He then went on to design medical devices.

"Dr. Arnulf Vollmar changed the way I began to look at everything when he emphasized in an organic chemistry class that it was not good enough to just make something, you had to be able to make a profit." 

After graduation in 1971, Sorci worked for a small medical company in Vancouver, British Columbia, until 1973, when he moved to the Seattle area, and soon founded Anesthesia Equipment Supply. In 1984, after the death of his father-in-law, he also became director of research and development for G. Dundas Co., a small innovative medical company.

He remembers difficulties he had as a college student." I really liked my chemistry classes, but struggled with the humanities," he says. "I didn't like classes where I couldn't find a real solution."

He pledged to help others get their education and has provided an endowed scholarship for deserving science students.

Sorci says he is mostly retired, but at times tackles projects for his former company.

"I just accept what comes and try to make things better whenever possible," he says. "I am still passionate about collaborating with people to improve their products and, of course, education."

Sorci and his wife have two children, who now manage his two companies.

For video of award winner View video of Mario Sorci on YouTube.
---
Russ Bendel '05
Owner
Vine/Ironwood/Olea/Sapphire
Russell J. Bendel has made food and the dining experience his life's work. A graduate of the Collins College of Hospitality Management, he is the owner of five concept-themed restaurants in Orange County.

"I grew up in the restaurant industry," Bendel says. He was inspired by his father, a veteran restaurant industry executive. "I always enjoyed it and knew I wanted to pursue it as a career."

Collins College was a perfect choice. The learn-by-doing tradition includes the requirement to work all positions in The Restaurant at Kellogg Ranch. Classes are based on real-world experience.

"I loved listening to all the lectures," Bendel says. "I don't recall ever missing a class."

Bendel credits professors Gary Hamilton and Margie Jones and lecturer Peter Anderson for guidance and inspiration, "and for explaining how the restaurant business really works."

Anderson "pushed us to do research and develop a business plan that made sense, from start to finish," he says. "I applied it to my first restaurant."

Bendel worked with Bloomin' Brands Restaurant Group for 15 years: first with Outback Steakhouse and later with Fleming's Prime Steakhouse & Wine Bar, where he was promoted to partner of the flagship Newport Beach location at 25, the youngest partner in company history.

In 2013, Bendel assembled a team that took over the Vine Restaurant & Bar in San Clemente, offering a menu with a wine country dining experience. In the next four years, his company opened two more eateries in Orange County.

"Cal Poly provided me with the education and experience that directly helped me progress throughout my career in the industry," Bendel says.

 In March 2020, he opened Sapphire and The Pantry in Laguna Beach, his fourth and fifth. That same month, the state of California ordered business shutdowns in response to the COVID-19 pandemic. Restaurants were limited to offering take-out food, and later, outdoor dining.

"The Covid shutdowns were certainly a challenge, industry wide," Bendel says. "The Collins College at Cal Poly Pomona helped provide me with a great foundation for adjusting and pivoting when changes are required. "

He is a founding member of the Collins Alumni Society and is a mentor to current hospitality students. What does he tell them?

"Just go for it and soak in all the great experiences and knowledge that Cal Poly Pomona has to offer," Bendel says.

He lives in Mission Viejo with his wife, Sarah, and two children.

For video of award winner View video of Russ Bendel on YouTube.
---
John Wiegmann, '72
W&K Container
Managing Partner
John Wiegmann's athletic accomplishments at Cal Poly Pomona in both track and football brought plenty of acclaim and awards, followed by two years in the NFL.

In 1972, Wiegmann was drafted by the Cincinnati Bengals, and played on the preseason team as a rookie wide receiver.  He also signed with the Chicago Bears and San Francisco 49ers before turning to business, first working for IBM and then specializing in industrial real estate. He also opened several cookie shops in Chicago and San Francisco.

In 1995, Wiegmann founded W & K, Container Inc., which provides cargo shipping and storage containers for

 the Department of Defense, as well as individuals and corporations worldwide. His understanding of containerization stems from being raised in San Pedro, the center of Los Angeles Harbor.

He was inducted into the Cal Poly Pomona Athletics Hall of Fame in 2018.

"I entered school without any real direction" in 1968, Wiegmann recalls. "However, by graduation, I had a path, and a belief that I could establish myself as a professional athlete in the NFL.

"That confidence has been of assistance ever since. My Cal Poly Pomona experiences taught me resilience, with a constant desire to keep moving forward."

 Wiegmann says his education taught him to help people improve both physically and mentally. "Those skills are beneficial in business, working for a common goal: a positive ending for all," he says.

Wiegmann is on the National Football Foundation of Northern California board of directors, which awards 25 scholarships to scholar-athletes each year. He has been active in the Guardsmen of San Francisco, which sends underprivileged children to summer camp, and Big Brothers Big Sisters of America.

"My mentors at Cal Poly Pomona paved the way for me to give back," he says. His academic counselor, the late coach and professor Barney Anooshian, was a major influence, and "a generous and supportive human being."

He and his wife, Heather Fleming (Cal Poly Pomona '71) live in Mill Valley. Daughter Kelsey excelled in high school and college athletics and was inducted into the Dartmouth College athletics hall of fame. She and her husband have two small children. For video of award winner View video of John Wiegmann on YouTube.