2015 Distinguished Alumni Recipients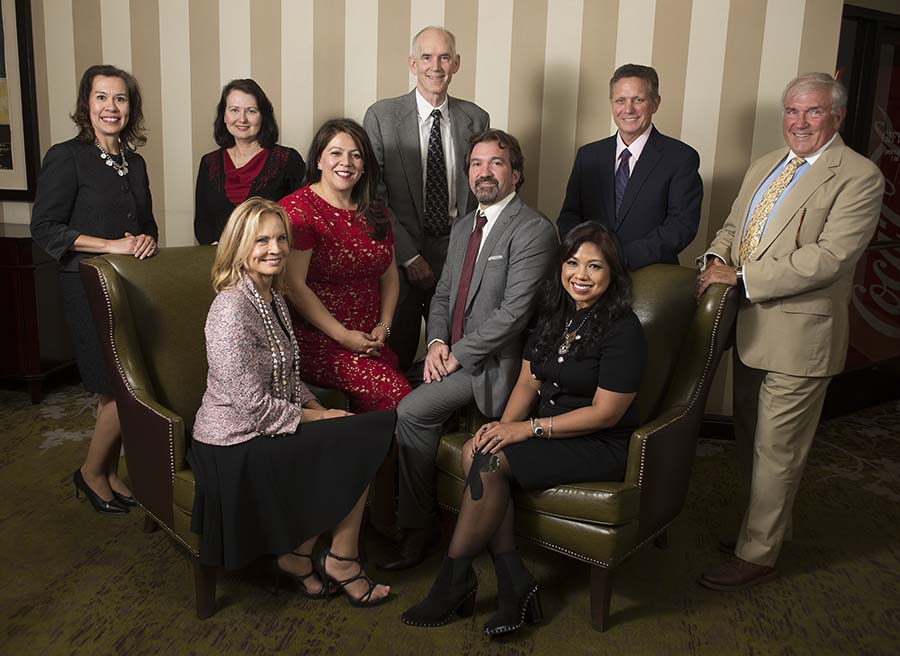 (From left to right: Pilar Hamil, Teresa Becker, Juliana Terian, Maribel Garcia, Kevin Grundy, Jeffrey Abramson, Lee Godown, Marissa Andrada, Gary Rinehart)
Don. B. Huntley College of Agriculture
Teresa Becker '07, apparel merchandising management
She has been involved in the apparel industry since 1978 and started her own business as an undergraduate. In 2006, she established Heart of Haute, a wholesale and retail e-commerce clothing business. The company, based in San Dimas with all products made in the U.S., employs 20 people and sells to more than 300 specialty boutiques around the globe. About 60 percent of her products are exported.
College of Business Administration 
Marissa Andrada '89, business administration
After leaving her mark at several industry giants, she joined Starbucks in 2010 as the as senior vice president of Partner Resources for the U.S. Retail Organization. As the senior vice president of Partner Resources for the Americas, Starbucks Coffee Co., she ensures that more than 150,000 employees unlock their full potential while growing with the company and connecting with millions of customers daily.
College of Education and Integrative Studies
Maribel Garcia '04, administrative leadership credential
She grew up attending schools in the El Monte City School District. Now, she's the superintendent of the district that helped educate her. She oversees a district with 15 schools, 10,500 students and more than 1,100 employees. After graduating from El Monte High School, she earned a bachelor's degree in political science from UCLA in 2004. She returned to UCLA to earn an Ed.D. in educational leadership.
College of Engineering
Kevin Grundy '79, bachelor's in electrical engineering; '82, master's in electronic engineering
In 1986, Steve Jobs hired him (as employee No. 34) as an engineer at NeXT Computer, where he supervised the hardware design and production of several generations of personal computers during his seven-year tenure. He worked at other tech giants before becoming chief technology officer and a board member for Trusight Inc. in 2007. He is responsible for the technology direction of the company.
College of Environmental Design
Juliana Terian '80, architecture
She founded Curran Architects and Planners in New York in 1990. After the death of her husband in 2002, she took over The Rallye Group, a luxury car dealership on Long Island. As president and CEO, she steered the company to more than $700 million in revenue in 2009 and it was the largest female-owned car dealership in North America. In 2010, she was named a TIME Magazine Dealer of the Year from Greater New York.
College of Letters, Arts and Social Science
Lee R. Godown '79, political science/foreign affairs
He was a political insider in Washington for nearly 30 years. In 2007, he was named managing director of Public Strategies Inc., providing strategic planning for major corporations. He became vice president of Global Government Relations for General Motors Corp. in 2010 and was later named executive director of Federal Affairs for the company. He manages a staff of 150 governmental relations professionals in five global regions.
College of Science
Jeffrey Abramson '95, biotechnology
He earned a Ph.D. in biochemistry from Uppsala University in Uppsala, Sweden, in 2000. Since 2011, he also has been the collaborative scientific chair at the Institute for Stem Cell Biology and Regenerative Medicine at the National Center for Biological Sciences in Bangalore, India. His current research program focuses on approaches for determining the 3D structures of membrane proteins and determining the basis for membrane transport.
The Collins College of Hospitality Management
Pilar Hamil '97, hotel and restaurant management
She started at the Walt Disney Co. as a part-time tour guide for celebrities and VIPs at Disneyland. Rising through the ranks, she has worked at all three Disneyland Resort hotels in 10 different positions. She is the general manager of the iconic Disneyland Hotel in Anaheim, a AAA four-diamond property where she once worked as a desk clerk. She heads a team of 37 leaders and 1,500 hourly employees. 
Athletics
Gary Rinehart '69, mathematics
A letter in football for the Broncos, he went to be a high-profile player in a different field. During his nearly 19 years at San Diego Gas and Electric, he held management positions in Corporate Planning, Decision Support and Information Technologies. He has managed IT groups at SDGE, Oracle, Qualcomm and Sharp Healthcare. He has worked as a consultant throughout the United States. Currently, he is the managing principal at Decision Interface. 
Alumni Outstanding Teaching Award
Alyssa Lang 
An associate professor for graphic design in the College of Environmental Design, she is praised for the joy she brings to her work, her professionalism and her willingness to help students. Lang teaches typography, print production, book arts, and logo, publication and poster design. Her courses include a blend of lecture, discussion, demonstration, hands-on experience and critique. Her students have created posters, logos, magazines, books, book covers and packaging.