2016 Distinguished Alumni Recipients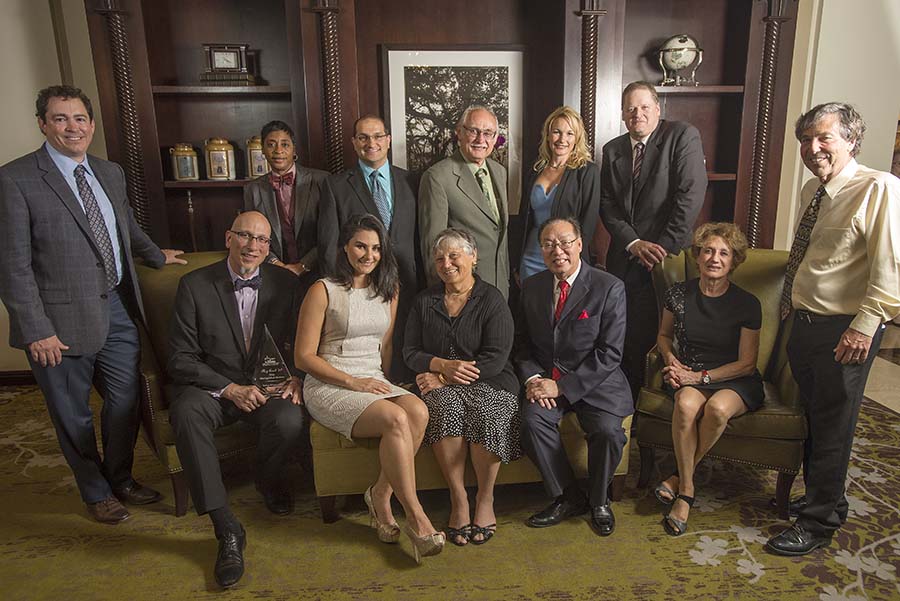 (From left to right: Kirk Jones, Roy Conli, Bailee Rad, Sue Godfrey, Raymond Cheng, Dina Perry, Damon Goldstein, Violet Palmer, Sepehr Eskandari, Tony Godfrey, Leanne Swanson, Lance Williams)
Violet Palmer ('88)
Palmer made history nearly two decades ago when she walked onto the floor of an NBA game. In 1997, she became the first woman to officiate in the NBA and in any major professional sport in the United States.
As a Bronco, she helped lead the women's basketball team to the NCAA Division II National Championships in 1985 and 1986. She graduated with a bachelor's in recreation administration.
After graduation, she worked as a recreation director for the city of Los Angeles. She also began officiating high school girls' games, eventually officiating five NCAA Women's Final Four games and two Women's National Championships. In 1995, she joined the NBA's referee training program and has worked more than 900 regular-season games. In 2014, she officiated the NBA All-Star Game.
Since 2009, Palmer has been the coordinator of women's basketball officials for the Pac-12, the West Coast Conference and the Western Athletic Conference.
Sue ('70) and Tony ('69) Godfrey
A friendship that began at Cal Poly Pomona nearly 50 years ago blossomed into marriage and a professional partnership for Tony and Sue Godfrey.
They were married in 1973 and moved to Fallbrook. The nursery has been in operation for 43 years.
The couple owns Olive Hill Greenhouses in Fallbrook, which grows a variety of indoor exotic houseplants such as bromeliads and ferns. The company employs 80 workers and sells primarily to interiorscapers, wholesalers, and a few retail nurseries and florists. Olive Hill Greenhouses has been recognized as one of the 100 largest-grossing nurseries in the country. 
The couple was honored by the San Diego Botanic Garden with the 2015 Paul Ecke Jr. Award of Excellence at an annual gala. In addition, Tony was honored as the San Diego County Flower and Plant Association's Outstanding Person of the Year in 2005 and was inducted into the Interiorscape Hall of Fame for Allied Trade in 2007. 
Lance Williams ('91)
Lance Williams knew he wanted to be a real estate developer. After two decades in the industry, he is at the top of his profession.
Williams received a bachelor's degree in finance, real estate and law. He worked at Watt Housing Corp. and Beazer Homes before establishing his own company, Williams Homes, in 1996. The Santa Clarita-based firm has built more than 1,000 homes, valued in excess of $400 million.
Williams is the president and CEO of Williams Homes and a licensed real estate broker, licensed general contractor and also the firm's chief pilot. He says Cal Poly Pomona was the perfect catalyst for his professional goals.
"All business disciplines needed for development and homebuilding management are taught at the College of Business Administration. What I got was graduate-level education and training during my last two years of undergraduate schooling."
Williams Homes was recognized as Builder of the Year by the Los Angeles/Ventura Chapter of the Building Industry Association in 2013.
Bailee Rad ('04)
A former top-ranked tennis player as a teenager, Bailee Rad spent the early part of her career in a different type of court – as a workers' compensation lawyer.
"After years of fighting at court on high-profile cases and navigating the adversarial system in court, I decided I wanted to focus my energy in a more positive direction so I could impact more people in a deeply personal way," Rad says.
She felt she could make a difference outside of the courtroom and opened Lavanderia Clasica, a 4,000-square-foot laundromat in Van Nuys that doubles as a community room that provides free classes, CPR training, seminars, college application and resume-writing help, and other community programs.
Rad graduated magna cum laude from Cal Poly Pomona in 2004, and went on for her J.D. at Southwestern University School of Law in Los Angeles. She then earned a prestigious certification in dispute resolution from Pepperdine University School of Law's Straus Institute for Dispute Resolution.  
Leanne Swanson ('01)
Without Leanne Swanson's watchful eye and steady hand, the lights at your home might not stay on. She is the principal manager of Distribution Engineering at Southern California Edison (SCE), overseeing and managing the teams responsible for the planning of electric distribution throughout the SCE system.
Swanson started at SCE in 2000 and has held a variety of engineering, supervisory and management positions. Prior to her current role, she managed SCE's Saddleback District and was responsible for electrical and civil design, construction and maintenance of the distribution system in south Orange County.
At SCE, Swanson also leads the Women in Engineering steering team and is the liaison to the Edison International Women in Engineering Program at Cal Poly Pomona.
She earned a bachelor's in electrical engineering in 2001. She went on to obtain her professional engineering license in 2005 and graduated from the Western Energy Institute's Business Acumen for Emerging Leaders program in 2007.  
Raymond K. Cheng ('74)
Raymond Cheng, a licensed architect, founded Hannon Development Inc. in 1983 and, for the next 17 years, was involved with more than 200 projects around the Southland. He is now associate director of Facilities Planning, Design and Construction at Cedars-Sinai Medical Center in Los Angeles, where he is overseeing $1.7 billion in development and facility construction. 
Cheng's early accomplishments were notable and gained him recognition across the state and beyond. He was appointed by former Gov. Pete Wilson to the California Architects Board, where he served from 1993 to 2002. He also served on the California State Economic Development Commission Advisory Council on Asia.
In other capacities, he chairs the Design Review Commission for the city of San Gabriel, is a San Marino planning commissioner, and is an East Los Angeles Community College Foundation board member. He also chairs the West San Gabriel Boys & Girls Club and the governing board of Garfield Medical Center, and is a board member for AHMC Health Foundation. 
Roy Conli ('83)
Roy Conli won an Academy Award for the animated adventure "Big Hero 6" in 2015.
For the past 23 years, he has been a producer for Walt Disney Animation Studios, which included a three-year stint running the company's Paris studio. He served as co-producer on "The Hunchback of Notre Dame" (1996) and producer on the Academy Award-nominated "Treasure Planet" (2002) and "Tangled" (2010). 
Before he arrived at Disney, he ran production for new play development at the Mark Taper Forum in Los Angeles, where he helped produce the first full production of Tony Kushner's award-winning "Angels in America" and was part of a small but mighty team that reopened the legendary Pasadena Playhouse.
Conli graduated with a bachelor's degree in drama and says the university was an "amazing place for a young man who did not come from a wealthy family to get a great education."  
Dr. Elisheva Axelrad Goldstein ('74)
Not only did Elisheva "Chevy" Axelrad Goldstein spend time on campus as a student, but for nearly 30 years she was a beloved professor in the chemistry department. She earned a master's in 1974 from Cal Poly Pomona and returned four years later to start her long and distinguished teaching career.
Goldstein is being honored posthumously. She passed away from a protracted illness in 2007 at age 59.
As a professor, she was known for encouraging collaboration between departments and working with students to further their research experiences. She was recognized worldwide for her research in computational-physical chemistry.
Above and beyond academics, Goldstein is missed for her cheerful, indefatigable personality.
Her legacy continues on campus. The state-of-the-art Chevy Goldstein Physical Chemistry and Computational Chemistry labs were made possible by generous donations from her sister, Dina Perry, and Goldstein's husband, Damon. The two labs held a grand opening in June 2015.
Kirk Jones ('92)
Kirk Jones rose from humble roots in the Midwest to become the chief executive officer of a global leader in the luxury hospitality industry.
As senior vice president of finance for Benchmark Hospitality International Inc., which is based in The Woodlands, Texas, he is responsible for the financial health of the $600-million organization and the property portfolio it manages.
He earned a bachelor's in hotel and restaurant management from Cal Poly Pomona in 1992 and received his MBA from Cleveland State University in 1998.
"My time at Cal Poly Pomona taught me about time management and getting work done in a collaborative environment," he says. "Cal Poly Pomona also opened my eyes to the culinary arts component of my industry that has now become an enjoyable and rewarding hobby for me."
Prior to joining the Benchmark family, Jones held several financial positions with hotel companies such as Capella, Hilton, Ritz-Carlton, DoubleTree and Embassy Suites. 
Alumni Outstanding Teaching Award
Sepehr Eskandari ('93, '95)
Biology Professor Sepehr Eskandari exemplifies Cal Poly Pomona's learn-by-doing philosophy by going above and beyond to help his students understand technical and complex material.
"His approach to teaching physiology and making physiology relevant to our everyday lives makes him a phenomenal teacher," says Renee Estephan, a senior biology student who nominated him for this year's Alumni Outstanding Teaching Award.
Eskandari earned a bachelor's in chemistry in 1993 and master's in biological sciences in 1995 from Cal Poly Pomona. He earned his Ph.D. in physiology from UCLA in 1999.
He returned to Cal Poly Pomona in 2000 to teach in the biological sciences department. In 2010, he became associate chair of the department and served as interim chair in 2011. From 2012-2015, he chaired the department. He is a biological sciences professor who also chairs the Academic Senate.
His research has been published in three dozen publications and he has been invited to speak at numerous scientific conferences around the world.