2018 Distinguished Alumni Recipients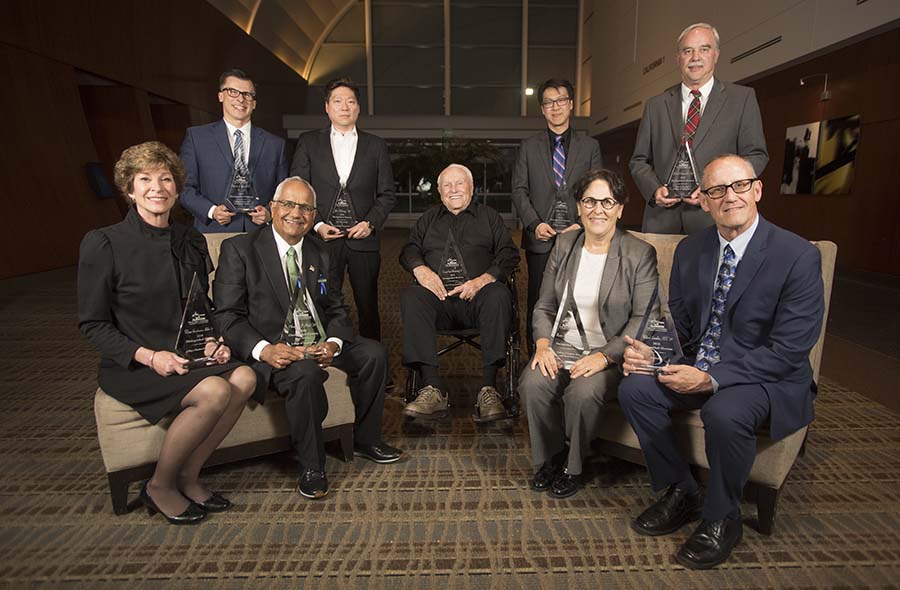 (From left to right: Dianne Miller, Edward Zuniga, Ganpat Patel, Jae Chang, Donald Brinkerhoff, Alex Cheng, Renee Mochkatel, Brett Chandler, and Willard Lewallen)
Brett Chandler '86
President/General Manager
Associates Insectary

Brett Chandler is president and general manager of Associates  Insectary, a grower-owned cooperative based in Santa Paula, focused on providing grower-members with premium quality integrated pest management services. In operation since 1928, Associates Insectary is the oldest commercial insectary in the United States. Chandler arrived at the profession through a circuitous route that started in biology and eventually led to pest control. Chandler earned a bachelor's degree in agricultural biology from Cal Poly Pomona in 1986. A highlight of his career was being named to lead Associates Insectary in 2001; he is only the fifth person to hold the post in 90 years. Chandler and his wife, Coleen, whom he met when both were students at Cal Poly Pomona, have been married for 30 years. They have two sons: Sean, 24, an Air Force Special Operations pilot stationed in Florida and graduate of UC San Diego, and James, 17, a junior at Fillmore High School, who is interested in majoring in engineering at Cal Poly Pomona. For video of award winner View video of Brett Chandler on YouTube.

---
Diane  Miller '81
Director, InfoSec and Cyber Initiatives
Northrop Grumman Corporation

Ever since her freshman year of college when Diane Miller took a software programming class, she knew she wanted a career related to computers. And that is where her path has led, taking her to one of the top corporations in the national defense industry. Miller has built a career at Northrop Grumman, where she is director of InfoSec Operations and Cyber Initiatives, as well as director of Global Cyber Education & Workforce Program. She is responsible for ensuring effective information security, works to develop the corporation's cybersecurity strategy, and leads Northrop Grumman's actions as the presenting sponsor of CyberPatriot, the National Youth Cyber Education Program, and other global initiatives. She previously was employed at McDonnell Douglas. Miller graduated with a bachelor's degree in information systems from Cal Poly Pomona in 1981. She is a Certified Computing Professional, a Certified Six Sigma Green Belt, and holds a Certificate in Leadership from the University of Virginia, Darden Graduate School of Business. She continues to be connected with the university, serving as a mentor, guest speaker, and member of the university's Strategic Planning Steering Committee, led by President Soraya M. Coley. Miller lives in Oakton, Virginia, with her husband, Kent Miller, also a 1981 Cal Poly Pomona graduate. They have two grown children, Matthew and Stephanie. For video of award winner View video of Diane Miller on YouTube.

---
Edward A. Zuniga, ED.D. '96 & '00
Superintendent
El Monte Union High School District

When Edward Zuniga became superintendent of the El Monte Union High School District, it brought him full circle. He attended El Monte High School, then started his career as a teacher and coach there. He went on to hold numerous administrative posts in the district before becoming superintendent in October 2016. Zuniga received his bachelor's degree from Cal Poly Pomona in 1996 and went on to earn a master's in educational administration from Azusa Pacific University. He completed his doctoral degree in educational leadership at USC. He praises Cal Poly Pomona for helping him through the teacher credentialing program, adding that it provided him the tools and resources to be a successful first-year teacher. He continues to be involved with the university through the Alumni Association and other programs. Zuniga previously served on the El Monte City School District Board and is affiliated with several professional organizations, including the Association of California School Administrators. He resides in Arcadia. For video of award winner View video of Edward Zuniga on YouTube.

---
Ganpat I. Patel '70
President
Ganpat University

Ganpat Patel spent his career in the engineering field, first with Lockheed Martin and Borroughs Corporation, then as president of Cherokee International in Tustin, which he founded in 1978. A native of India, Patel landed at Cal Poly Pomona in the late 1960s to study electrical engineering and instrumentation – a new discipline at the time – receiving a bachelor's degree in 1969. He earned a master's in electrical engineering from UCLA in 1973. Since 2005, he has served as patron-in-chief and a hands-on mentor at Ganpat University in India. Other philanthropic activities include supporting the Ganpat Voluntary Teaching Movement, which has adopted eight villages in North Gujarat, Mehsana. He established Smt. Manjulaben Ganpatbhai Patel Science College, as well as a hostel for girls to support their education. To honor his remarkable accomplishments, Patel was inducted into Cal Poly Pomona's College of Engineering Hall of Fame in 2015. He and his wife, Manju, live in Mission Viejo. They have three grown daughters and seven grandchildren. For video of award winner View video of Ganpat Patel on YouTube

---
Donald Carl Brinkerhoff '52
Founder/CEO/FASLA
Lifescapes International

The lush landscaping, stunning pools and beautiful plants at more than three-dozen resorts and casinos around the world can be attributed to landscape designer Don Brinkerhoff. His work in the industry is so renowned that he was, in 2016, the first landscape designer to be inducted into the American Gaming Association's Hall of Fame in 2016 joining past inductees such as Frank Sinatra, Celine Dion, William Harrah, Steve Wynn and Don Laughlin. It was just one high point in a remarkable career for Brinkerhoff, CEO of Lifescapes International, a premier landscape architecture firm in Newport Beach he co-founded with his late wife, Barbara. He and his team have worked on more than 1,000 projects worldwide, from master-planned communities and model home complexes to parks and golf courses. And, along with the resorts and casinos, he also redesigned the Las Vegas Strip in 1995, a beautification project that revitalized the famous thoroughfare. Brinkerhoff earned a bachelor's degree horticulture in 1952 from Cal Poly Pomona. He enjoyed studying plants and was attracted to landscape architecture through his design classes. He also studied urban planning at the University of Madrid. Brinkerhoff has been named a Fellow of the American Society of Landscape Architects, the industry's most prestigious commendation, and he is the first architect to be inducted into the California Building Industry Hall of Fame. He resides in Newport Beach and has four grown children, one of whom is now president of the firm. For video of award winner View video of Donald Brinkerhoff on YouTube

---
Renee Mochkatel, ESQ. '79
Partner
Allred, Maroko, & Goldberg

Renee Mochkatel is a partner with Los Angeles law firm Allred, Maroko & Goldberg, where she has worked for more than 30 years. She handles employment cases related to sexual harassment, discrimination and wrongful termination, among others. She also has successfully represented young women in Title IX claims against educational institutions.She is a member of the California Bar Association and the Los Angeles County Bar Association. She is a member of Labor and Employment Section of the LA County Bar Association and serves on its Executive Committee. Mochkatel has co-chaired the Labor and Employment Retreat for several years. Mochkatel received her bachelor's degree in political science in 1979. She went on to earn her Juris Doctorate from Pepperdine University School of Law in 1982. Her other activities include serving as an officer on the Board of Trustees at Temple Israel of Hollywood for many years. She recently served on the Transgender Task Force at Marlborough School and is an active participant in a Muslim/Jewish Women's Study Group. She and her wife, Stefanie Hall, a Certified Family Law Specialist, are proud parents of Sophie Lily, a freshman at USC. For video of award winner View video of Renee Mochkatel on YouTube

---
Alex Cheng '96 & '03
President
Sevenlogics, Inc.

Alex Cheng is president of Sevenlogics Inc., a privately held software products company that produces mobile apps for busy women who need time-saving, easy-to-use child-bearing, wedding and child-rearing tools. He co-founded the company in 2011 after spending five years as IT director at QTC Management in Los Angeles.Since 2009, Cheng has led the creative development, technical design and marketing of more than a dozen highly successful apps – each either at the top or among the peak in their respective categories in both downloads and four- and five-star ratings. Apps by Sevenlogics have been downloaded more than 40 million times with more than 3 million active users. Cheng received a bachelor's degree from Cal Poly Pomona in 1996, followed by a master's in 2003, both in computer science. He has parlayed his education into Sevenlogics, which has become a successful and thriving company based in Diamond Bar. It strategically offers apps that target women through key stages in their lives – from the very young, who are active in planning special events and monitoring personal aspects, to women planning their weddings, to new mothers on through child rearing. There are apps for recipes, finance, shopping lists, a family journal and much more. Cheng and his wife, Stephanie, live in the Los Angeles region and are parents to three young children – one boy and two girls. For video of award winner View video of Alex Cheng on YouTube

---
Jae Chang '96
CEO
Gen Korean BBQ House
Jae Chang is owner and founder of Octopus Restaurant Group, which oversees a chain of thriving Korean barbecue and Japanese fusion restaurants in Southern California and Nevada. It's a career that got its start in The Collins College of Hospitality Management.That was affirmed at the university, where he gained valuable experience while working in the operations of The Restaurant at Kellogg Ranch. After Chang graduated in 1995 with a bachelor's degree in hotel and restaurant management, he worked in the restaurant industry and also the textiles field. A career milestone came in 2011, when he opened his first Gen Korean BBQ Restaurant. They are elegant, high-end establishments that tout "the art of Korean barbeque." The group also operates Octopus, where the menu centers on Japanese fusion dishes and the décor presents a sleek ambience of white and blue.The group now operates 29 restaurants spread throughout Southern California, as well as in Henderson, Nevada, and Tempe, Arizona.Chang and his wife, Juhee, whom he praises for always offering support during the stressful days of the restaurant business, are parents to two daughters: one in college and one in high school. For video of award winner View video of Jae Chang on YouTube

---
Willard Lewallen, PHD '78
Superintendent/President
Hartnell Community College District
Willard Lewallen, a member of Cal Poly Pomona's 1976 national championship baseball team, is superintendent and president of the Hartnell Community College District in Salinas. Under his leadership, Hartnell has increased degree completion by 90 percent and increased student transfer by 56 percent. Prior to joining Hartnell, Lewallen served as a faculty member and administrator in several other California community colleges, including president of West Hills College in Coalinga. He has also served as an adjunct professor in graduate studies at Chapman University in Orange and University of La Verne. A native Californian, Lewallen grew up in Pomona and received a bachelor's degree from Cal Poly Pomona. He went on to earn two master's degrees from Purdue University and a doctorate in education from UCLA. The 1976 championship baseball team, which beat Southern Illinois University in the College World Series, was inducted into the Cal Poly Pomona Athletics Hall of Fame on Feb. 17, 2018, and is the first team to be honored in this way. Lewallen and his wife, Michele, have three grown children and one grandchild. For video of award winner View video of Willard Lewallen on YouTube