Perseverance Pays for CPP Alumnus Pursuing Aerospace Dreams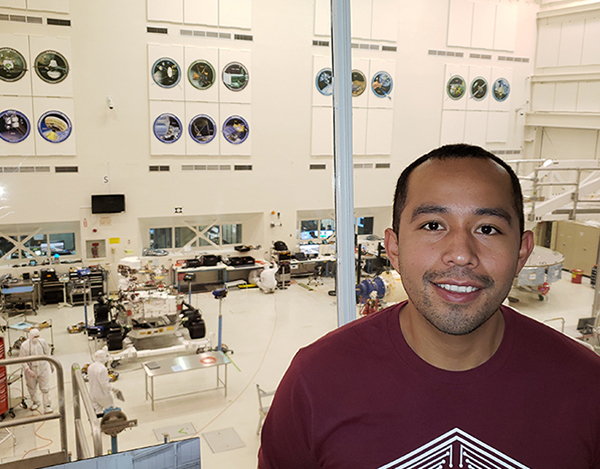 Luis Dominguez's arrival at Cal Poly Pomona as a 16-year-old freshman majoring in engineering earned him a nickname – Jimmy Neutron. 
Like the boy genius cartoon character, Dominguez ('09, mechanical engineering) loved to tinker with gadgets and tapped his technical prowess to engineer solutions to mechanical problems. 
And 13 years after starting as an intern at Jet Propulsion Laboratory (JPL), he is still at it – recently heading the team responsible for putting all of the electrical equipment on a rover that is on its way to Mars right now. 
"It has really been great," Dominguez says of his time at JPL. "I was given the opportunity to learn an entirely new set of engineering skills. I fell in love with electronics when I first started at JPL." 
His latest mission for the national research facility involved his work on the Mars rover Perseverance, which launched July 30 and is expected to land on the planet in February 2021. 
As the Deputy Electrical Integration and Test Lead, Dominguez was not only overseeing his team putting electrical equipment on the space craft, but he also was charged with making sure everything was working properly before takeoff. This wasn't his first work on a rover. He previously was on the mission testbed team, which was tasked with testing all non-flight hardware to make sure it worked, for the rover Curiosity. Dominguez started working on Curiosity, which landed on Mars in 2012, when he was hired as an intern in 2007. 
Perseverance will collect rock and soil samples to be picked up by a future mission, search for signs of microbial life and test technologies that will allow for humans to explore Mars in the future. 
The mission is a big one, with three stages – one as complex as the other, but the work is exciting, he says. 
"The most difficult thing about it is the trouble shooting aspect of the job, but it is also the most fun," he says. "I enjoy when I have to go into troubleshoot mode and figure out what's not working and why." 
Dominguez's career in engineering and aerospace can be traced back to the fascination the South Los Angeles native had with airplanes as a young boy. 
"I loved reading about airplanes and how they were made," he says. "My mom knew I was really into them, so she would buy me airplane books. She was very instrumental." 
By the seventh grade, Dominguez knew he wanted to become an aerospace engineer. A college professor gave a talk at his high school and Dominguez recalls the professor encouraging him to pursue mechanical engineering instead because it is less restrictive. 
Because Dominguez started school at 4 and skipped 5th grade, he graduated high school at 16. He recalls being too young to go out to clubs with his friends when he got to the university. 
He commuted to Cal Poly Pomona from home to save money and flexed his entrepreneurial muscles, running his own landscaping business while in college. After graduating from the university, he started an investment business with some friends from CPP, of which he served as president for a couple of years. They called their firm Amicus Capital Investments.  
When he wasn't in class or working, Dominguez would often hang out at the César Chávez Center on campus. 
That is where he met Cecilia Santiago-González, assistant vice president of strategic initiatives for student success. Santiago-Gonzalez was the center's coordinator at the time and recalls how Dominguez stood out in more ways than just his youth. 
"I am so proud of Luis and all that he has accomplished," she says. "His story is extraordinary. During his time at CPP, Luis was a leader in and outside of the classroom. I was able to witness the respect he earned among his peers for being extremely dedicated to his academics and sharing his knowledge and passion with others." 
Dominguez believes in giving back, Santiago-González adds. 
"Luis's commitment to empowering youth, especially in the Latinx community, has always been palpable," she says. "He was always the first one to volunteer to talk to high school students from the local community about his educational journey and inspire them to achieve their goals. There's no doubt that Luis is a genius. However, I will always remember Luis's kindness, smile, and eagerness to make the world a better place." 
As a first-generation college student with immigrant parents – a mother from Mexico and a father from Honduras – Dominguez finds his greatest reward in talking to youth about what he does and encouraging them to work toward their dreams. 
"I like to do a lot of outreach," he says. "Even though JPL is an amazing job, you can sometimes lose sight of that. It can feel mundane. Once I go out and talk to kids and share my story about coming to JPL, I can tell it is inspiring them and that also inspires me. This is a really cool job."