Translating in the Field; Cal Poly Pomona Alum Works with Athletes in an Unexpected Way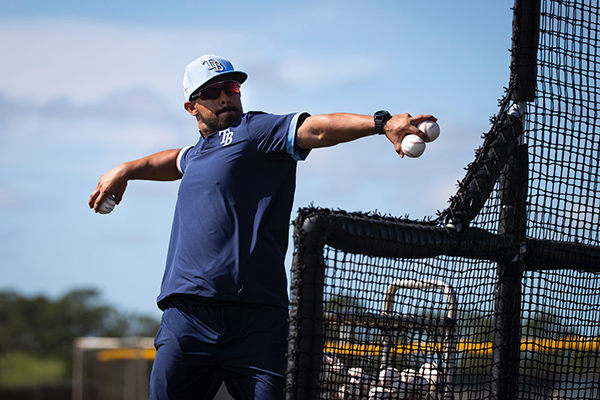 Navarro is on the field with the Tampa Bay Rays as a Spanish translator and pitches to the players at batting practice.
Manny Navarro's love for baseball started before he could even remember – his mom told him that when he was a kid, he received a toy baseball set with a mitt and that was the only thing he would play with every day. 
He hasn't stopped since. Navarro ('10, kinesiology) played infielder as a Bronco, and now, he's on the field with the Tampa Bay Rays as a Spanish translator and pitches to the players at batting practice. 
"I thought that I would always have baseball in my future somehow and I knew I wanted to be around athletes or sports one way or another," Navarro said. "I had to work hard to play, and baseball was my motivation." 
Navarro, the youngest of four siblings, credits the opportunities he's had in his education and career to the relationships he built through the Cal Poly Pomona baseball team and coaches. John Daniels, a Bronco teammate, introduced Navarro to kinesiology and later offered him a position as a strength and performance coach at EM Speed and Power Training in San Diego, which was originally in Anaheim. 
"I love being active and what the body is capable of doing, and if I could study that, then I could have a future in it," Navarro said. "I let athletes know that their body type doesn't matter as long as they worked hard, and I loved the rewarding feeling when an athlete, regardless of their age, sees their results from working with me by telling me about their success in a game or match."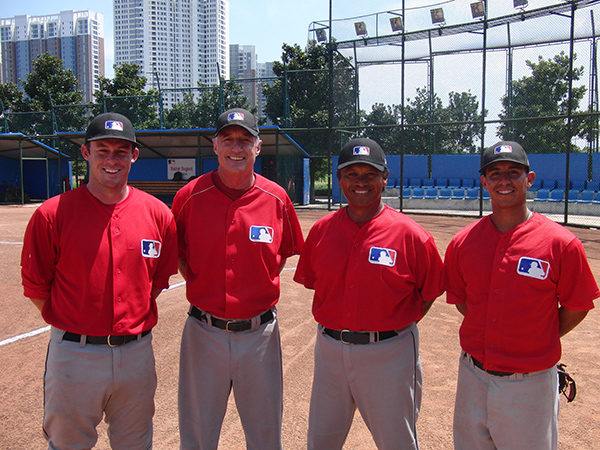 Navarro (right) credits the relationships he's built with his Bronco baseball team to the opportunities he received in his education and career. From left to right: Robert Palmer ('09), former Bronco baseball coach Bill Thomas, and current Bronco baseball coach Jimmy Ramos ('72).
While Navarro was a trainer, he remained involved with baseball, coaching and teaching students how to play the sport in China. He found the opportunity through his former assistant coach Bill Thomas, who at the time was the MLB Academy director in Changzhou, China, and was recruited with assistant coach Jimmy Ramos ('72) and fellow student-athlete Robert Palmer ('09). He would teach students that baseball was a way for them to represent their country, whether as a player or a coach. Navarro was able to see one of his students, Guiyuan "Itchy" Xu, sign on with the Baltimore Orioles in 2015. 
"I got to see some of the first graduating kids from the program that I helped teach," Navarro said. "I like to think that I helped them in a positive way by giving them an array of opportunities for their future that I don't think they would have had if they hadn't been in the program." 
Navarro, who grew up bilingual, also looks back on his experience in China as him going from needing translation as he learned to speak Chinese to becoming a translator for Spanish-speaking baseball players. He was not planning to be a translator, but his Bronco coach, Thomas, would joke that the perfect job for Navarro was throwing pitches at batting practice and translating for a team. That's exactly what happened a few years after teaching in China. 
Navarro was helping a friend by throwing balls to high school baseball players during practices and tryout. One of the players he threw to was a first-round draft pick for the Minnesota Twins – Royce Lewis. Navarro had unknowingly impressed the right people and received a phone call from the general manager of the Rays to talk about his experience. With Navarro's baseball knowledge, management of athletes, and ability to speak Spanish, he was offered the translator job a few weeks later, which would allow him to still wear the uniform and be out in the field. Navarro said that because one of his former CPP coaches, Mike Ashman, also throws at batting practice for the Anaheim Angels, he was exposed to various ways of being on the field without having to be a player or a coach. 
"Being in a position like this is really special and I'm really grateful," Navarro said. "Try not to stress so much about your future. If you're positive, hard-working and humble, opportunities are going to arise, and it's up to you to decide. I just followed and did what I love, and now I'm here." 
Navarro still speaks Spanish to his mom and is learning more about his Mexican culture by visiting where his father and grandparents grew up. However, he never imagined that language skills would be a main requirement in his career. 
"Working in China, where I didn't know the language, made me realize how important language is and how difficult it can be to learn but how simple it can be to learn  as a kid," Navarro said. "This is something I want to pass on to the next generations."