Cal Poly Pomona Alum Produces U.S.A. Track and Field Nike Olympic Uniforms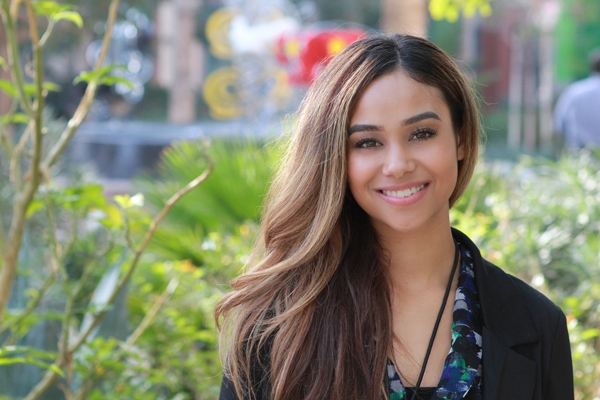 Dumlao ('14, apparel merchandising and management) is a production planner at the Nike Global Headquarters in Beaverton, Oregon and helped produce the U.S. Olympic track and field uniforms.
Sarah Dumlao is looking forward to this year's summer Olympics, not only to see if U.S. sprinter Allyson Felix can add a record seventh gold medal to her career winnings, but also to see the track and field uniforms she helped produced on the American athletes. 
Dumlao ('14, apparel merchandising and management) is a production planner at the Nike Global Headquarters in Beaverton, Oregon. Her inspiration to enter the apparel and fashion industry was her mom, who sewed clothes and Halloween costumes for her and her two siblings growing up. 
"As the first person in my family to graduate from a four-year university, I was fully immersed into the world of apparel at Cal Poly Pomona," Dumlao said. "The apparel merchandising program fully prepared me to start my career in the highly competitive apparel industry." 
Before transferring to Cal Poly Pomona in fall 2011 from Citrus College, Dumlao visited the apparel merchandising program and saw how the sewing lab would give her the hands-on experience from creating the clothes to producing the product. She initially wanted to be an apparel buyer, which would allow her to go to fashion shows, pick the fashion trends and decide what goes into retail stores, but she realized she liked working with her hands and seeing a drawn picture turn into a real garment, and she decided to go into product development. 
"Knowing that students were doing the actual work that mirrored how the fashion industry works convinced me to be a Bronco," Dumlao said. "I would not be where I am today without Cal Poly Pomona."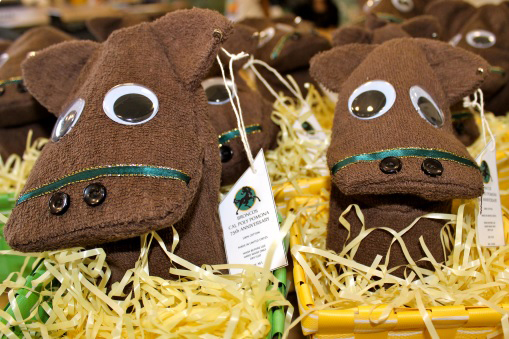 Dumlao took an apparel production class as an undergrad and to celebrate the 75th Anniversary of Cal Poly Pomona, her group produced pony bath mitts, which were donated to parents in need at the Pomona Valley Hospital.
Dumlao valued an apparel production class taught by Professor Muditha Senanayake, Interim Department Chair of the Apparel Merchandising and Management Department. Students in this class design, develop and produce baby apparel items to donate to newborns and their parents in need at the Pomona Valley Hospital. Senanayake wanted students to learn the process of mass production while contributing to the community. Students created different sizes, including sizes for premature babies, and considered comfortable materials, attractive colors and safety. 
Once Dumlao started working for bigger companies, such as Disney and Nike, she applied the concepts and skills she learned in this class in the same way in the industry, but on a larger scale. 
"Sarah was a good student, and her group produced a high-quality and complicated product, showing how they were ready to work in the industry," Senanayake said. "This project helps bring out the students' hearts and minds and they can always discuss about their community project in their e-portfolio, which is highly valued by companies." 
After graduating from Cal Poly Pomona, Dumlao worked in apparel global sourcing and production at Disney and then at a small company. She always wanted to work at Nike and have a chance to explore different places outside of California. When timing was right, she was still able to work in her field at the company she wanted. 
"Nike resonated with me because I wanted to do something that makes a difference in the world with an inspiring company that makes an impact on life," Dumlao said. "I consider myself incredibly lucky – I'm able to do exactly what I want to do, and I'm able to see Michael Jordan and other athletes on site." 
The Olympic track and field uniforms she helped to produce feature apparel technology and innovation, including a two-toned fabric that looks like two different colors, depending on the angle the jersey is viewed. Dumlao was the project manager in the team, after the designers confirmed the look and feel of the jerseys. She ensured the quality, timing and delivery of the jerseys for the Olympic athletes. Now, pending a worldwide pandemic, she can say that she lent a hand in creating something that will be seen by tens of millions of people on athletes who consistently earn a place on the tri-level podium. 
"It was the biggest challenge thus far and the most rewarding," Dumlao said. "It's going to be on professional athletes, who themselves are the world stage. They put their blood, sweat and tears into a sport, and I get to have a part in showcasing them to the world."