Bronco Stampede
About Our Crest
The components of the BroncoStampede Ambassadors crest represent the rich history of Cal Poly Pomona. It consists of four quadrants, each representing Cal Poly Pomona's transformation.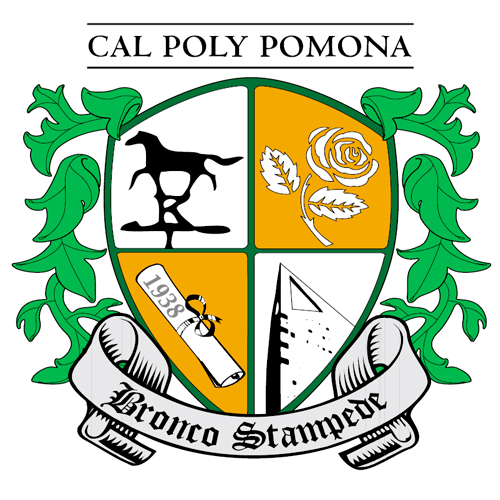 The weather vane with an Arabian horse stands on one of the oldest buildings at Cal Poly Pomona, Union Plaza. Cal Poly Pomona was founded in what was once Will Keith Kellogg's horse stables. In 1949, Kellogg donated 813 acres of his ranch to the State of California for the use of Cal Poly. This was one of the largest gifts ever made to a California state college. When donating the ranch Kellogg had a few conditions. One of his conditions was to continue the breeding of Arabian horses and making valuable blood lines available to the public. Today, Cal Poly Pomona has some of the finest horses in California.
The 1938 diploma represents the establishment of the Southern California branch of the California Polytechnic College, San Luis Obispo at the Voorhis School of Boys in San Dimas, CA. Charles Voorhis donated his school to Cal Poly. The college opened its doors in September 1938 to 110 male students. In 1966 the Pomona campus separated from the San Luis Obispo campus to become California State Polytechnic College. It was not until 1972 that Cal Poly Pomona obtained university status.
The rose represents a distinctive student activity on campus. The Cal Poly Universities are the only educational institutions represented with a rose float each New Year's Day in the Pasadena Tournament of Roses Parade.  The rose float is designed, constructed, decorated and financed by Cal Poly students. This one of kind tradition began January 1, 1949 and it has continued to today. The Cal Poly Universities have received numerous awards throughout the years. The development of a rose float each year has created a sense of pride and accomplishment. Additionally, the rose also signifies our Rose Garden, which houses the Alumni Brick Walk.