Other Donors
Our gardens and educational programs have been made possible through the generosity of the:
Rock & Waterscape Systems, Inc.
Mr. Gerald O Taylor, Landscape Architecture
The Mesozoic Garden and Learning Center has been made possible by the generosity of the:
Southern California Gas Company
Mr. Sergio Bracci
Mr. Brian Thomas
Mr. Eric Haley, MLA
Mr. James Powell, MLA
Cal Poly Pomona 2011 Senior Class Gift
Ernest Prete Jr. Foundation Endowment

The spirit of this foundation requires significant proactive and imaginative activities regarding earth preservation and the exploration of the universe.
This is not for anybody unless they can hear…the answer in the sound of distant hoof beats and not from the middle of the stampede.
The mind is best used proactively for all humanity...
Ernest Prete, Jr. (1927-2000)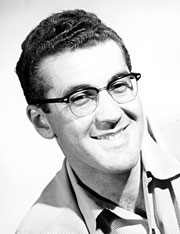 Ernest Prete, Jr. was born on January 31, 1927 in Staten Island, New York, and lived there until his military service during WWII. Mr. Prete landed in California following his duty in the Army Medical Corps, and obtained his Certificate in Aeronautical Engineering in 1949 from Cal-Aero Technical Institute in Glendale, California.
Mr. Prete began his career as a design engineer for Brownline Corporation, a manufacturer of air cargo tie-downs. In 1969, along with 4 other Brownline employees, Mr. Prete founded Ancra International Corporation and expanded the company from a single manufacturing facility to an international network of manufacturing, sales and distribution centers. As a Director and Vice President of Engineering, he helped Ancra become the leading worldwide producer of cargo restraint and handling systems for transportation and material handling industries.
Throughout his career, Mr. Prete held many patents and invented the first airline seatbelt buckle for American Airlines, aircraft seat fittings, the ratchet buckle, and many more. His creativity extended even to a lifelong dream of becoming a cartoonist, and was known under the penname of Clide.
Mr. Prete retired in December of 1990 after a very successful career with Ancra International Corporation. From the proceeds of selling his interests in Ancra, Mr. Prete established the Ernest Prete Jr. Foundation.
A lover of eagles, Mr. Prete has been described by many as a cross between Howard Hughes and Albert Einstein. He believed the world should be left better off than when you lived in it.
Dr. Jia-His Wu Endowment
This grant has been generously endowed by Dr. Jia-Hsi Wu, a distinguished faculty member in the Biological Sciences Department from 1966 to 1996. Dr. Wu established this grant to advance the knowledge of undergraduate and graduate biological sciences students who are involved in research in the areas of plant physiology, virology, and/or other areas within the biological sciences.