The College of Education and Integrative Studies is a learning community focused on meeting the present and future needs of students in our communities. We educate students to become highly qualified and significant leaders in our society. We are committed to the principles of diversity, ethics and social justice, and life-long learning. Central to our mission are innovative and integrative thinking, reflective practice, collaborative action, and learning by doing.
EWS Adjunct Faculty Selected for CSU Chancellor's Doctoral Incentive Program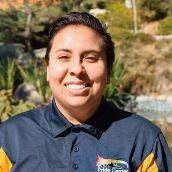 Bri Sérráno, an adjunct faculty member in the Department of Ethnic and Women's Studies, has been selected to participate in the California State University Chancellor's Doctoral Incentive Program (CDIP).  
CDIP prepares doctoral students for an academic career and offers financial assistance, mentorship, professional development and grants information. The program is highly selective and chooses its scholars based on their potential for success as doctoral students and future tenure-track faculty. CDIP's mission is to increase the number of faculty who have the ability and ambition to educate diverse students.