In Memoriam: Dr. Dennis Loo, Emeritus Professor of Sociology, Cal Poly Pomona.
April 1, 2021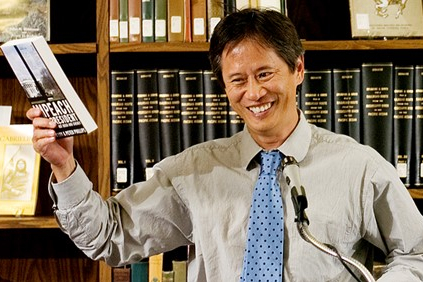 Dr. Dennis Loo, was born July 7, 1951, in Honolulu, Hawaii. He passed away March 6, 2021, at La Jolla Scripps Memorial Hospital. Dennis suffered from Multiple System Atrophy for many years but passed away peacefully in his sleep. As he left this world, he was listening to Hawaiian music played on a cell phone by his nurse. He is survived by his wife Barbara and son Stefan.
Upon graduating from Punahou School, Dennis traveled five-thousand miles east to attend Harvard University, where he earned his bachelor's degree with honors in Government. It was at Harvard that his career as a journalist and activist began, having been exposed to the protests of the 1960s. There is a letter that Dennis penned to the Harvard Crimson, dated May 6, 1971, that reveals the character that so many of his friends and colleagues came to admire about him: that he was a person of action and fearless advocate for student-centered education. In his letter, he penned a list of demands that highlighted the importance of serving all students, especially those who were underrepresented. "End the discrimination against women, minorities, and radicalism in admissions, hiring, granting of tenure, and course offerings," read one of Dennis's seventeen demands, a testament to his perpetual need to reimagine possibilities for higher education.
After Harvard, Dennis returned home and worked as an editor and photographer for the Hawaii Observer, and he taught in the University of Hawaii's Ethnic Studies Program. He eventually made his way back to the mainland to pursue his Ph.D. In Sociology at University of California-Santa Cruz, earning a prestigious paper award from the Society for the Study of Social Problems. Dennis began his career as a professor at California State Polytechnic University-Pomona in the Behavioral Studies Department (which later became the Department of Psychology and Sociology, and then eventually the Department of Sociology). During his tenure as a professor, he would pen groundbreaking books, including Impeach the President: The Case Against Bush and Cheney (2006) and Globalization and the Demolition of Society (2011). He was a passionate and rigorous instructor, having taught everything from Introduction to Sociology to Classical Theory to Political Sociology to Criminology. Dennis's political activism transcended the page and the classroom. When asked to share their favorite memories of Dennis, many of his beloved colleagues recalled the time they'd see him at anti-war protests and demonstrations, speaking out against the dangerous afterlife of U.S. wars and empire.
When Dennis passed, his friends at the University shared beautiful memories: his infectious laughter; his love of theory and social movements; the everyday conversations; his deep love and connection to Hawaii; his brilliant wide-ranging knowledge; his passion for environmental and diversity issues; his charming little companion Sasha; his avid interest in horse racing; his ability to challenge his colleagues and his students to think critically; his courageous life and teaching; sharing family stories and jokes during carpool rides; his Santa Cruzer identity; his unwavering activism at Cal Poly Pomona, the Cal State University system, and beyond; his retirement speech, full of reflection, humor, and gratitude; his willingness to ask for support, like the time he asked for origami paper to help his hand-eye coordination; his willingness to speak out for others; the wisdom he'd so willingly share in the department hallway; watching him enjoy his apples and avocados at department meetings; the joyful moments shared with Dennis's wife Barbara and son Stefan; and above all, his friendship.
In this year of unspeakable loss, Dennis will always stand out as a model for a life well lived. May the brilliance and kindness he has imparted on those who had the privilege of knowing him live on. He will certainly be missed. 
E hoʻomaha me ka maluhia. Moe ka ma maluhia lani (Sleep in heavenly peace. Rest in peace.)