Jason Turcotte Faculty Advisor of the Year 2020-2021
April 13, 2021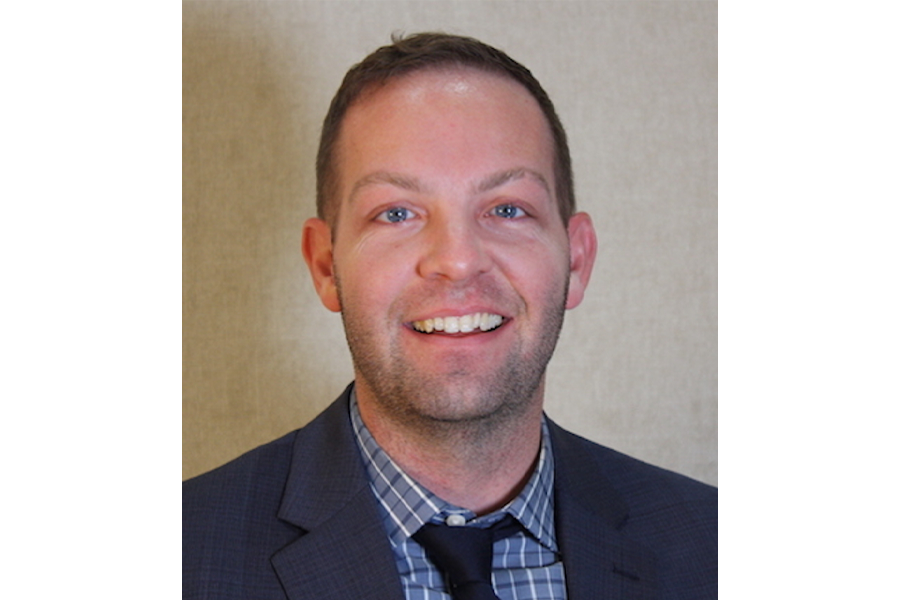 Congratulations to the 2021 Faculty Advisor of the Year: Dr. Jason Turcotte. Dr. Turcotte is an Associate Professor of Communication and serves as the faculty advisor of The Poly Post. Dr. Turcotte received his Ph.D. in Media and Public Affairs from Louisiana State University, his M.A. from New York University, where his emphasis was in political and persuasive communication, and a B.A. from Roger Williams University in Communication and Political Science.
Dr. Turcotte has been a member of our college for seven years. When we're on campus, you may find him near the CLA building as it reminds him of his favorite movie Gattaca. He's also a fan of the Polly Trolley truck – so you may have spotted him ordering a tasty treat!
Recently, The Poly Post launched an app - a student-run endeavor- but students at The Poly Post credit Dr. Turcotte with helping them reach this milestone. "Dr. Turcotte was integral to the whole process. He helped set up our crowdfunding apparatus, provided feedback throughout our meetings during winter break, and was very involved in ensuring the app met the program's standards," said Nicolas Hernandez, The Poly Post Copy Editor.  
Read the Q&A and learn more about Dr. Turcotte, his accomplishments, what he enjoys about being a faculty advisor, and his advice for graduating students. 
Q: What attracted you to the field of communication?
A: I've always enjoyed writing. As an introvert I found I could say more, do more because of my writing ability. As I grew more interested in politics, it pushed me closer to journalism and nonfiction writing. And now, as an academic, I am able to combine my two fields of interest and analyze the intersection of news media and politics.
Q: What do you enjoy most about being a faculty advisor?
A: Getting to know my students' unique experiences. Cal Poly Pomona students have such diverse and interesting academic trajectories; I really appreciate that. The one-on-one advising is how you get to learn about where your students come from, their struggles and their aspirations. It is especially gratifying to see them progress during their time at Cal Poly Pomona. Seeing and sharing in their excitement when they get their first internship, job, or that acceptance letter from a grad program, is one of the best perks of the job.
Q: Describe your teaching style.
A: I'm definitely big on discussion. I think learning is a collective experience that's enhanced when more people are contributing. Each individual's perspective and experience shape how we think about theories, problems, and applications. I also take a less is more approach with assignments. There may not be weekly assignments but the ones we have really count and simulate real-word situations. My students design and field public opinion polls, create political ads, and they write, publish, and produce news. I think my students would characterize me as having high expectations but always being approachable and invested in their success. I think some of them could do without my deadpan humor though.
Q: Has being in remote environment changed how you view teaching? If so, how?
A: The remote environment certainly adds new constraints to teaching and learning. Not all students have a home environment that is ideal for learning. In fact, few do. Managing group work is a struggle in the Zoom environment. I've certainly had to be more patient with them, but also with myself. This transition forces you to try new things – and not everything works and that's ok. You see how they respond, go back to the drawing board and try something new. In a lot of ways, it feels like my first year of teaching again.
Q: You are the faculty advisor for The Poly Post, what do you enjoy most about being in this role?
A: What I enjoy most is how unique this class is. It is a student-run publication so the hierarchy is much more diffused than what you would find in a typical classroom. The student editors call the shots. I advise, nudge, support, and suggest but they ultimately have the power to live and learn by their decisions – their successes and their mistakes. The editors feel like colleagues of mine rather than students, so it's really rewarding to get to know them through a less rigid dynamic. And because the class operates like a newsroom, I am able to simulate a lot of the experiences I had working in various news outlets to prepare students for what life in this line of work is like. It's also really satisfying to see the staff realize a new skill, improve their writing and reporting, and win collegiate journalism awards.
Q: What is an accomplishment your proud of?
A: As a First Gen student, I'm really proud to have earned a doctoral degree. For the current academic year, the things I am most proud of are: publishing a research project with four engaged Com students and a colleague, guiding the Poly Post mobile app launch this spring, and seeing the hard work of one of my research students (and CPP graduate) lead to him accepting a fully funded fellowship at UC-Berkeley.
Q: What advice would you give to students graduating this year?
A: Be patient and be open to change. If you're type A, like me, be willing to do a 180 – or even a 90. Don't be afraid to take a job that wasn't part of your original game plan. You'll learn something, you'll gain experience, and you'll make useful connections. I vowed I'd never live in a big city, including New York and LA; I've lived in both. Being a professor was never part of my master plan, but I was willing to modify my plans, listen to people with more wisdom and life experience than myself, try new things, relocate to new places and I couldn't't be happier doing what I do now at Cal Poly Pomona. None of those experiences would have been possible if I didn't't veer from my original plan.
Q: What are you looking forward to once we're able to go back to campus?
A: The impromptu conversations with my amazing colleagues in the hallways of Building 1, the interactions with students and the collective energy that can only come from being in a classroom together. I look forward to attending more CPP basketball games and relaunching a Media & Politics research team with students. I even miss the walk from J-Lot to Building 1. 
Congratulations on your award, Dr. Turcotte; our college, students, and campus are lucky to have your talents, passion, and knowledge with us!