Alumna's Life Changes After Classroom Visit Nearly 10 Years Earlier
September 9, 2021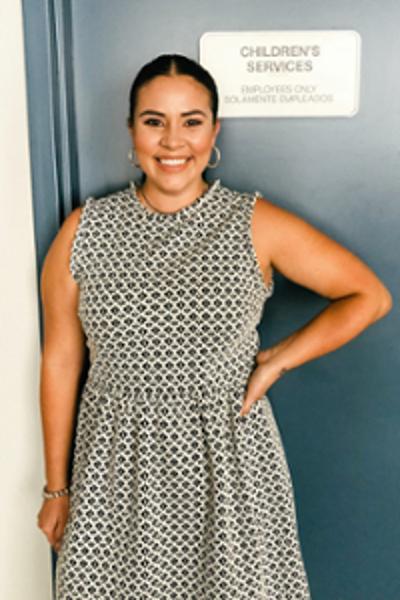 You never know when something will impact your life. A slight shift, even a guest visit to a classroom, can alter your world and even bring clarity. This was the case for Camille Delgadillo (psychology' 12)., who is now a Senior Social Services Supervisor with the Orange County Social Services.
"I became interested in social work while studying at Cal Poly Pomona. While taking a Family Violence course my senior year, Dr. Brianne Dávila had MSW [Master of Social Work] students present during one of our classes. It was during that presentation that I learned social work was everything I was looking for in a career," said Delgadillo. 
Delgadillo is a CPP psychology and criminal justice alumna. After graduating from CPP, she went on to get her Master's in Social Work with an emphasis in child welfare from California State University, Fullerton. Now, Delgadillo's work focuses on adult and child abuse. She is a Senior Social Services Supervisor with the Orange County Social Services. In her role, she supervises the Child and Adult Abuse Hotline. 
According to data from the Orange County Social Services Agency website, "the county has a population of 715,119 children under the age of 18." The same data also notes that the monthly average for the fiscal year 2019-2020 reports to the 24-hour hotline for suspected child abuse is nearly 3,000. For seniors, the number of reports of elder abuse, neglect, or exploitation is 864. 
Although Delgadillo works with individuals experiencing struggles, she is proud of her part in being able to facilitate support and help out families through difficulties makes it all worth it. 
"I am making a positive impact on the world by providing direct services to some of our most vulnerable populations," Delgadillo said. "What I enjoy most about the work I do is being able to provide non-biased services to children and families that help promote self-sufficiency and safety." 
Throughout her career, Delgadillo took note of the women within her organization. Her motivation was to continue to move up – just as those women had - and continue to grow. She's set goals for herself, including learning Spanish and taking part in macro-level social work. 
Just as she honed in on her passion for social work, Delgadillo recommends students to do the same. "My advice for current students is to find specific areas of interest within your targeted profession and hone in on them. In addition, I would recommend that current students network professionally and take advantage of opportunities presented to them by educators."