Sociology Lecturers Awarded
December 16, 2021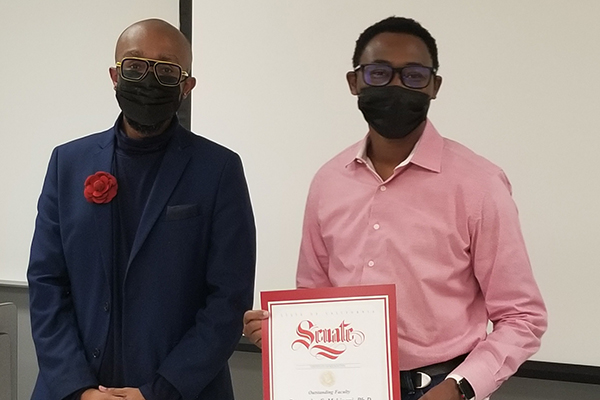 In November, Dr. Stephanie Jonesand Dr. Deogratius Mshigeni, lecturers in the Sociology Department, were awarded the State Senate Recognition for Faculty Excellence. This student-initiated award recognizes faculty who have made outstanding contributions toward advancing the university's equity, diversity, and inclusion goals. 
Sociology student Lori Clark, and Associate Vice President and Dean of Students, Dr. Jonathan Grady, were the initiators in awarding Dr. Jones and Dr. Mshigeni this recognition by the State Senate. 
Lori Clark explains  her reasoning for nominating Dr. Jones and Dr. Mshigeni , "I appreciate faculty that are passionate about helping me work through those layers so that when I leave Cal Poly Pomona, I will be someone who can help dismantle systems of inequality and injustice and change them." She shares that Dr. Jones and Dr. Mshingeni have done an exceptional job at using relevant materials, which encourage Lori and generation X to "… unlearn the narrative and framework that had been taught to me growing up." 
Dr. Stephanie Jones and Dr. Deogratius Mshigeni have demonstrated an unwavering commitment to creating inclusive and culturally relevant pedagogical practices that seek to empower and uplift students and their communities in equity-minded and student-ready ways.  
 Dr. Jones and Dr. Mshigeni have shown their dedication to creating an inclusive space both inside and outside the classroom. They and their work inspire us within our college.