Professional Work Experience and Disney Internship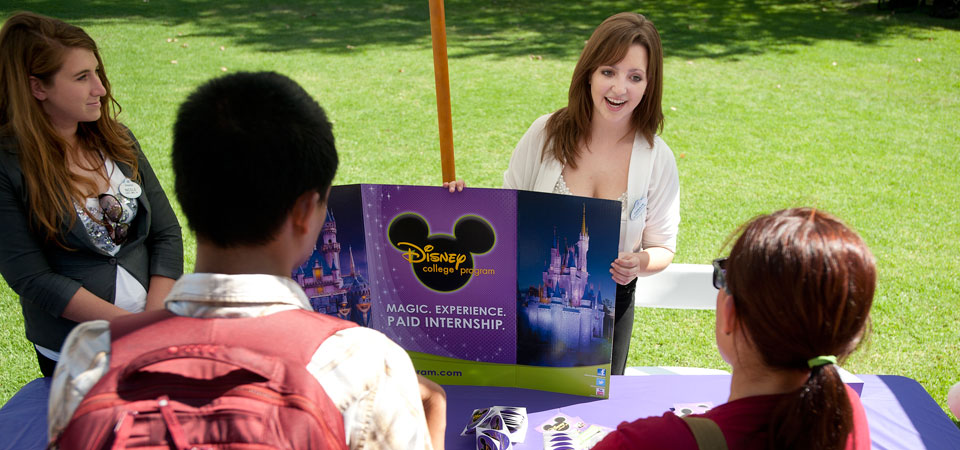 Verification of 800 Hours of Hospitality Professional Work Experience
First-year students (Freshman), you must complete all 800 hours after your high school graduation.
Transfer students, you must complete at least 400 of these hours while you have been admitted/enrolled at Cal Poly Pomona. You are allowed to bring UP TO 400 hours with you from post-high school graduation till joining CPP, for a total of 800 hours.
Additionally, please note:
International students, You qualify for CPT and US work authorization, visit cpp.edu/international/ for more information, including dates for mandatory CPT workshops.
Undocumented students, Please speak with the coordinator as soon as possible to address any concerns regarding PWE documentation. Resources can be found at cpp.edu/broncodreamers/
When do I need to submit my hours? Who do I give them to? You will need to submit proof of your hours the first week of the semester you are enrolled in HRT 3410 on Canvas, the campus learning management system, to your instructor. We cannot accept proof of hours early; they must be turned in when you are enrolled in HRT 3410.
What about the 200 hours for the hotel series? Contact Dr. Patrick Lee for all approvals at cplee@cpp.edu.
What jobs count toward PWE? The hospitality industry is composed of lodging properties, resorts, restaurants of all types, as well as other hospitality segments including private clubs, banquet, and catering businesses, event and meeting planners, cruise ships, casinos, and convention centers. It is within one of these areas that the student will acquire professional work experience. Think of the definition of hospitality itself – the cordial, generous, and gracious reception of guests. Guests at your hotel, your resort, your restaurant, at a special event, or as a member of your club. It is this type of experience, as well as managing those people who serve the guests, that the student should be acquiring for this major. Questions if your job counts? Please email or see the Career Services Coordinator BEFORE accepting the position. Positions can be held anywhere in the world.
How do I prove the number of hours that I worked? Submit paycheck stubs (multiple years and/or jobs if needed) verifying your total number of hours (by your YTD). Alternatively, if you cannot obtain a paycheck stub with a yearend YTD on it, you can submit any paystub AND a copy of your W2 for us to verify the total number of hours. Cash and "under the table" jobs are not accepted.
The instructor for the class may change periodically. Currently, the professor is Ann Lara, and she can be reached at  aelara@cpp.edu or (909) 869 4149
HRT 4410 Internship in Hospitality Management
On-the-job training in some phases of hospitality management. The experience must be new to the student. Student meets with industry representatives and faculty to establish learning objectives and performance reviews. Analytical reports are made periodically to the instructor. Students are eligible to enroll in HRT 4410 after they complete their first 800 hours of professional work experience and complete HRT 3410.
Employer Internship Kit
Collins College of Hospitality Management students have the opportunity to participate in the Disney College Program while earning 9 elective units.
The college has designed a course that allows Collins College students to earn full-time credits while gaining valuable professional development skills and earning a paycheck by working in front-line positions at Disney. Read more about the program.