International Visiting Faculty and Fellows Program
Overview
Global Education Institute at Cal Poly Pomona welcomes international university faculty, staff and other working professionals from all over the world to join our International Visiting Faculty and Fellows Program. The purpose of the program is to provide foreign nationals with opportunities to participate in educational and cultural programs in the United States and return home to share their experiences. The program participants enter the United States on a J visa. The participants will have the opportunity to experience an authentic American university life and engage in academic research and cultural exchange with Cal Poly Pomona faculty, staff and students so as to enhance their personal and professional growth. The program length is flexible from three months to one year. International university students can apply for this program as well.
Program Application Requirements
Picture page of passport
Resume
Personal statement
Proof of English proficiency
Bachelor's degree or higher
Proof of financial support
Completed "Exchange Visitor Info Fillable Form"
Services for the Visiting Faculty/Fellows/Students
Invitation letter and DS2019 form for J-1 visa application
Pairing with Cal Poly Pomona faculty and/or staff
Class observations, peer meetings, workshops and other academic events on campus
Academic-related field trips and cultural events
Airport pickup/drop-off and lodging support
Program orientation
Advising on the health insurance
Bronco ID card
Featured Stories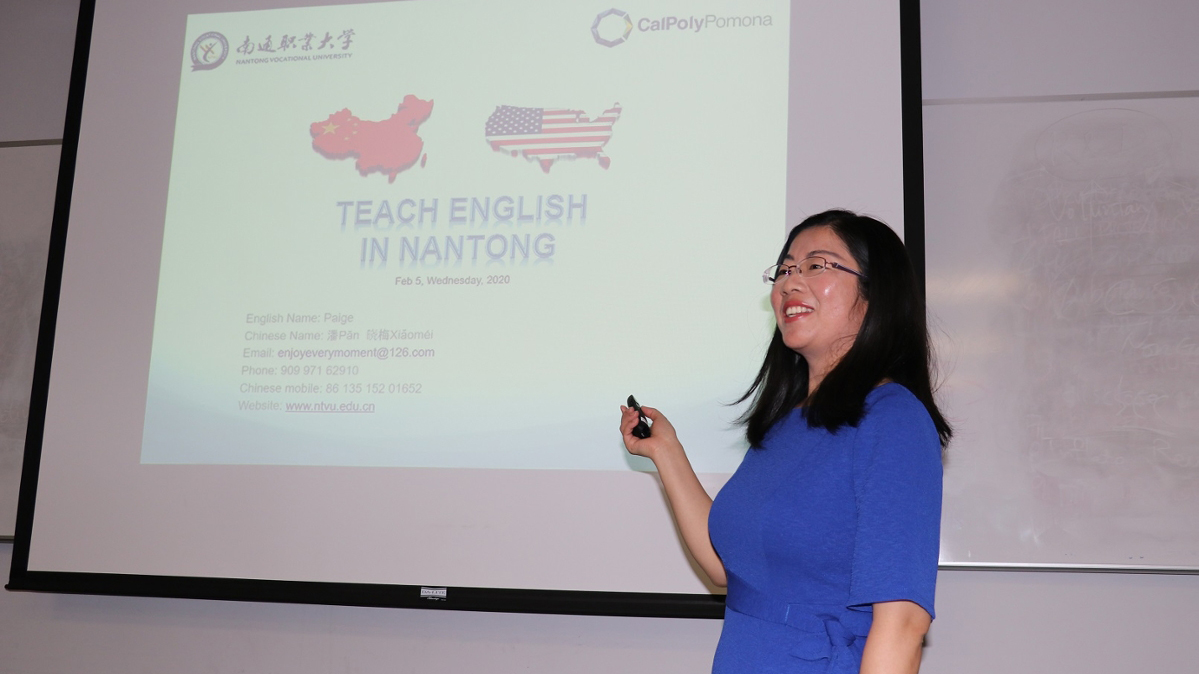 Meet Visiting Faculty Member Professor Paige Pan
GEI collaborated with International Center and invited six visiting faculty members from Nantong Vocational University to study at Cal Poly Pomona from November 2019 to February 2020.
Arthur Wang
Arthur Wang
Associate Director
Global Education Institute
College of the Extended University
California State Polytechnic University, Pomona
Tel: 909-869-4599
Cell: 714-686-6985
Fax: 909-869-5077
CEU Footer

3801 W. Temple Ave.


Bldg 220B-232



Pomona CA 91768
https://www.cpge.cpp.edu
Phone: 909-869-2276
Email : gei@cpp.edu
Office Hours:
Monday – Friday 
8:00 AM to 5:00 PM
Follow Us on Social Media