Alumni Testimonials
After graduation, I accepted a position as an Optical Engineer with Northrop Grumman where I work on the design, testing, and analysis of a variety of different optical systems and devices. I found that many skills I developed as a student in CPP's physics department transferred directly into my everyday problem solving and engineering work....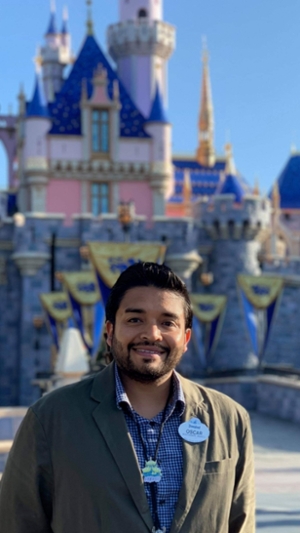 Hi, my name is Oscar Omar Ledezma Vazquez, I am currently a Controls Engineer at The Walt Disney Company. In my current role, it is my responsibility to design and engineer the computer, electronic or electrical equipment that controls and monitors devices which permit physical equipment movement with visual indications. In other words, control the...
Currently at NASA Jet Propulsion Laboratory in Pasadena, CA, working as a Radiation Effects Engineer. Cal Poly taught me the fundamentals of what I needed to know to start my career, helped me get real-world experience in research internships, and mentored me in how to get accepted to graduate school. Cal Poly was where my career in the aerospace industry...
Vincent Kong is currently the Systems Director of Battle Management, Command and Control at the Aerospace Corporation. In this role, Vincent supports the the government (Air Force) acquisition of systems to help with the governments space assets.After graduating from Cal Poly Pomona, Vincent pursued a PhD in physics at UC Riverside specializing in Gamma...
My name is Sarah Linen (formerly Garcia). I graduated from the physics department in 2012 and went on to obtain my physics teaching credential to teach high school in 2015. I spent the last 2 years at San Dimas high school teaching AP Physics and physical science. This is my 3rd year teaching and I am at El Modena high school teaching regular and...
I graduated in June 2015. I am currently working in an optical metrology lab as a program lab technician in Irvine. I perform various measurements for quality assurance on a wide variety of optical components. My experience at Cal Poly has helped prepare me for my career in optics. The philosophy of learn by doing has made the transition from the college...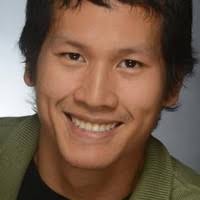 From the moment I set foot on campus, working at a research lab and internships were strongly encouraged. The research skills and lab experience I got out of Cal Poly Pomona were directly transferable to industry. Doing original hands-on research was very difficult, but extremely rewarding. Cal Poly Pomona is founded upon a proven principle -- learn by...
Graduated in 2012 from CPP, Moved to Detroit to the oldest accredited Medical Physics program (Wayne State University) to receive my masters. Currently working at Carillion Clinic in Roanoke Virginia as a Clinical Medical Physicist. Cal Poly Pomona's wonderful research programs, encouraging and engaging faculty, and in broad physics seminars not only...

Brian Ley graduated from Cal Poly Pomona Physics Department in 2003. He attended Columbia University College of Dental Medicine and he is now a practising dentist, where he constantly uses new imaging technologies as well as high power lasers for cleaning and minor surgery. He states that Dentistry is a tangent field but employs many applications...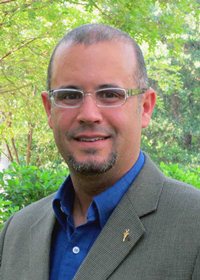 After earning my PhD in Chemical Physics from the University of Maryland, I spent two years as a NRC Postdoctoral Fellow at the National Institute of Standards and Technology. I returned to my CSU roots and joined the faculty at California State University, Sacramento, Department of Physics in 2002. I've been the Department Chair at Sacramento State...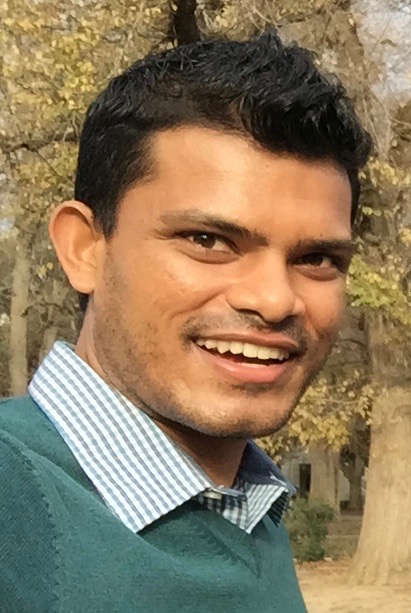 After graduating from Cal Poly Pomona in 2010 with bachelor's degrees in physics and aerospace engineering, I attended UC Santa Cruz for my master's degree in earth sciences (planetary science). At UC Santa Cruz my research was on lunar geophysics (viz. lunar topography and paleomagnetism). I am currently a Ph.D candidate in the School of Earth...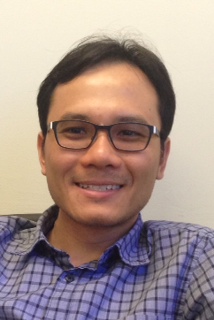 Right now, my job title is Test Automation Engineer, working for Sentient Energy, a smart grid analytics company. I'm not sure how CPP influenced my career choices, lol. But I learned a lot during that time. People asked how much of the stuff I do in my job was learned in school, because they're really impressed of what I do. My answer was none,...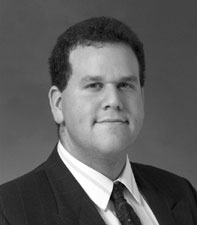 Steven Guertin graduated from Cal Poly Pomona Physics Department in 1998. He is currently a Radiation Engineer at the NASA Jet Propulsion Lab.  Steven Guertin's LinkedIn Page Updated May 2016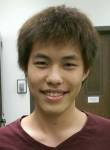 Now working as an assistant actuary at Benetech. The work is fairly boring, but hopefully in the near future I will be able to be able to apply my Physics Degree in something more creative in the financial field somewhere. Updated April 2016
After I left Cal Poly I joined a startup in Los Angeles that made chat and IM software (Userplane). I spent a few years there, originally helping our customers integrate our software and eventually moving into a product management role and ultimately running the product and support teams. The company was acquired by AOL so I transitioned there for a brief...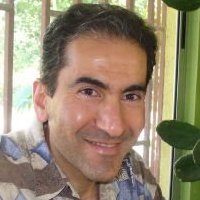 Ron graduated from Cal Poly Pomona in 1985 and 1988 with a B.S. in Physics. He is currently the Department Chair of the Physical Science Department at Cypress College.  Activities and Societies: Society of Physics Students. Sigma Pi Sigma, the Physics Student Honor Society. "My love of physics began at Cal Poly because the Profs there...
I am entering my fourth year of my Ph.D. program at UC Riverside. My research involves constraining the mysterious relation between the mass of extra-galactic supermassive black holes and the stellar velocity dispersion of their host galaxies. I am currently modeling a sample of Narrow-Line Seyfert I galaxies using Hubble Space Telescope data to determine...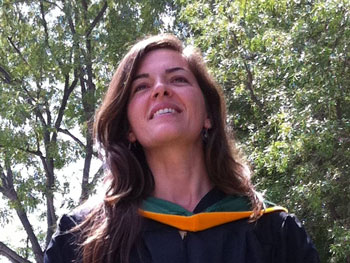 Rachel Pittman is a physics alumna from Cal Poly Pomona who graduated in 2006.  She was a physics teacher and is currently a K-12 administrator. Rachel is currently pursuing a PhD in Education with an emphasis is Educational Policy, Evaluation and Reform. "The Physics Department at Cal Poly Pomona was certainly my font...
I came to Cal Poly Pomona in 2003 to study physics and was set to graduate with a bachelor's degree in physics in 2007, but choose to stay an extra year to finish requirements for a math minor. In 2008 I graduated summa cum laude with a major in physics and minor in mathematics. The following year after graduating, the Cal Poly Physics...
I currently teach physics labs at Cal Poly Pomona. I am also attempting to enter the Air Force as an Officer. Cal Poly gave me the necessary skills and knowledge to tackle even the most difficult problems. I am extremely grateful that the school I graduated from gave me a job.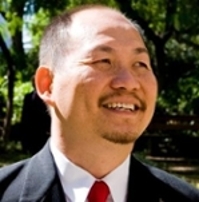 After getting my B.S. degree in physics from Cal Poly Pomona, I went on to graduate school at Rensselaer Polytechnic Institute where I got a M.S. in physics. Then, I came back to Southern California to work at NASA's Jet Propulsion Laboratory. I've been there for over 20 years. Currently, I'm on the Juno mission to Jupiter working as their...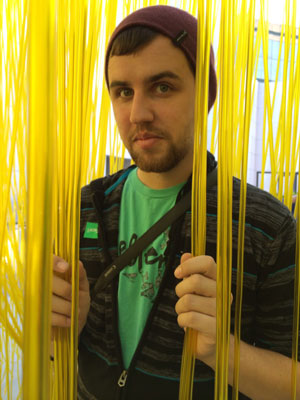 After graduating from Cal Poly Pomona in 2012 with my B.S. in Physics I went on to receive my teaching credential a year later. I am now teaching Physics and Earth Science at a local high school. Thanks to the amazing professors, tight knit student community, and the LA program at Cal Poly Pomona I am doing what I love and changing the lives of students...

After my graduation from CPP in 2012, I found a job at UCSD in a MRI liver imaging research lab (called the Liver Imaging Group, or LIG). My interest in MRI was kindled by Dr. Mireles' senior advanced lab, where I completed the pulsed nuclear magnetic resonance assignment. I used the interest I gained from that lab as a guide when I was applying...
"In 2003, after 6 years of study, I became the first person in my family to graduate from college. I quit my job as a waitress to start graduate school, accepting a full fellowship at the University of California, Riverside. I quickly discovered that I did not enjoy spending all my weekends and nights doing...
Clinical System's integration specialist, working in the Biotech industry around the country and Europe. I have since become a veterinarian and am working at a local veterinary clinic. Riverside CA. Updated October 2015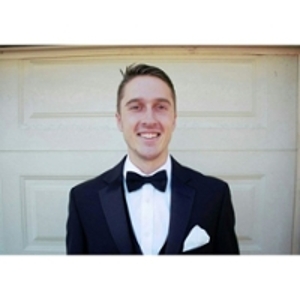 I am an Integrated Test Systems Engineer at the Jet Propulsion Laboratory. It is a mouthful but I basically work in a Metrology Laboratory calibrating test equipment. I also provide support to technical inventories, flight fasteners, metal stores, instrument loan pool, and some R&TD in optics. I also have a fair amount of experience in process...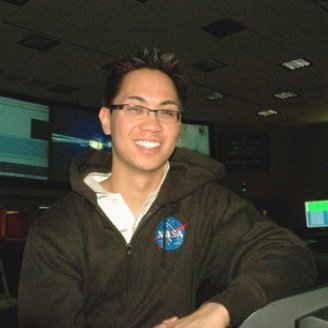 Gregory was a physics major who graduated from Cal Poly Pomona in 2009 and is currently working at JPL. He has done a number of Astronomy research projects as an undergraduate. He first participated in a research project with Dr. Joe Carson of JPL and Dr. Alex Rudolph of CPP searching for Brown Dwarfs around nearby stars using the Palomar 200"...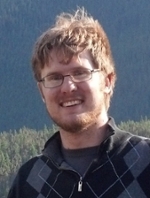 As my final year at Cal Poly Pomona approached, I began to seriously consider graduate work. I felt a career in industry would be the best fit: the opportunity to apply what I learned to interesting, novel products. At the same time, I was working in Dr. Salik's lab, enjoying the research projects utilizing fiber optics and surface plasmon...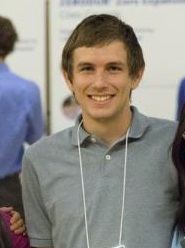 After my time at Cal Poly I attended graduate school at the University of Arizona studying Optical Sciences. My research was on whispering gallery microresonators and magnetic field sensing. I successfully defended my PhD work in December 2015. Now I am in the SF Bay Area working as an engineer developing the next generation of consumer...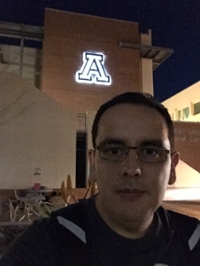 David Vega is a Physics major who graduated in 2015. After graduation he worked for the SETI Institute performing research in exoplanets detection and he also worked as a lecturer at Cal Poly Pomona. This year 2016, he will move to Tucson, Arizona to pursue his PhD in Optical Sciences at University of Arizona. He hopes to specialize in optical techniques...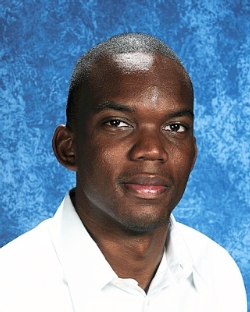 Shortly after graduating from Cal Poly Pomona I decided to return to pursue a Single Subject Teaching Credential. Since earning my credential I've been employed with Garden Grove USD as a high school teacher. My time at Cal Poly Pomona prepared me for my time in the classroom by allowing me to work closely with professors. Seeing their enthusiasm for...
After graduating in 2012, Courtney Lemon made a goal to work in the field of communicating science, and supporting the next generation of physics students. She is the Education Program Specialist at American Institute of Physics and Society of Physics Students, and currently manages the SPS intern program and awards program. She...
Since graduating from Cal Poly Pomona, I have moved to Eugene, Oregon to pursue a PhD in physics at the University of Oregon. I am still in my first year of studies as a graduate student, so I haven't become very involved in research yet. There are so many interesting research groups in the department that it is hard to decide on which group to join....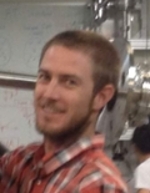 After graduating from Cal Poly in 2008 I immediately started graduate studies at UC Irvine, where I studied solar neutrinos at Super-kamiokande under Prof. Henry Sobel, the US spokesperson of the experiment. A previous Japanese spokesperson of Super-Kamiokande, Takaaki Kajita, was awarded a share of the 2015 Nobel Prize in Physics for the contributions of...

Anatol Hoemke is a Laboratory Support Technician at Loyola Marymount University Department of Physics. Anatol graduated from Cal Poly Pomona Physics Department in 2006, and worked as a staff member at Cal Poly Pomona Physics and Astronomy. Later, he moved to Loyola Marymount University, where he is a lab support technician. Below, Anatol is seen...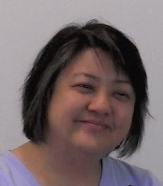 Alice Tong graduated from Cal Poly Pomona in 1990. She is currently a System Administrator at the California Air Resources Board.  Updated May 2016