Children's Garden Offers Schoolchildren New Activities
Slideshow
This slideshow contains 5 slides that will change every 8 seconds. The first button is to play and pause the slideshow, followed by buttons to go to the previous slide, next slide, or choose individual slides.
Slide1

Schoolchildren watch and listen as a Cal Poly Pomona student uses a graphic display to talk about different parts of plants.

Children's Garden

The Children's Garden at AGRIscapes hosted about 6,000 schoolchildren on field trips this fall.
Published Date: Nov 27, 2019 3:30:00 PM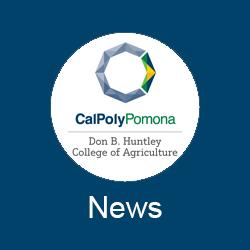 Schoolchildren who visited AGRIscapes on field trips this fall learned new things in the Children's Garden. 
Using a graphic display, Huntley College of Agriculture students taught the elementary schoolchildren about the different parts of plants. In the past, the children would plant a seed that they could take home and watch grow. But this year, they got hands-on experience examining the insides of pumpkins using magnifying glasses and plastic tongs. 
Natalie Rodriguez ('18, agricultural science), the new education outreach coordinator at AGRIscapes, helped design the new curriculum.  
"We get a lot of returning students, so it's important that we change up the activities within the garden to keep their interest," Rodriguez said. "STEM - science, technology, engineering and mathematics - is a big thing as it relates to agriculture." 
Rodriguez was assisted by Jameson Bradford, a plant science graduate student, who maintains the garden and coordinates the school tours. He also leads the agriculture students who make presentations about good insects (pollinators) and bad insects (pests) and the USDA's MyPlate nutrition guidelines.  
"It's an opportunity for our ag students to share what they're learning," said AGRIscapes Director Craig Walters.  
About 9,500 schoolchildren and parents visited AGRIscapes for field trips this past fall, with about 6,000 visiting the Children's Garden.  
In addition to the new educational activities, Rodriguez developed worksheets that teachers could use on the field trip or download from the AGRIscapes website for future classwork or homework.   
The worksheets test what the children learned about pumpkins and sheep on the field trip. For example, the children are asked to name the parts of the pumpkin and answer true or false questions about the sheep.  
Rodriguez is developing other worksheets on food and nutrition and entomology that will further expand children's knowledge. 
Schools that participated in field trips to AGRIscapes also had the option of visiting the Cal Poly Pomona Petting Farm, the pumpkin patch, and going on a hay ride around the Discovery Farm at AGRIscapes.  
"We see this as an introduction to agriculture for thousands of young minds in Southern California," Walters said.