Cultivating, building, and fostering a culture of partnership and investment
We're extremely proud of our alumni.
Alumni
Our Distinguished Alumni 2016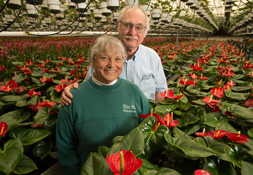 Tony & Sue Godfrey
College of Agriculture, Class of 1969
College of Agriculture, Class of 1970
A Fallbrook couple whose friendship began at Cal Poly Pomona nearly 50 years ago has been named the College of Agriculture's Distinguished Alumni for 2016.
Tony and Sue Godfrey own Olive Hill Greenhouses in Fallbrook, Calif., which grows indoor houseplants such as bromeliads, anthuriums, ferns, and pothos. The company employs 80 workers and sells primarily to interiorscapers, wholesalers, and a few retail nurseries and florists in the Los Angeles-San Diego area, but also throughout the western United States. It has been recognized as one of the 100 largest-grossing nurseries in the country. 
Read about other Distinguished Alumni recipients »
---
Job Postings
Company: Cal Poly Pomona Department of Human Nutrition & Food Science
Position: Didactic Programs in Dietetics (Full-Time)
Description: The department is looking for a full-time director of the Didactic Programs in Dietetics program. The responsibilities include program management and maintenance of an ACEND-accredited Didactic Program in Dietetics, including verification of DPD completion, undergraduate instruction, and student advisement.
More information: See this flyer. 
(added 3/22/17)
---
Company: Tudor Ranch Inc.
Position: Ranch Manager
Description: The organization is looking for a bilingual, computer-literate manager to supervise its ranch staff, oversee cultivation and production fo fruits, facilitate farming equipment maintenance and rentals, and be responsible for governmental and food safety compliance.
More information: See this flyer.
(Added 2/20/17)
---
Keep in Touch
We like to receive update from our alumni on where they are and what they have been doing. Do we have your current contact information? Please update your information using this electronic form. Or you can contact Deanna Stewart in the Don B. Huntley College of Agriculture (dstewart@cpp.edu or 909-869-5390) with the following information:
Name

Address

E-mail address

Phone

Current job title

Employer
Your information will be added to the invitation list for your major's alumni events.