Ag Faculty Research Healthy Soil Practices at Spadra
Slideshow
This slideshow contains 2 slides that will change every 8 seconds. The first button is to play and pause the slideshow, followed by buttons to go to the previous slide, next slide, or choose individual slides.
Slide1

Assistant Professor Aaron Fox speaks to a crowd at Spadra Farm on Dec. 3 about the healthy soils research project.

Soil Lessons

Huntley College of Agriculture faculty are experimenting on a section of Spadra Farm to see whether certain practices can improve soil health and boost crop yields.
Published Date: Dec 16, 2019 4:03:00 PM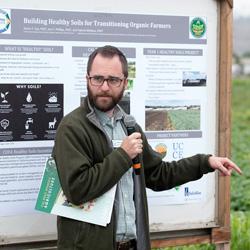 Huntley College of Agriculture faculty are experimenting on a section of Spadra Farm to see whether certain practices can improve soil health and boost crop yields.
The California Department of Food and Agriculture (CDFA) is sponsoring the demonstration project, which seeks to encourage farmers to employ healthy soil practices. An additional SoCal Gas Environmental Champions grant has expanded the number of students who can work on the project.
Soils are living, dynamic ecosystems with billions of microorganisms, Plant Science Assistant Professor Aaron Fox said. Certain practices – like using cover crops and not tilling the soil – can not only promote soil health, but prevent climate change, he said.
"By building the ecosystem, we're actually taking carbon out of the atmosphere and sequestering it into the soil," Fox said.
Fox shared the latest findings of the demonstration project with Southern California farmers and agriculturalists during a Dec. 3 event at Spadra Farm.
After the college received a CDFA Healthy Soils grant at the end of 2017, faculty began research on a 6-acre section at Spadra Farm that was previously used to grow alfalfa hay and was recently certified for organic production.
During the winter, they planted a cover crop of rye on 2 acres; on another 2 acres, they applied compost. Both were practices to put organic matter back into the soil. To compare these practices to a baseline, they did nothing on the last 2 acres. Following these practices, OC Produce planted a cash crop of organic green beans on the entire 6 acres.
Professor Jon Phillips, chair of the Department of Agribusiness and Food Industry Management/Agricultural Science, said faculty are also researching whether the healthy soil practices will produce a large enough green bean yield increase to offset their cost.
Practices like planting a rye cover crop require farmers to invest in seed, irrigation, and management and it's not clear if farmers can recoup those costs.
One benefit of cover crops may be improved weed management. Last year, the rye cover crop suppressed weeds while the other four acres had to be weeded every month.
Professors and students are also regularly checking each section of the project for organic matter content and other soil quality parameters. While the cover crop and compost may be adding organic matter to the soil, the plowing and tillage required to grow the cash crop may reduce soil organic matter and soil quality.
 Researchers are trying to determine if there are any ways to reduce tillage, Fox said.
In addition, Plant Science Assistant Professor Priti Saxena is working on a research project involving tomato research with UC Davis and the Organic Seed Alliance adjacent to the green beans.
The project seeks to evaluate and identify tomato breeds for hybridization so they can yield tomatoes suited for the Southern California climate and organic production practices.