OC Exec to Receive Agricultural Achievement Award
Published Date: Feb 4, 2020 12:00:00 PM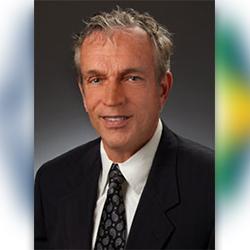 The head of an Orange County egg company will receive the 2020 Jim Hicks Agricultural Achievement Award from Cal Poly Pomona.
Tim Luberski, president of Hidden Villa Ranch based in Fullerton, will be presented with the award at the Huntley College of Agriculture's 6th Annual Farm to Table Spring Harvest Dinner on April 25, 2020.
"Tim has built Hidden Villa Ranch into one of the largest egg distributors in the country and serves customers around the world," said Lisa Kessler, interim dean of the Huntley College of Agriculture. "Truly, he has accomplished and achieved the American Dream in agriculture."
"I am honored to receive this award from the Huntley College of Agriculture," Luberski said. "The college plays a critical role in developing workers and leaders for our industry and our foodservice clients."
Family Business
Luberski's father emigrated from Poland to Southern California in the early 1940s and bought a modest egg-laying chicken ranch in Arcadia. They relocated the egg production operation to Riverside in 1953.
Luberski was raised in a home adjacent to the ranch. He attributes learning his strong work ethic to working for his father when he was young, stamping egg cartons at age 5, gathering eggs before he was 10, and working as a swamper on a delivery truck at 11 years old.
After graduating from the University of San Diego with bachelor's degrees in French and mathematics, Luberski enrolled at the University of Southern California to earn an MBA.
While attending USC, Luberski's father passed away, and his family was forced to sell Hidden Villa Ranch. To support his family, Luberski began bringing eggs from Riverside County and selling them to customers in Los Angeles, using his apartment as an office.
After a few years, Luberski purchased an egg route and hired a few part-time employees, allowing him to expand from production to distribution. He recruited USC fraternity students, athletes, and even players from his community softball team to work for him.
Hidden Villa Ranch Grows
Through hard work, long hours, and reinvesting in his company, Luberski grew his egg business, named after the former family ranch. He was able to purchase one of his largest competitors, adding supermarket customers to his initial foodservice customers.
In 1983 and 1984, Tim Luberski and Hidden Villa Ranch were recognized by Inc. Magazine as one of the 500 fastest-growing, privately-owned companies. He established relationships with egg producers all over the country, leading the way in using refrigerated trucks for deliveries and bringing shell eggs from the Midwest into California and Arizona. Hidden Villa Ranch utilizies their cutting-edge egg grading, processing, supply strengths and safety innovations, as additional motivation for confirmed expansion.
In the late 1980s, Hidden Villa Ranch created a dairy export division and became a major wholesaler and trader of cheeses, importing millions of pounds per year of processed cheese from Germany.
Today, Hidden Villa has annual sales in excess of $500 million and is regarded as one of the largest egg distributors and marketers in the country. Its daily business also comprises of the production, processing, marketing, trading, wholesaling, and exporting of eggs and other products and services to customers around the world.
The Huntley College of Agriculture
The Huntley College of Agriculture is the founding college at Cal Poly Pomona. It offers a hands-on, STEM-based education to its students, ranging from working with crops and animals on its 173-acre farm, to experimenting with food products in the lab and educating the public about nutrition, or designing and manufacturing a fashion line.
The college is named after alumnus Don Huntley ('60, animal husbandry), a Central Valley pistachio farmer. Huntley is a longtime supporter of Cal Poly Pomona, sponsoring student scholarships, funding research, donating money to create a campus vineyard, and loaning pieces of his art collection to display.
In 2016, Huntley pledged his pistachio farm to the college as an estate gift; in response, the California State University Board of Trustees named the college after Huntley.
Award Origins
The Jim Hicks Agricultural Achievement Award is named after Jim Hicks, a businessman and longtime supporter of agricultural education who was the inaugural recipient of the award in 2015.
The award is presented at the Huntley College of Agriculture's annual Farm to Table Spring Harvest dinner, which features California wines and local chefs preparing food, including produce grown and harvested by Cal Poly Pomona students.
Tickets to the Farm to Table Spring Harvest Dinner are now on sale online.