Animal Health Science Program Hosts "Pet Love" Event
Slideshow
This slideshow contains 3 slides that will change every 8 seconds. The first button is to play and pause the slideshow, followed by buttons to go to the previous slide, next slide, or choose individual slides.
Published Date: Mar 18, 2021 12:00:00 PM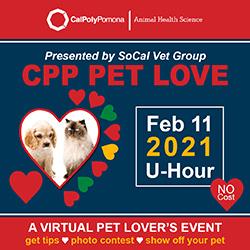 Animal lovers shared photos of their pets and heard tips about pet care from veterinary professionals at the virtual CPP Pet Love event.
About 45 people attended the Feb. 11 event, which was hosted by the Animal Health Science program and was open to the campus community and the public.
Attendees could participate in pet photo contests, and more than 20 people submitted photos.
Voting was held online via Mentimeter. Jenifer Cazares won for "Best Pet Zoom Photo Bomb," while Marissa Lizardo had the "Best Pet Photo."
In addition, the event featured tips on how owners could ensure their pets had a safe Valentine's Day by teaching them about foods that are toxic to pets. Practicing veterinary professionals also offered advice on how to help pets adjust to changes in their owners' remote-work schedules.
The event, which was held at noon, was sponsored by the SoCal Vet Group. The Cal Poly Pomona Alumni Association has posted a recording of the event.