Expert: Shifting to Plant-Based Diets Essential to Reduce Climate Change
Published Date: Nov 15, 2021 11:55:00 AM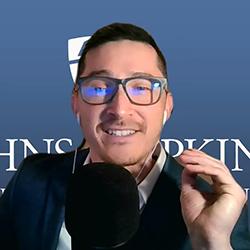 If the world is to reduce climate change, it must shift toward plant-based diets, an expert told a Cal Poly Pomona audience.
Brent Kim of the Johns Hopkins Center for a Livable Future spoke Nov. 4 at the second installment of the Bipin & Rekha Shah Plant-Based Food & Nutrition Distinguished Lecture Series. His topic was "A Nuanced Case for a Plant-Forward Future."
Global greenhouse gas emissions from agricultural production alone would almost push temperatures past that threshold because the Food and Agriculture Organization of the United Nations projects meat and dairy intake to grow, Kim said. And that's not even accounting for emissions from industry, transportation, or energy production, he said.
Individually, some aren't ready to make the jump to vegan diets, which have the least environmental impact, Kim acknowledged. A gradual transition – such as going meatless on Mondays – may be more effective than quitting meat cold turkey, he said.
"We need to meet people where they're at," Kim said. "Start with something you enjoy and make one small change at a time."
Concerted effort also is required to support businesses and policymakers who act against climate change, Kim said
View the full lecture:
Bipin and Rekha Shah donated money to create the lecture series and a plant-based nutrition minor within the Department of Nutrition and Food Science.
As Jains, they have practiced vegetarianism all their lives for ethical reasons, but also believe plant-based diets are better for human health and the environment, based on research.
Bipin Shah is CEO and chairman of Kovair Software in San Ramon, Calif.