Speaker: African American Farmers Battle Discrimination
Published Date: Feb 10, 2021 3:15:00 PM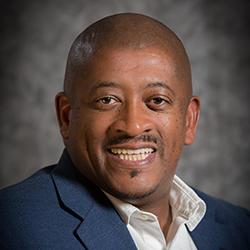 African American farmers have faced discrimination and difficulties when trying to obtain credit and technical support from the federal government, a guest speaker told a Huntley College of Agriculture audience.
Professor Ron Rainey, director of the Center for Agricultural and Rural Sustainability at the University of Arkansas's Division of Agriculture, spoke on the topic of "Are African American Farmers Losing Ground?" to Cal Poly Pomona faculty, students and staff on Feb. 5.
Rainey presented the policies and events in U.S. agricultural history that have led to African American farmers having unequal access to resources, said Chelsi Dimm, an agribusiness lecturer who attended the event.
"This sharing of new research is one way that we keep our pedagogy at the forefront of current ideas," she said.
Professor Jon Phillips, chair of the Department of Agribusiness and Food Industry Management/Agricultural Science, said Rainey's talk was quite informative, especially about how African American farmers fought in court to end discriminatory practices by the U.S. Department of Agriculture.
A class action suit brought by black farmers against the USDA in 1997 alleged that the agency discriminated against them by ignoring their complaints, denying them loans and other services. The federal government later settled the case.
"Despite the settlement with the USDA, some farmers are still facing obstacles in obtaining services from their local USDA offices," Phillips said. "So, the struggle continues."
Phillips said he attended the event because the Department of Agribusiness and Food Industry Management/Agricultural Science is committed to diversity, inclusion, and social and racial justice.
In addition, Phillips said he has known Rainey for years.
"He has a great reputation among the food distribution research and agricultural extension communities as an expert," Phillips said.
Phillips added that it is important to listen and be attentive to the needs and experiences of people of all races and walks of life. He said he had benefitted greatly by attending three conferences sponsored by Tuskegee University.
"It would be wonderful if we could develop student exchange programs with Historically Black Colleges and Universities (HBCUs) or collaborative programs with HBCU faculty," he said. "We should also continue to work with Dr. Rainey."
It was the second time the college has invited Rainey to speak on the topic of systemic injustice in agriculture. Rainey also spoke on the topic last Sept. 25.