Grant to Help Develop, Virtual, Remote Labs
Published Date: Oct 4, 2021 11:30:00 AM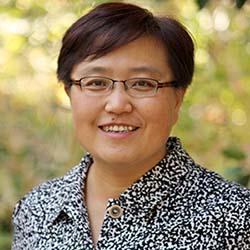 Cal Poly Pomona will receive $75,000 in USDA grant funding as part of a five-institution team to develop virtual and remote labs for enhanced food science and engineering education.
Lab-based courses are an essential part of universities' science and engineering curriculum, but shrinking campus resources and COVID-19 have hampered student access to lab facilities.
"Virtual and remote labs could address these problems," said Associate Professor Olive Li of the Department of Nutrition and Food Science. "It also could provide educational opportunities to students with different needs and learning styles."
Li plans to use funding from the USDA Higher Education Challenge Grant to develop remote or take-home lab kits and virtual or computer-based labs for her students.
The virtual labs will use software to simulate real-world lab operations by using graphics, videos, animations, and interactive discussion forums.
The remote lab kits are fabricated using 3D printing and computer numerical control technologies.
The plan is for the students to use the virtual and remote labs. Researchers will then assess the labs' impact on student learning and then collect student feedback through surveys. The project will at least three years.
Li is collaborating on the project with faculty from Washington State, Ohio State, Rutgers, and Cornell, who will all receive USDA funding.