Becker Named 2015 Alumna of the Year
Published Date: Apr 28, 2015 12:00:00 PM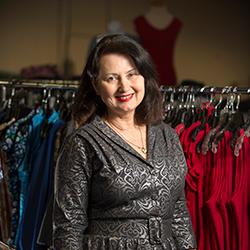 Teresa Becker discovered the value of a learn-by-doing education when she was just 8.
She and her father bought a sewing machine as a birthday present for her mother. Unfortunately, they didn't know that Becker's mother hated to sew. Becker begged her father to keep the sewing machine rather than return it to the store. Despite her age, she knew she wanted to make and wear beautiful clothes, partly because she loved following fashion magazines, and European designers, and had to wear drab uniforms to school.
Becker's father made a deal with her: If she learned how to use the machine in a week, they would keep it. By week's end, Becker not only knew how to use the machine, she made her mother an apron that she kept for the rest of her life.
It's that kind of drive that has made Becker ('07, apparel production) a successful entrepreneur in the apparel-making business and why the College of Agriculture chose her as the 2015 Distinguished Alumni Award winner. The Cal Poly Alumni Association honored Becker on Friday, April 24, at the Sheraton Hotel & Resort, Fairplex.
Becker began working in the apparel industry in 1978, becoming a fashion designer for several large manufacturers, running her own store in Covina, and teaching at California Design College, an Art Institute School, as well as Chaffey College and Mt. San Antonio College.
She enrolled in the apparel management and marketing program at Cal Poly Pomona because she needed a bachelor's degree to keep teaching.
After making a vintage-inspired apparel collection as a teaching tool for one of her classes, Becker's daughter, Amanda, who already had begun an eBay business selling vintage clothing styles, said, "I think I can sell this." Together, they started their own business. Originally based in their home and called Heartbreaker Fashion, it was a wholesale and retail e-commerce clothing business.
"Cal Poly Pomona gave me quite a few new ways of looking at business. The classes that I took were also very important at helping me grow as a professional, and I applied many of the lessons that I learned in the classroom to my business," Becker says. "Frequently I was very surprised to see that actual homework assignments were brought into the company and made sales the very next day. So it was very valuable real-time information that I learned."
Since its creation in 2005, the company, which is now known as Heart of Haute, has grown to employ 16 people and sells to more than 400 boutiques and online businesses in the United States, Europe and Australia. About 80 percent of the clothing line is handled on the Internet, including dresses, tops and skirts. It now occupies an 8,000-square-foot building in San Dimas.
The American Apparel Education Foundation named Becker as its 2006-07 Cal Poly Apparel Student of the Year. In addition, she and her daughter Amanda were named Businesswomen of the Year by the San Dimas Chamber of Commerce in 2009.
Since graduating in 2007, she has maintained her connection to Cal Poly Pomona. She has volunteered on campus, donated to the university, and participated in and provided garments for the Apparel Merchandising and Management Fashion Show.
Becker also has served on the Apparel Merchandising and Management's Industry Advisory Board, and her company has provided internships to students and jobs for alumni.
In addition, she continues to teach as an adjunct professor at Mt. SAC and serves on an advisory board at that college.