From the Voorhis Campus to Sacramento: Oldest Living Alum Recalls Ag Career
Published Date: Oct 28, 2016 10:00:00 AM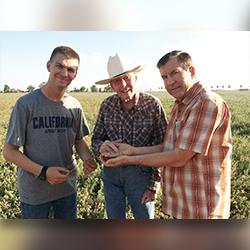 Bill DuBois has seen a lot in his time.
The El Centro resident attended Cal Poly Pomona when it was still known as the Voorhis campus, earning his bachelor's degree in agronomy in 1943.
In September, DuBois turned 100, making him the oldest known living graduate of the Don B. Huntley College of Agriculture and Cal Poly Pomona, according to the alumni association.
"I'm really fortunate," he says.
Born in the oil town of Orcutt, DuBois' family moved to the Imperial Valley when he was just 1, buying 240 acres of sand hills to farm. Although the area had just opened to irrigation, there was no electricity or running water. His family initially lived in a tent. DuBois originally came to the Voorhis campus to pursue an education that would help him become an agricultural inspector for the U.S. Department of Agriculture.
"It was close to home, and I wanted an agricultural degree," he recalls of choosing the Voorhis campus. "I knew several other students from home, and they all reported they had enjoyed it."
But DuBois' career was put on hold by World War Two. After graduating in 1943, DuBois went to a U.S. Navy midshipman's school in Chicago. His college degree enabled him to enter the navy as an officer; without a degree, he would have been an enlisted man.
DuBois wound up commanding a landing craft infantry (LCI) in the South Pacific, transporting marines and equipment to reinforce island invasions.
"My ship also did re-supply missions and some civil support missions, moving island natives and sometimes even their livestock to other islands as their home island was devastated by invasion," he recalls.
After the war, he met and married his wife, Mary Ellen. Their wedding was held at a chapel on the Cal Poly Pomona campus. Instead of becoming an agricultural inspector, DuBois and his wife started farming in the Imperial Valley.
"We would hold our breath and buy the land on faith, not really knowing if we could pay for it or not, but each time it seemed to work out," DuBois says. "We rented a lot of ground during the years, peaking at 2,000 acres."
Together, they grew flax, alfalfa, barley, cotton, sugar beets, soybeans, safflower, dates and citrus. Of these crops, flax was the most successful until the 1960s, when it became cheaper to grow in the Carolinas, DuBois says.
A fellow Cal Poly Pomona alumnus, Dave Ross, asked DuBois if he would like to become a partner in his El Centro hog farm. Ross' previous partner had died during the war. DuBois agreed, and he eventually bought out Ross's share of the hog farm, which grew to more than 4,000 hogs by 1966.
Although the farm operation prospered, DuBois decided to retire from farming in 1970 to go work for the California Farm Bureau Federation.
"The state farm bureau asked me to head up the new natural resources department to lobby the legislature after the legislature changed from part-time to full-time," he says.
In his new job, DuBois traveled a lot, meeting people from all over the state, including most of the legislators. Although he didn't always agree with some of the legislators, DuBois learned to respect them all and was on a first-name basis with them.
He also learned a lot about the land and water issues that affect agriculture.
"It was satisfying being able to really affect quite a bit of the proposed legislation to the benefit of agriculture," DuBois says.
Water, of course, was and remains a critical issue for farmers. DuBois worked on issues such as the proposed Sacramento-San Joaquin Delta peripheral canal and Colorado River water, earning a reputation as California's "water guru." And though he retired from the farm bureau in 1990, he remained a consultant until 2005 and was sought out for advice and history regarding California water laws.
It's also an issue that has challenged and vexed DuBois, who makes no bones about where stands.
"I think the urban areas are stealing the water from agriculture. Water has always been an agricultural commodity. That's why many of the dams and infrastructure were built in the first place," he says. "Today, you see lots of dried-up agricultural land, but you never see any housing subdivisions abandoned because of lack of water."
The state legislature bears full responsibility for the current situation, he added.
"Legislators respond to where the most votes are, and unfortunately, that's not the rural farming areas," DuBois says.
DuBois has received numerous awards and honors during his career, including the California Farm Bureau's Distinguished Service Award and the Imperial County Farm Bureau's Jim Kuhn Memorial Farmer of the Year Award.
He spends his free time reading, visiting his children and grandchildren often – they live close by, so he is able to have dinner with some of them almost every night – going to Kiwanis meetings, and attending his local church.
"I still watch out for the farm, even though it is leased to another farmer. I make the rounds and ensure that the ditches are maintained, the irrigation water is not being wasted, and the weeds are kept down," DuBois says. "I keep up on local farming issues, but not so much the statewide issues."
His advice to today's agriculture students?
"I would advise ag students today to take courses in business, law, and political science," DuBois says, "since so much of their farming life will involve matters not directly involved in raising crops or animals."