Bronco Asset Management Team Finishes Third in 2022 CFAOC SMIF Competition
November 15, 2021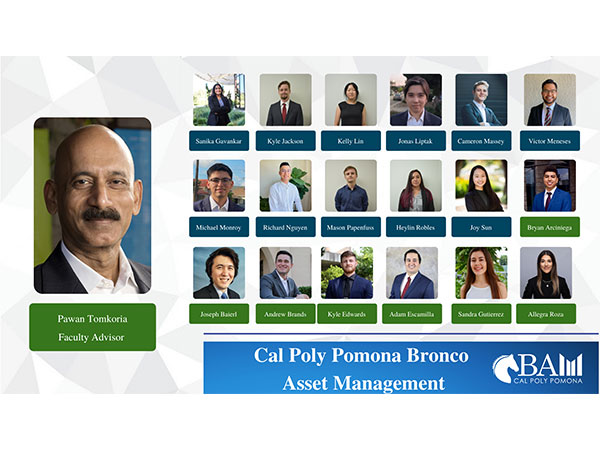 Monetary gains and success against other colleges continue for the students involved with Cal Poly Pomona's Bronco Asset Management (BAM) Team.
The latest accolade for BAM students comes in the form of a third place finish in the 2022 Student Managed Investment Fund Competition organized by the Chartered Financial Analyst Society, Orange County (CFAOC) chapter.
CFAOC started the program as an investment education opportunity to bridge the gap between academic and practical knowledge and to create camaraderie amongst undergraduate university students in the Orange County area.  
Coached by Professor Pawan Tomkoria, BAM students have twice earned the top honor of managing the organization's largest portfolio.  Although this year's bid fell short of the grand prize, FRL student and BAM team member Sanika Gavankar was selected as the recipient of a $2,500 CFAOC Foundation Scholarship.
In its short history, BAM and SMIF members have excelled in the classroom. The Class of 2020 Valedictorian and McPhee scholar is a program alumnus. The team's website features news and updates on the performance of its various portfolios.