CBA Mourns Professor and Digital Marketing Pioneer
February 3, 2022
Professor Emeritus Frederick Capossela Connected Computers to Consumer Behavior and Colleagues to a Great Friend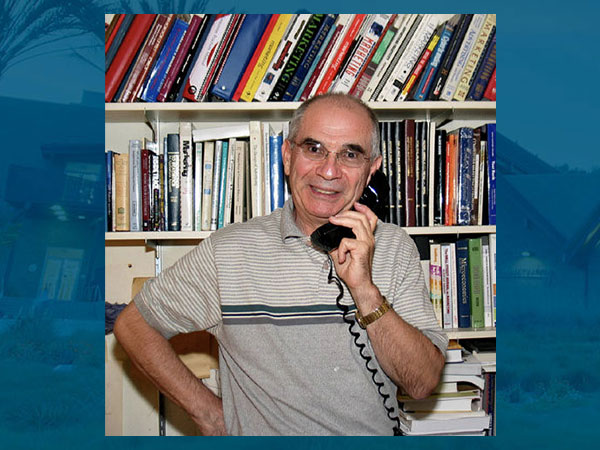 Before social media influencers earned six-figures, prior to search engines monetizing each query, he saw the value of technology in direct marketing. The curriculum he pushed focused heavily on a new tool called, "The Internet," and its power in targeting consumers. His contributions extended well beyond the classroom and on Dec. 27, 2021, the College of Business Administration lost much more than a Professor Emeritus, an alumnus and friend.
Born Sept. 15, 1937 in New York City to two newspaper reporters, Frederick Louis Capossela joined the Marketing faculty in 1979 on the merit of 20 years' industry experience as a producer for CBS News and as a senior copywriter at BBDO in New York and Los Angeles and a bachelor's from Fordham University. Higher education was different and although an outstanding professional career could replace advanced degrees, Capossela continued to earn an MBA from Cal Poly Pomona in 1985 and marketing Ph.D. from the Claremont Graduate School in 1992.
Capossela's tenure as full-time faculty spanned from 1979 through 2005. His expertise was direct marketing and interactive marketing and he quickly adapted to the shift to online and electronic, developing the IBM Department's first digital marketing courses. The E-Business track was still in its infancy when Capossela set the groundwork for the Customer Relationship Management curriculum, some of which is still in use today.
Throughout his career, Capossela was never far removed from his students, filling the role of career track advisor for the Direct/Interactive Marketing emphasis. He continued teaching in a limited capacity through 2010 and will be greatly missed.
More information can be found on Professor Emeritus Frederick Capossela's Dignity Memorial Page.