Student Spotlight: Hebba Fares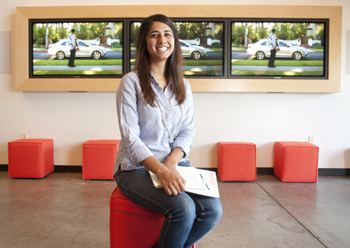 Marketing Student Interns at L.A. Ad Agency
It is not enough for Hebba Fares to take advantage of learn-by-doing experiences offered at Cal Poly Pomona. The marketing student is determined to create her own opportunities.

She was instrumental in reviving the Cal Poly Pomona chapter of the American Marketing Association after being dormant for several years. In the chapter's first attempt to compete in a national case competition, Hebba and her classmates stunned educators by receiving an honorable mention. She was also a key player in The Intern, a new competition and Web reality show that debuted in the College of Business Administration last spring. Most recently, Fares interned at Deutsch, a high-profile ad agency that is chaired by former CNBC talk show host Donny Deutsch.

While Fares has a passion for marketing, she is also deeply committed to her community. She has been involved with Upward Bound, a national organization that assists first generation college students, and has worked as a tutor for ARCHES, a program that caters to disabled Cal Poly Pomona students.

Now entering her final year at Cal Poly Pomona, Hebba met with Public Information Officer Marisa Demers to reflect on her CBA experiences.

When and how did you decide that you wanted to pursue a career in marketing?

Fares: I decided that I wanted to pursue a career in marketing my first year at Cal Poly Pomona. As a transfer student, I came in as a junior so I was focused primarily on business courses. It was in my first marketing class with Dr. James Swartz when I realized that everything marketing related was extremely interesting to me. Initially, I thought that my fellow classmates must like marketing to the extent that I did, for some reason I just assumed that it would be enjoyable for everyone but I quickly realized this wasn't true. As time went on my passion for marketing grew. The more classes I took and activities I became involved in the more I saw it as the field of my future career.

You spent the summer interning at Deutsch, an ad agency that represents Volkswagen, Johnson & Johnson and the Got Milk campaign, among many others. What projects did you work on and what was it like working for such a prominent firm?

Fares: To name a specific project is kind of a difficult question to answer. Since it is the agency side versus the client side, I had numerous projects going on at the same time. It was an extremely fast-paced environment and definitely the most involved internship I've had thus far. To name a few projects, I wrote competitive decks for different clients, analyzed new and traditional media, competitor positioning, environment analysis, etc. Several of these projects were transferred as presentations that were used by the client and other parties as a perspective of industry aspects.

I also worked with the creative team, giving suggestions on design and text for campaigns whether it be a client website, a print ad, broadcast, etc. Basically, if my supervisor asked me to work on a project that would be seen by the clients or if he asked me to photocopy agendas for a meeting I did it without hesitation because I know that that's what it takes in this industry. You have to start somewhere.

It was amazing working with Deutsch. I had great supervisors, co-workers, and the company itself is great because it stays true to what it stands for. They definitely embody what I imagined a hip LA ad agency to be like. One of the things I liked most about interning with Deutsch is that throughout my internship I kept learning. There wasn't a day that went by where I don't learn something totally new and there was always work to do.

What has been your favorite learn by doing experience?

Fares: My favorite learn by doing experience would have to be The Intern, the part competition, part reality show
created by recent grad Desiree Duzich, a long time American Marketing Association executive board member.

For The Intern, I focused heavily on logistics, whether it was aiding with on site event coordination or ensuring proper operations pre-recordings. Being a part of The Intern took a high degree of commitment and was no easy task to accomplish, however, it is my favorite learn-by-doing experience for many reasons. It opened me to new knowledge, skills and people, all of which I am able to incorporate into real-world applications. It provided opportunities for me to grow as a business-oriented individual and it provided the same for my peers in the college. The project gained momentum and after the successful results and receptivity of the college we are definitely continuing the project as an annual event.

What advice would you give to entering freshmen on getting the most out of the Cal Poly Pomona experience?

Fares: Whether you know your major or not, what you want to do in life, where you want to be in four years, just get involved, get involved, get involved! Get involved with different organizations on campus, and vary your choices because you may find something you love doing or a talent you have without even knowing it was there.

With that said, it also helps to meet people so you can build a network. In a city like Los Angeles, it's all about connections. So get out there even if you are nervous. Join some organizations, be a leader, meet people, and definitely start interning by sophomore year. Any experience you can get your hands on outside of a textbook, do it.