Student Spotlight: Joy Chang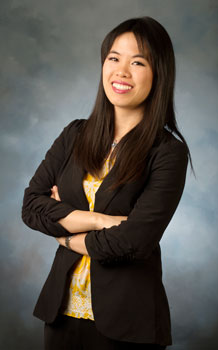 2014 Recipient of the Julian A. McPhee Honor Award for Student Excellence
Joy Y. Chang will graduate with a dual degree in Philosophy and Business Administration with an emphasis in Finance, Real Estate, and Law. She will graduate magna cum laude and is a President's Council Scholar. She is the McPhee Honor Award recipient for her exemplary contribution to her communities both locally and internationally, strong academic standing, and campus involvement.

Joy served as associate justice on the Judicial Court for Associated Students Inc., which oversaw all clubs and councils under ASI to resolve judicial affairs. She was also a member of ASI's Lobby Corps, which worked to reduce CSU budget cuts and advocated for the passage of the Dream Act.

Joy served as president of Alpha Lambda Delta honor society for two consecutive years and was vice president of Golden Key International. Joy is also part of the Kellogg Honors College and recently presented her research on physician assisted suicide at its convocation. Joy knows the importance of education worldwide. She devoted two summers teaching English to elementary school children during missionary trips to Taiwan and teaches children's Bible study at her church.

With a passion for philanthropic work, Joy's dream is to pursue international family law reform and make laws more accessible to underprivileged individuals. Throughout college, Joy has made strides toward her goal by interning with JusticeCorps for more than 300 hours, helping litigants navigate the legal system and represent themselves.

After graduation, Joy will continue her education by studying law. Last summer, she participated in the UC Irvine School of Law's Pre-Law Outreach Program. She is currently partaking in a competitive fellowship at UCLA School of Law. With an interest in the ethical dilemmas in the medical field, she's currently interning at the Pomona Valley Hospital as a clinical ethicist.