Student Spotlight: NGA BUI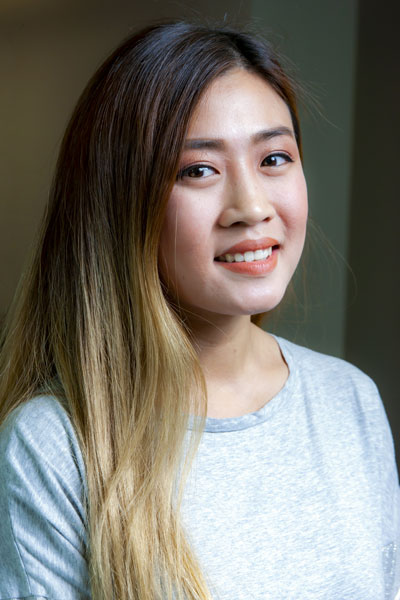 2018 Julian A. McPhee Honor Award Recipient
The odds of finding a student with more time in the College of Business Administration's upgraded Bloomberg Financial Markets Lab than Nga (Jenny) Bui are slim.
When she was not at familiarizing classmates with the financial industry's primary analytic software as a tutor, the Finance, Real Estate and Law graduate did the same as the lab's student assistant. It was also headquarters for Bui and other Student-Managed Investment Fund team members during a historic run.
Each year, the CFA Society of Orange County challenges Southern California's business schools to grow a fund under its guidelines. Weekly reports, investment results and how it's packaged into a final presentation dictate how judges choose winners. Top finishers move on to manage a live portfolio and 2017 was the first time CPP was invited to vie for the honor.
Bui applied with the hope of gaining hands-on experience as a financial advisor. She was among those selected for a team that would eventually finish third as it earned the privilege of controlling real capital investments for CFAOC. It wasn't the first time one of her decisions resulted in a positive outcome.
Six years ago, Bui was two semesters shy of a finance from a Vietnam university. Her parents already begun the process to reunite the family in the United States with her grandparents' years earlier, but approval can take more than a decade. When it arrived, Bui faced a life-defining decision: Stay and finish school by herself or start a new life alongside her family in a new country. Although the setting changed to Rio Hondo Community College, the subject remained the same and Bui continued her education in finance.
Bui says she finds satisfaction in using her financial market knowledge to help people and companies improve their situation. She loves numbers and it showed in collecting a perfect 4.0 GPA while earning an associate's degree.
The high marks afforded Bui her choice of universities and friends were urging her to join them at a UC in Los Angeles. Her uncle had other opinions, though. As a CBA alumnus, and more specifically from an FRL department graduate, he encouraged Bui to follow in his footsteps CPP.
She took his advice, finishing with a cumulative GPA of 3.97 and recognition as the CBA Class of 2018's Valedictorian and McPhee Scholar.