Student Spotlight: Roy Alexander Rosell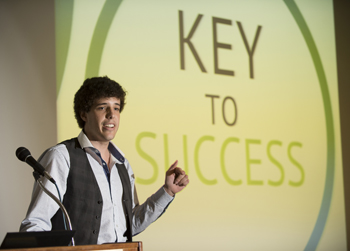 2013 Recipient of the Julian A. McPhee Honor Award for Student Excellence
Roy Alexander Rosell has been selected as the McPhee scholar for the Class of 2013 for his exemplary contributions and leadership in communities throughout Los Angeles County as well as a strong academic standing and wide-ranging professional accomplishments both domestically and internationally. His community work has resulted in several letters of appreciation including those from the California State Assembly, state lawmakers and the City of Temple City.

In 2009, Roy became chair of the San Gabriel Valley Coalition for Tobacco Free Youth, where he recruited and led a group of high school and university students through weekly meetings, intensive city-wide research initiatives, and city council presentations. His efforts resulted in more than a dozen cities passing smoke-free park ordinances.

Roy also ran an emergency food and supply distribution service with his father and assisted more than 800 impoverished families in five years. To better understand the communities and to positively affect more individuals in less time, Roy participated in a homeless rescue initiative program in the Netherlands where he studied the country's social programs with the hopes of applying the best practices to Los Angeles and surrounding communities.

In the last two and a half years at Cal Poly Pomona, Roy has interned at Fox Sports, NBCUniversal, A&E Television Networks, Club Deportivo Chivas USA, and London's Sutton United Football Club, where he also played on the team's reserve squad.

Currently, Roy is working with Fox Sports in the Music Licensing department, and is co-managing an entrepreneurial venture that aims to simplify the internship process for both prospective interns and employers. Roy's professional goal is to become a general manager of a professional soccer team or a high level international marketing executive in the sports or entertainment industry and plans on setting aside a portion of his salary for community improving endeavors.