Special Journal Issue Explores Queer Culture in South Asia 
April 4, 2023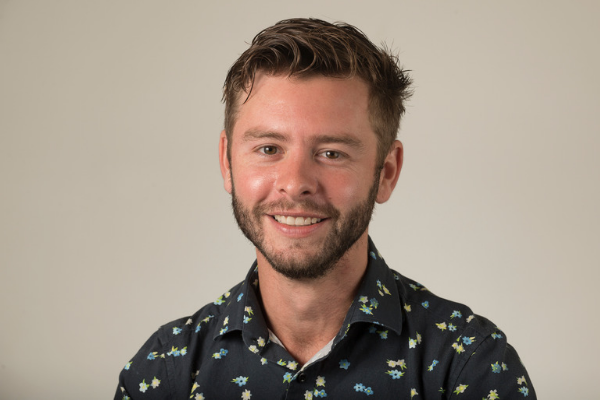 Liberal Studies Assistant Professor Jeff Roy has guest edited a special issue of Feminist Review titled "Queer Elsewhere ←→ South Asian Imaginaries," which explores gender diversity and sexual identity across South Asia and beyond.
The special issue led by Roy, Pavithra Prasad (Cal State Northridge), Rumya Putcha (University of Georgia) and Omar Kasmani (Freie Univesität, Berlin) offers unique perspectives on queer and hijra-thirunangai-Khwaja Sira-trans experiences in the global South, as part of a collective effort to decolonize queer studies.
"The articles, essays and multi-modal works in this themed issue journey beyond area and queer studies' analytical habits to center queer and trans figures as abundantly loving and desiring, not just as suffering," said Roy. "While the issue speaks to the material conditions of queer and trans representational and experiential geopolitics, it also explores how configurations of South Asian queer and hijra-thirunangai-Khwaja Sira-trans experiences—such as those shaped by class and diaspora, caste and gender, erasure and presence—offer themselves as translucencies through which to glimpse an even more ephemeral vision of queerness out of time, place and culture."
The special issue brings together 18 artists, creative practitioners, activists and scholars across a range of fields in and around various emplacements of South Asia. Among the featured pieces include the article, "Bodies that Matter: Partition Masculinity and the Transgender Archive in Qissa" by Colorado College Professor Rushaan Kumar, a coda titled "South Asia and Sexuality: Still | Here" by UC Santa Cruz Professor Anjali Arondekar, and visual work from the "Tomorrow We Inherit the Earth" installation series by artist, curator and activist Zulfikar Ali Bhutto.
"This themed issue adopts a speculative approach to crafting queer elsewhere, highlighting the imaginative and aesthetic formations of queerness across South Asia and beyond," said Roy. "Focusing on performative and narrative modes of reflexivity in the social, literary, visual and performing arts, the issue explores the sensorial, enfleshed and affective dimensions of being in this world. While grounded in South Asia, they also examine the ways queer and hijra-thirunangai-Khwaja Sira-trans relationalities complicate normative formations of "area" in area studies, decentering geography from the locus of queer and trans relationalities, love and desire."
According to Roy, the publication came as a result of discussions held by artists/creative practitioners, activists and scholars at several queer symposia, organized by Roy at the Annual Conference on South Asia, hosted by the University of Wisconsin–Madison. Symposium participants expressed a need for additional scholarly resources that would translate and expand upon the queer experience in South Asia.
"This issue stems from conversations that began "elsewhere"––largely at informal jam sessions in queer spaces as well as in the more typical spaces where scholarship is shaped, such as at our most recent symposium, titled Mind the Gap: Queer Erasure and Abundance," said Roy. "The articles and multi-modal works featured in this issue are authored by participating presenters, performing artists and co-organizers. I am profoundly grateful for my colleagues, friends and family in the queer South Asia collective, whose labor and love have cared for and nurtured each piece in the special issue. We couldn't have pulled this together without the incredible bond we share."
Roy said they plan to incorporate the readings in their liberal studies courses, which cover topics related to arts and humanities.
"Many of the articles, essays and multi-modal works in this issue will make fantastic contributions to courses in critical studies of culture, art, history, race, ethnicity, gender, sexuality, class, caste and religion in local and global contexts," they said.
Aside from this project, Roy has also recently published a book titled "Badhai: Hijra-Khwaja Sira-Trans Performances Across Borders in South Asia," which is the first book of its kind on the devotional prayers, songs, dances and comic repartee performed by the hijra, khwaja sira and transgender communities of Bangladesh, India and Pakistan. The book unites scholars and practitioners across nations, disciplines and identities to examine how hijra-Khwaja Sira-trans relationalities complicate, challenge and negotiate the borders of nation, identity and belonging in different ways.
Apart from their research publications, Roy has also engaged in several multi-modal creative and scholarly projects with collaborators in India and beyond. These collaborations have resulted in award-winning films and performances, and have been supported by organizations such as Fulbright-mtvU, Fulbright-Hays and Godrej India Culture Lab.
"I am excited to continue my work with a focus on transnational queer and trans worldmaking through more writings and multi-modal work in music, film/media and performance, more broadly," Roy concluded.

To learn more about "Queer Elsewhere ←→ South Asian Imaginaries," visit the publisher's website.