'16 Alumnus Stops by with the 99 Ranch Market on wheels
Slideshow
This slideshow contains 1 slides that will change every 8 seconds. The first button is to play and pause the slideshow, followed by buttons to go to the previous slide, next slide, or choose individual slides.
99 Ranch Market Visit

99 Ranch Market Visit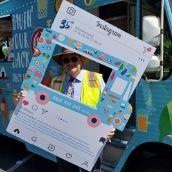 A big thank you to Ann Tung '16 for bringing the 99 Ranch on Wheels by and distributing goodies in honor of the 35th anniversary of the market! 
The Collins College community lined up for free snacks and photo ops with the big blue truck. It was a nice surprise for our first full week of classes.