CPP Giving Day Goal Surpassed
Slideshow
This slideshow contains 1 slides that will change every 8 seconds. The first button is to play and pause the slideshow, followed by buttons to go to the previous slide, next slide, or choose individual slides.
Thank You

Thank You from The Collins College
More Than $21,000 Raised for The Collins College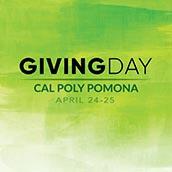 The Collins College surpassed its Giving Day goal and raised  more than $21,000 dollars and surpassed its goal thanks to the generosity of the Collins community and a generous $10K matching gift from the Board of Advisors.
CPP Giving Day is a 36-hour online fundraising campaign opportunity for alumni, parents, students, faculty, staff and friends to show their support for academics, athletics and every program in between. 
Proceeds make a transformational impact on our program and our students now and in the future. 

Gifts help cultivate student success through experiential learning, discovery and innovation  by supporting our program or any other.

 

All who contributed and encouraged others to participate in this campus-wide 36-hour online fundraising campaign are greatly appreciated and are listed below.
The Collins College Board of Advisors - $10,000.00 Match
Ralph Bochicchio - $50.00
Barbara Jean Bruin - $100.00
Michael Godfrey - $100.00
Gerianne and Thomas Goff - $1,000.00
Jenesie Hardyman - $75.00
Dorian Noel Lara - $10.00
Elisabeth Lockerby - $100.00
Christopher W. Miles - $200.00
NY Life Insurance Co. - $500.00
Sand & Sea, Inc - $500.00
The Black Marlin - $50.00