Lesley Butler Receives Outstanding Faculty Advisor Award
Slideshow
This slideshow contains 2 slides that will change every 8 seconds. The first button is to play and pause the slideshow, followed by buttons to go to the previous slide, next slide, or choose individual slides.
Outstanding Advisor Lesley Butler

Outstanding Advisor Lesley Butler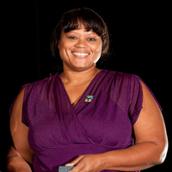 Longtime Collins College lecturer and proud alumna Lesley Butler received the 2018 Outstanding Faculty Advisor award for her unconditional dedication to student success.
The award recognizes individuals and programs at the university that encourage students to establish goals and objectives, that seek practical and innovative solutions to students' problems, and that seek opportunities to grow professionally.
Butler is a role model in the manner in which she conducts her advising. She holds regular office hours and works diligently to get students the information and answers they need to make progress though the HRT degree program. She is always willing to help students inside and outside of the classroom, and provides guidance for and from her faculty and staff colleagues and appropriate professionals when they need it. She is commended for her demonstrated compassion and caring when assisting students in their academic and career goals.