Marriott Foundation Awards $2 million to The Collins College of Hospitality Management at Cal Poly Pomona
FOR IMMEDIATE RELEASE: Nov. 8, 2010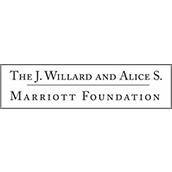 The J. Willard and Alice S. Marriott Foundation has awarded $2 million to The Collins College of Hospitality Management at Cal Poly Pomona to support the college's academic building expansion. In recognition of this gift, a classroom building within the proposed facility will be named after the Marriott family.
The $2 million gift will be matched by the college's namesakes and longtime supporters Carol and Jim Collins, effectively making this a $4 million gift to the college. In 2008, Carol and Jim Collins pledged to match up to $5 million to build a $10 million educational complex. This recent gift raises the amount pledged to $7 million or 70 percent of what's needed for the project.
"This donation is pivotal as The Collins College embarks on a $10 million expansion plan," said Dean Andy Feinstein. "In giving us this gift, the Marriott Foundation is making an investment in hospitality management education, thus they are investing in the future of the hospitality industry. I am grateful for their support." 
The college has benefited from the generosity of the foundation and Marriott's corporate divisions for many years through the active recruitment of students and alumni, and other financial contributions that have bolstered student services. The college also benefits significantly by having the expertise of Marriott executives on its Board of Advisors, Feinstein said.
"The Collins College is a wonderful hospitality management program that values educational excellence and diversity. These are values that the Marriott Foundation also shares," said Richard Marriott, chairman of the foundation. "Investing in the college's expansion plans will help the college reach even more students in the future."
The educational complex will enable the college to continue expanding its growing student body. It will also create classroom and study space tailored for its new graduate program, which launched this fall.  Preliminary plans call for four buildings that will create a setting that is space-efficient, environmentally friendly and visually exciting.
Preliminary plans include:
Three 46-seat classrooms
Four 32-seat classrooms designed for graduate classes
A student lounge and study area
Eight faculty offices
Construction on the expansion hinges on raising an additional $3 million. Work is ongoing to identify those funds.
The Marriott gift and Collins matching gift are part of Cal Poly Pomona's comprehensive campaign, which entered the public phase this fall. The university has achieved more than half of its fundraising goal of $150 million.
About The Collins College - Founded in 1973, The Collins College of Hospitality Management is the first and largest four-year hospitality management degree program in California and the only hospitality management college on the West Coast. Approximately 1,000 undergraduate and graduate students receive a superior education in the state-of-the-art Collins College facilities, where they learn to apply hospitality management theories and concepts to real-world settings. Part of this unique academic experience includes managing and operating the full-service Restaurant at Kellogg Ranch.
Contact:
Lisa McPheron
Director of Communications and External Relations
The Collins College of Hospitality Management