CPP Names Latest Beer After Namesakes of The Collins College
Slideshow
This slideshow contains 3 slides that will change every 8 seconds. The first button is to play and pause the slideshow, followed by buttons to go to the previous slide, next slide, or choose individual slides.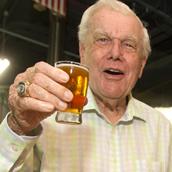 Innovation Brew Works released the Collins Cream Ale this year, a beer brewed with pale ale, honey malt and rolled oats.
According to Richard Thompson, head brewer at Innovation Brew Works, the new brew is a classic cream ale that is brilliantly clear with a creamy white head.
"We added real Madagascar vanilla beans to give this subtly sweet beer a vanilla finish," explains Richard.
Collins Cream Ale was named after prominent figures of Cal Poly Pomona: Jim and Carol Collins, namesakes of the Collins College of Hospitality Management.
The Collins' are benefactors for the college, and in 2013, pledged to match $5 million toward the construction a new building. The new Collins College building was completed in 2015, and received GOLD LEED Certification from the United States Green Building Council.
For more information and hours of operation of Innovation Brew Works, visit www.iBrewWorks.com.