Namesakes of The Collins College Honored by Alumni
Slideshow
This slideshow contains 2 slides that will change every 8 seconds. The first button is to play and pause the slideshow, followed by buttons to go to the previous slide, next slide, or choose individual slides.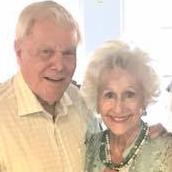 Alumni, Board of Advisors members, faculty, staff and guests dined together at The Restaurant at Kellogg Ranch (RKR) to honor the two people who have left an unprecedented legacy at The Collins College of Hospitality Management—Jim and Carol Collins themselves. The namesakes were celebrated among people who have benefitted from their efforts and beliefs in the future of hospitality and were warmly welcomed into the newly refurbished RKR. A four course dinner was served to over 60 attendees as well as wines donated by alumni vintners.
In addition to the wine donations, students donated their time and skills they've learned at The Collins College to the special event. All meals, including bruschetta, grilled chicken and brisket and even peach cobbler, were served and prepared by students from the HRT 383 Food & Beverage Operations class.
After a gracious welcome, introductions and a brief backstory about how the pineapple came to be a part of hospitality culture, Lera Van Straatum, President of the Collins Hospitality Society, the program's alumni chapter, presented the Collins pair with a set of crystal pineapples, recognizing the two for all of their generous support throughout the years.
"I was honored and delighted to present Carol and Jim with these special awards. We celebrated Jim and Carol's love and care not only for the program, but also for one another. Sixty-seven years of marriage is an incredible testament to their passion and dedication," Van Straatum said, reflecting on what it meant to grant these awards to the remarkable duo.
A memory book was also given to the couple, filled with alumni recollections of their time as a student in the program or their favorite experiences with the Collins family.
"You are more than the namesakes of this college; you are its backbone and the reason we feel so much love for our Collins Family," Elisabeth Lockerby, a executive board director of the Collins Hospitality Society, read from just one of the many thank you messages Mr. and Mrs. Collins.
Before the final course, a sweep of pledges and direct donations were collected from attendees. In total, over $6,000 was donated by the end of the night, which will fund scholarships for Cal Poly Pomona hospitality students in the Collins's name.
Dean Lea Dopson knows that their legacy will continue to live on throughout the livelihood of the college.
"Jim and Carol Collins will always be an essential part of the growth and futures of our students and forthcoming leaders with their enthusiasm for our hospitality program, their belief in student advancement and their generous support," she says.
With over 5,000 alumni spanning across the globe, award-winning food and wine and a highly reputable hospitality college, it is no secret how influential Mr. and Mrs. Collins have been and will continue to be in improving and shaping the future of The Collins College of Hospitality Management and leaders in the industry.