Students Showcase Research Projects at Student RSCA Conference
Slideshow
This slideshow contains 1 slides that will change every 8 seconds. The first button is to play and pause the slideshow, followed by buttons to go to the previous slide, next slide, or choose individual slides.
Student RSCA Conference

Student RSCA Conference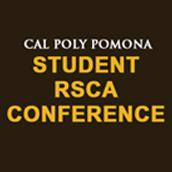 Three hospitality management students showcased their research project posters at Cal Poly Pomona's 6th Student Research, Scholarship, and Creative Activities (RSCA) Conference. 
This annual event provides an opportunity for undergraduate and graduate students from all disciplines to share their original research, scholarly and creative activities. Students who participate in this conference have the opportunity to be selected to represent CPP at the annual CSU-wide research competition.
---
Author
: Andria Antoniades
Faculty Mentor:
 Sandra Kapoor
Abstract: "Mexico has a history of uninterrupted cultural exchanges... always enriching from a culinary standpoint". Chef Enrique Olvera of Pujol writes in his cookbook Mexico from the Inside Out (2015). We think we know Mexican food, but more often than not we really don't. Mexican food as we know it is a tasting menu of indigenous and global foodways. But what was food like prior to Spanish colonialism? Changes in Mexican foodways had serious implications not only on the diet and health of indigenous people, but also on social hierarchy and the natural environment. To illustrate the changes, cookbooks, codices, field research, and culinary history literature, of both indigenous and post-colonial foodways will be compared. This work will increase the understanding of how Mexican food is more than just tacos, but also an expression of colonial political history.
---
Author: Madeline Samuel
Faculty Mentor: Wan Yang
Abstract: The meeting and events industry is becoming an increasingly competitive and significant market in hospitality today. More specifically, the use of conference services on university campuses has seen a growth in recent years. By focusing on three universities located in Southern California, the objective of this study is to explore the innovative practices, tools, and strategies that sales and marketing teams must utilize in order to attract potential clients. The tools and strategies used by professionals working in university conference services will be examined through the use of the Delphi Method.
---
Author: Monica Louise Siasoco
Faculty Mentor: Wan Yang
Abstract: Mega-events are known to waste a large number of natural resources and negatively impact their physical and socio-cultural environment after the event (Dolles & Söderman, 2010, p. 588). Host cities of upcoming Olympic Games create large sports stadiums and lodging accommodations for their mega-event within seven years of the International Olympic Committee (IOC) approving their bid. Host cities consider sustainability as an afterthought compared to cost and time needed to build the structure (Steinbrink, 2013, p. 200). When the Games are over, the local communities abandon these large stadiums because the host communities have no use for them. To mitigate this problem, the IOC has released sustainable initiatives that host cities can apply to the construction of their Games ​("The environment and sustainable development", 2014, p. 2​). How can host cities incorporate sustainable tourism into the planning of the Olympic Games so that their communities can benefit after the Games? What are strategies that host cities can use to build environmentally friendly structures that will reduce waste and ultimately help the host community after the Games? This conceptual paper will review the sustainable strategies that the host cities from the past ten years have utilized to create their Olympic communities. This project aims to develop a model of the various sustainable tourism strategies that the future Olympic Games can implement. This plan can help developing countries that hope to organize a mega-event and transform their community into a sustainable tourism destination.