DRC Registration Process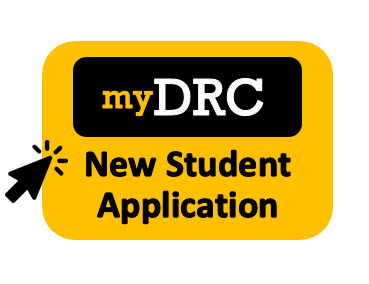 To begin this process, navigate to myDRC to complete a New Student Application. You'll be required to log-in with your Bronco username and password. If possible, please upload your disability documentation* when submitting your application. 
*IMPORTANT: Please note that you should not delay meeting with us out of concern for not having disability documentation. As needed, we will discuss specific documentation needs during your Intake appointment. Our first priority is meeting with you, not reviewing the paperwork. 
Please review our General Guidelines for Disability Documentation for more information about documentation.
After you submit an application for DRC services, an email will be sent to your CPP email to schedule a Welcome Meeting appointment. The purpose of the Welcome Meeting is to learn first-hand your functional limitations and accommodation needs.
The Intake appointment is a critical step toward determining eligibility. 
During the appointment, a DRC Access Specialist will chat with you about the barriers you are experiencing, reasonable accommodations to address the barriers, and your next steps.
Intake appointments for incoming freshmen and transfer students for Fall semester will not beginning until late May or early June prior to the starting term. Incoming students are encouraged to apply once they have accepted admission to Cal Poly Pomona and the DRC will keep their application available until intakes begin.
After a student's intake appointment, a DRC Orientation is scheduled with a Bronco Access Mentor or DRC staff memeber to review with the student on how to use their accommodations.