3-Step DRC Registration Process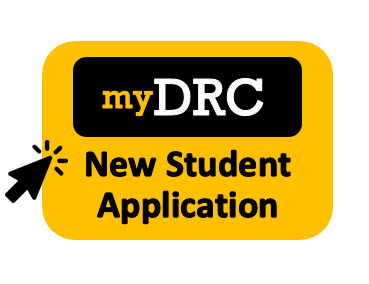 Students attending a postsecondary institution are responsible for identifying themselves as a person with a disability.
To begin this process, navigate to myDRC to complete a New Student Application. You'll be required to log-in with your Bronco username and password. If possible, please upload your disability documentation when submitting your application. A tutorial of the online process is available here.
You must provide suitable documentation from an appropriate professional qualified to assess and determine the disabling condition. The DRC will need information about how the disability is likely to affect you. We require information that explains the impact of the disability on relevant tasks such as reading, writing, getting around the physical environment, etc. We offer General Guidelines for Disability Documentation to assist you.
You may upload disability documentation as part of the myDRC application process or you may email it to drc@cpp.edu.
DRC recognizes barriers exist and can create hardship with regard to presenting third-party documentation. Please do not delay submitting an application for services out of concern for not having appropriate paperwork. Any information/documentation that students can readily share during or before the first meeting is helpful and can save the need for follow-up meetings. We will consider any information, including but not limited to, your description of your needs, records of past accommodations and services from high school, another college, and formal psychological or medical evaluations.
If you're having difficulty obtaining documentation, please have your health care provider, complete our DRC Certification of Disability Form.
---
*IMPORTANT: For students with learning disabilities, please refer to specific Documentation Guidelines for Learning Disabilities in accordance with California State University (CSU) policy AA-2014-08.
The intake interview is a critical step toward determining eligibility. After you submit an application for DRC services, an email will be sent to your CPP email to schedule an appointment. The purpose of this appointment is to learn first-hand your functional limitations and accommodation needs.
Scheduling of the intake appointment is not dependent on the receipt of disability documentation. You will be invited to meet with a counselor for an intake interview after DRC receives and reviews your application for DRC services.
Please note that participating in a DRC intake interview does not guarantee program eligibility. Based on both your self-reported information and the disability documentation, the DRC intake counselor determines if you are eligible for services and, if so, the appropriate and effective accommodations for your individual situation. If necessary to determining eligibility, we may request additional documentation.