Newsletter

---
November 2022
 Accessible versions of each Newsletter are available in the All Issues section below.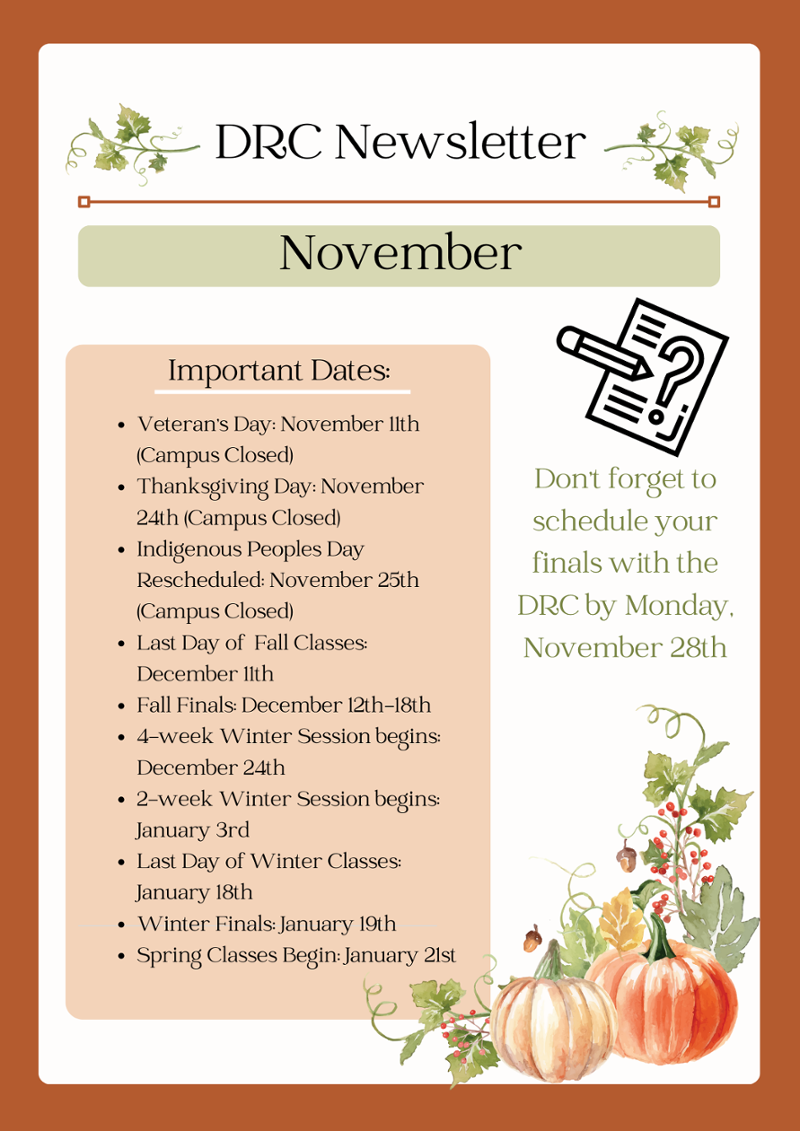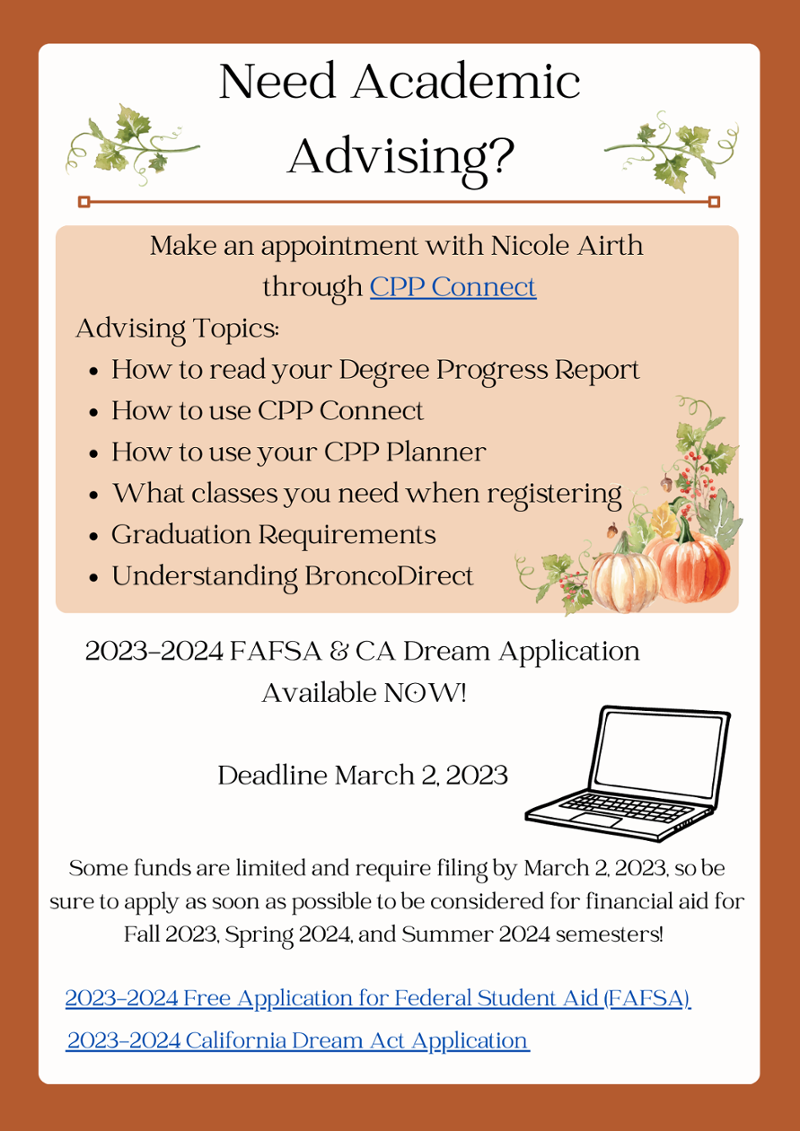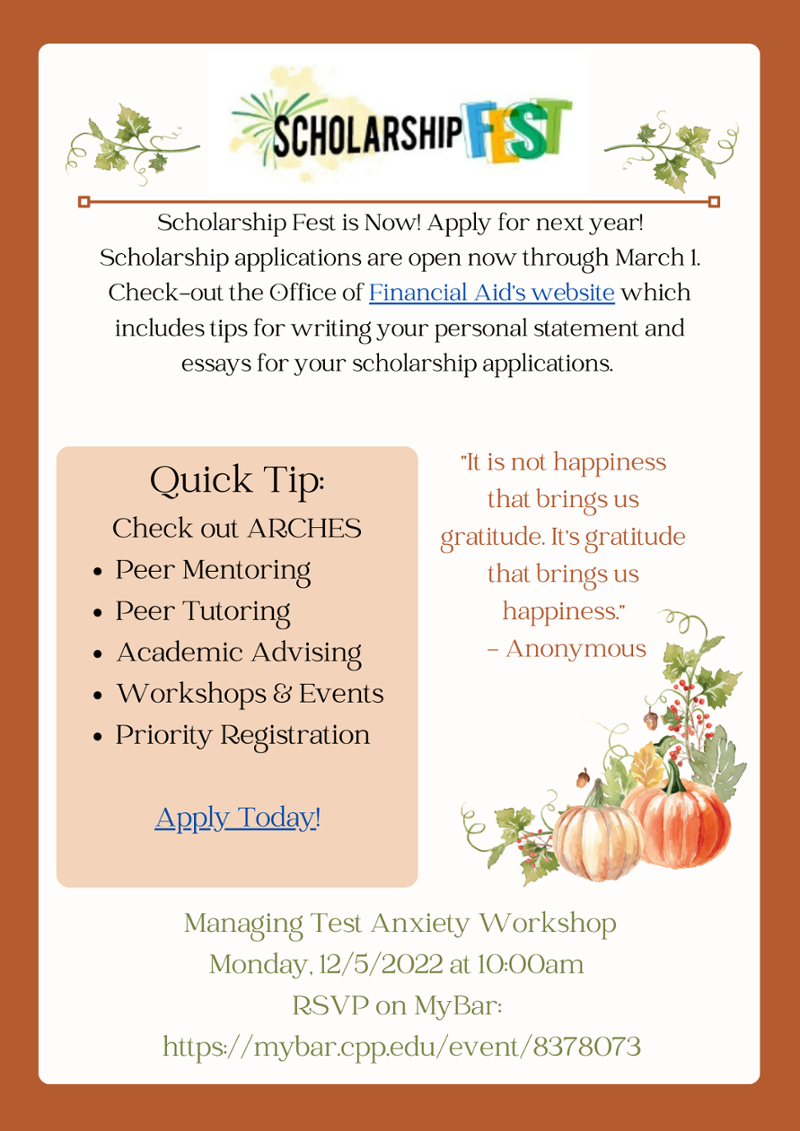 All Issues
Important Dates
Veteran's Day: November 11th (Campus Closed)
Thanksgiving Day: November 24th (Campus Closed)
Indigenous Peoples Day Rescheduled: November 25th (Campus Closed)
Last Day of Fall Classes: December 11th
Fall Finals: December 12th - 18th
4-week Winter Session begins: December 24th
2-week Winter Session begins: January 3rd
Last Day of Winter Classes: January 18th
Winter Finals: January 19th
Spring Classes Begin: January 21st
Don't forget to schedule your finals with the DRC by Monday, November 28th!
Need Academic Advising?
Make an appointment with Nicole Airth through CPP Connect
Advising Topics:
How to read your Degree Progress Report

How to use CPP Connect

How to use your CPP Planner

What classes you need when registering

Graduation Requirements

Understanding BroncoDirect
2023-2024 FAFSA & CA Dream Application Available NOW!
Deadline March 2, 2023
Some funds are limited and require filing by March 2, 2023, so be sure to apply as soon as possible to be considered for financial aid for Fall 2023, Spring 2024, and Summer 2024 semesters!
2023-2024 Free Application for Federal Student Aid (FAFSA)
2023-2024 California Dream Act Application
Quick Tip:
Check out ARCHES
Peer Mentoring

Peer Tutoring

Academic Advising

Workshops & Events

Priority Registration
Apply Today!
Managing Test Anxiety Workshop
Monday, 12/5/2022 at 10:00am RSVP on MyBar: https://mybar.cpp.edu/event/8378073
"It is not happiness that brings us gratitude. It's gratitude that brings us happiness."
- Anonymous
---
Printable version (accessible version is available as text above)
Don't Forget to Schedule your Mid-terms 
If you are approved for test accommodations and have an exam coming up, don't forget to schedule a test request through myDRC. 
Top 5 Study Tips for Mid-terms 
Studying for Midterms can be stressful. Here are 5 tips to help you be more successful.
Put Your Phone Away

– Putting your phone away will lessen the distractions and make your study session more productive.

 

Study in 20-30 Minute Blocks of Time Utilizing 10-minute Breaks

– Longer is not better. Shortening your study time keeps you from overloading your brain. Take a short 10-minute break in between your sessions. Use that time to get a snack or check your phone quickly.

 

Use Flashcards for Key Terms

– Flashcards are a great way to increase repetition, so you remember the material.

 

Test Yourself with Practice Questions

– Practice questions are a great way to test how well you know the information and encourages practicing the answers.

 

Utilize Study Rooms –

There are many spaces on campus you can use to minimize distractions. Study rooms reinforce to the brain it is time to study.

 
Follow Us on Instagram 
Stay connected to the DRC by following our Instagram cpp_drc.
Learning Resource Center 
Students who are registered with the DRC get extended tutoring sessions at the Learning Resource Center. Make your appointment through the online system and email LRCscheduling@cpp.edu and let them know you are registered with us. They will extend the time for you. Other services at the LRC include: the writing center, academic skills coaching, and various workshops.
Join the NeuroDiverse Student Alliance 
The NeuroDiverse Student Alliance is a peer support group committed to recognizing and validating the unique experiences of students with disabilities. We aim to contribute to an inclusive campus community that recognizes disability as a part of diversity and promotes a sense of belonging for all students. 
Meetings: Bi-Weekly Starting 9/23/22-12/2/22, Friday's from 1:00-2:00pm.
Take a moment to RSVP on myBAR.
Peer Mentor Program 
We are excited to announce that the Peer Mentor Program for the DRC will be starting again soon. Watch our social media and newsletters for more information in the future. 
Quote of the Month 
"There is something so special in the early leaves drifting from the trees-as if we are all to be allowed a chance to peel, to refresh, to start again." - Ruth Ahmed
---
Printable version (accessible version is available as text above)