Newsletter

---
September 2023
 Accessible versions of this and past Newsletters are available in the All Issues section below.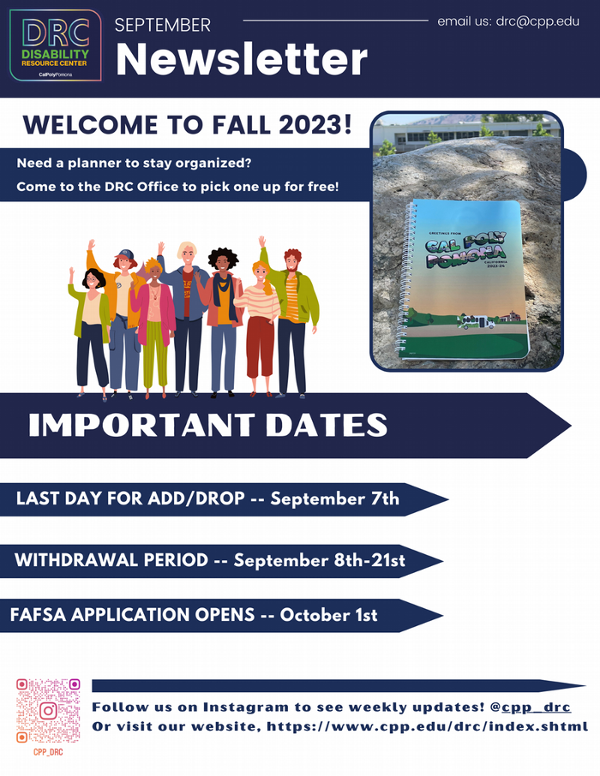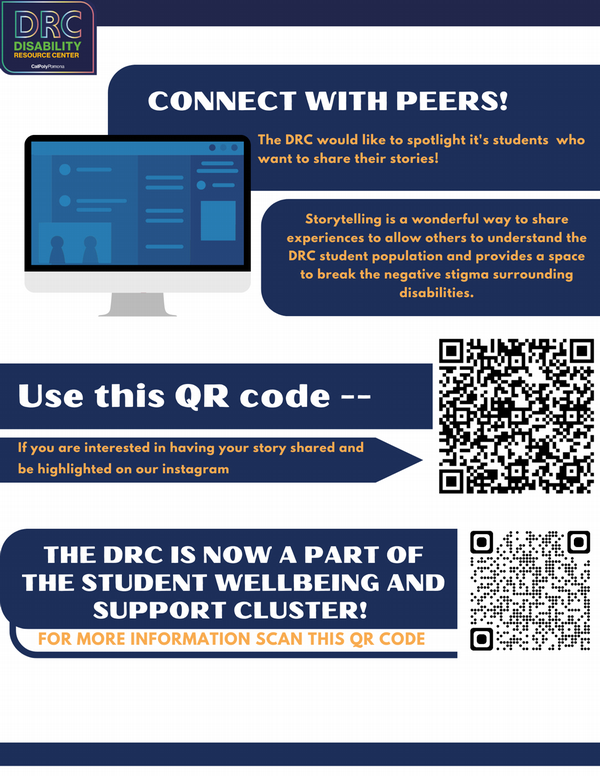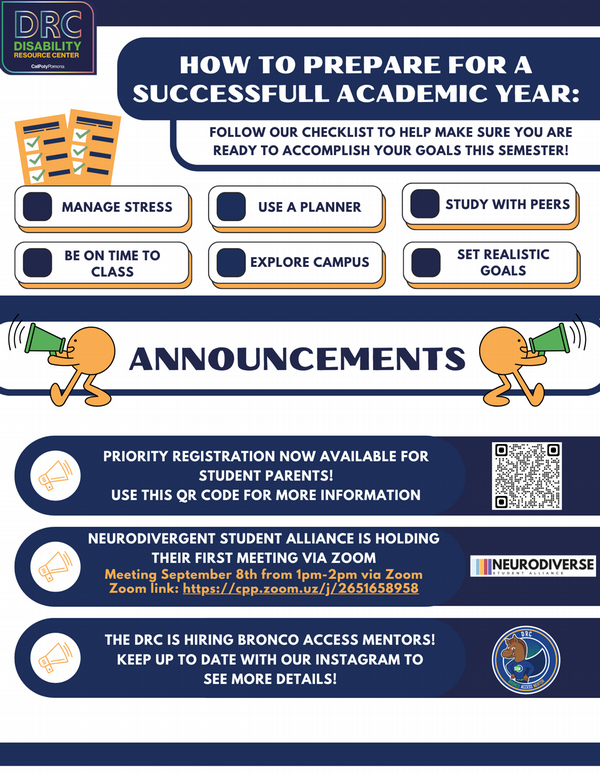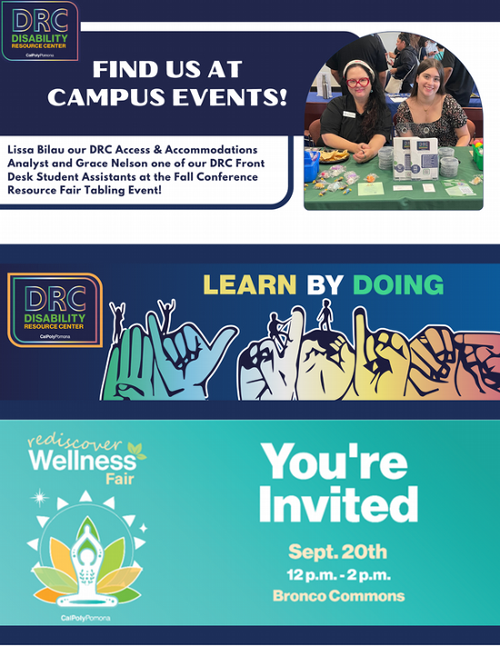 All Issues
Welcome to Fall 2023!
Need a planner to stay organized? Come to the DRC Office to pick one up for free! 
Important Dates
Last Day for Add/Drop is September 7th 
Withdrawal Period is from September 8th-21st 
FAFSA Application Opens October 1st 
Follow us on Instagram to see weekly updates! @cpp_drc or check out our DRC website regularly
Connect with Peers
The DRC would like to spotlight its students who want to share their stories! 
Storytelling is a wonderful way to share experiences to allow others to understand the DRC student population and provides a space to break the negative stigma surrounding disabilities. 
If you are interested in having your story shared and be highlighted on our Instagram complete Student Spotlight Interest Form. 
The DRC is now a part of the Student Wellbeing and Support Cluster
For more information check out the Student Wellbeing and Support website. 
How to Prepare for a Successful Academic Year
Follow our checklist to help make sure you are ready to accomplish your goals this semester. 
Manage Stress

 

Be on Time to Class

 

Use a Planner

 

Explore Campus

 

Study with Peers

Set Realistic Goals

 
Announcements
Priority Registration is now Available for Student Parents
Review the Parenting Student Support website for more information.
Neurodivergent Student Alliance is Holding their First Meeting Via Zoom
Meeting September 8th from 1pm-2pm via Zoom 
Zoom link: https://cpp.zoom.uz/j/2651658958 
The DRC is Hiring Bronco Access Mentors
Keep up to date with our Instagram to see more details 
Find Us At Campus Events
Pictured: Lissa Bilau our DRC Access & Accommodations Analyst and Grace Nelson one of our DRC Front Desk Student Assistants at the Fall Conference Resource Fair Tabling Event! 
You're Invited!
Rediscover Wellness Fair 
September 20th 
12PM-2PM 
Bronco Commons 
May Newsletter 2023
What's New?

Logo
Cap & Gown from Care Center!
Testing & Notetaking Coordinator

April Recap
Mental Health Awareness Month
Important Dates
Miscellaneous

Upcoming + Social Media
Opt-in for DRC text reminders!
Tips!
What's New?
It is important to have accessibility and representation on the forefront, which is why we are introducing our new Logo! The incorporations of colors surrounding the letters DRC came directly from the disability pride flags created by Ann McGill, which each color represents a different type of disability. Our new logo reflects being part of the CPP community with the integration of school colors as well as the importance of inclusivity and the importance of diversity of disabilities. Red stands for physical, Gold for neurodivergence, White for invisible & undiagnosed, blue for psychiatric, and green for sensory disabilities.
Cap & Gown Program
The Cap and Gown program was created to provide regalia to students who demonstrate financial need through unanticipated expenses and have no financial resources available to cover the cost of a cap and gown. Complete the form before the deadline: May 15th or until funds exhausted.
Meet Our New Testing and Notetaking Coordinator!
Alejandra Rodriguez
About: CPP Alumni and first-gen college student! Bachelor's in Business Management, currently enrolled for a Master's in Organizational Leadership
Loves: Local flea markets and pop-up markets to support small businesses. Enjoys reading and binge-watching tv series, and going on short trips to Disneyland
Favorite Spots on Campus: Starbucks & The Kellogg House
April Recap
Fraternity and Sorority Spring Fair – April 4th., 2023 & April 13th, 2023
Finals Prep & Boba Workshop – April 6th, 2023
New Student Admissions Tabling – April 15th, 2023
Mental Health Awareness Month
Mental Health Awareness Month was established in 1949 and aims to increase awareness of the importance of mental health and wellness and the impact it has on the physical, emotional, and mental well-being of each and every single individual.
Resources
Click the hyperlink logo on the left to access Mental Health First Aid's page to all mental health resources available to you.
May is National Mental Health month. May is National Mental Health Month / Youth.gov. (n.d.). Retrieved April 19, 2023.
Important Dates
Summer Session
10-week session: May 31st-August 4th
5-week session I: May 31st-June 30th
5-week session II: July 6th-August 4th
Summer Finals
10-week finals: August 7th-August 11th
5-week session I: July 3rd-July5th
5-week session II: August 7th-8th
Holidays
Memorial Day: May 29th
Independence Day: July 4th
Miscellaneous
Upcoming Events (CAPS)
Opt-In for Text Reminders!
Students can opt-in to get DRC text message reminders for appointments, scheduled test, and more. To opt-in follow the steps below.
Log-in to myDRC.
Click on SMS (Text Messaging), update preference.
Specify your phone provider and type of reminders that you would like to receive.
A confirmation text message will be sent to your phone.
You can cancel Text Messaging (SMS) enrollment on the same page if you no longer want to receive text messages.
Finals Tips
Happy World Autism Awareness Month!
The Autism Society hosted one of its first nationwide awareness campaign called National Autistic Children's Week in 1972, which subsequently evolved into the Autism Awareness Month recognized in April.
"it's okay to be different."
Newsletter Contents
Check this out!

Free Buttons and Bronco Access Mentors

Important Deadlines

Advising Period, Fall Class Registration Period, Withdrawal Deadline, DRC Finals Deadline

Miscellaneous

Free webinars, Tip of the Month, Social Media, DRC Spotlight
Check this out!
01. Free Buttons!
Head over to the DRC to receive free buttons of your choice made by Lissa Bilau, our lovely Access & Accommodations Analyst!
02. Bronco Access Mentors
Our mentors are here to equip you with the appropriate skills, such as time management, studying and notetaking skills, advising support, self regulation skills, and more, for your personalized academic success. Scan the QR Code to schedule an appointment!
Deadlines
Fall Priority Registration – April 10
Fall General Registration April 12
Withdraw from Spring classes due to a compelling reason – April 21
Spring 2023 DRC Finals Test Request Due – May 1
End of Fall Registration – June 06
DRC Reminder Deadlines
Schedule Testing Accommodations at least 5 days in advance!
Visit the DRC Website
Click on "DRC Online Services (myDRC)" on the left
Click on "Alternative Testing" under "My Accommodations" on the bottom left
Choose classes and submit "Alternative Testing Forms"
For more information, please check-out our testing accommodations tutorial.
Don't forget to schedule your DRC Finals by May 1st!
Miscellaneous
Mindspring: Mental Health Alliance
Click here for all free webinars & events
April 11th: Understanding Dissociative Identity Disorder
April 12th: Understanding Oppositional Defiant Disorder; Understanding Cutting & Self- Harm
April 13th: Understanding Suicide
April 18th: Relationships, Family, and Mental Health
April 19th: Understanding Loneliness; Understanding Anxiety
April 20th: Understanding Personality Disorders
April 24th: Managing emotions through Connection
April 25th: The Science Behind Mental Health
April 26th: Self-Care & Wellbeing - Being a Better Person for Yourself and Others, Understanding Grief
April 27th: Empowering Loved Ones
Tip of the Month
Try the Feyman Technique!
Write the subject/concept on top of a sheet of paper
Explain topic in your own words as if you were teaching someone
Review what you wrote and identify any areas where you were wrong. Then, figure out the correct answer.
Simplify any complexities.
Get featured on our Instagram!
Fill out this form if you would like to get featured on our Instagram!
Follow Us!
Follow us on Instagram @cpp_drc