Tenure Track Assistant Professor in Astronomy and Astrophysics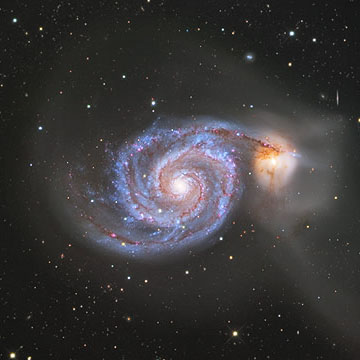 The Department of Physics and Astronomy at California State Polytechnic University, Pomona (Cal Poly Pomona) invites applications for a tenure-track position at the rank of Assistant Professor to begin in Fall 2018. We are searching for an observational astronomer or theoretical astrophysicist.
The Position:  The new faculty member will teach the full range (from introductory to advanced) of undergraduate classes in physics and astronomy, and will guide undergraduate student research. The position requires excellence in teaching and advising, professional and scholarly achievements, and service to the university. Applicants whose work incorporates a global perspective and a demonstrated commitment to diversity in higher education are particularly encouraged to apply.
Minimum Qualifications:
Ph.D. in physics, astronomy or a closely related discipline from an accredited university by August 2018.
Preferred/Desired Qualifications:
Teaching experience (at least at the teaching assistant level).
Evidence of independent scholarship.
Ability and desire to teach both introductory and advanced physics and astronomy classes, including a lab course on observational astronomy or computational astrophysics.
Experience involving undergraduate students in research.
Ability to collaborate with existing faculty.
Demonstrate a commitment to contribute, teach, and engage in a multicultural environment with a diverse student body.
Application Procedure: 
All applications must be submitted by e-mail no later than November 20, 2017 to astsearch@cpp.edu. 
Applicants should email one or more PDF files which include:
a cover letter that addresses the duties and qualifications articulated in the position description;
a curriculum vitae 
a list of publications
a statement of teaching experience and philosophy
a research plan, indicating how the candidate will involve undergraduates in their research
a Student Success Statement describing teaching or other experiences, successes, and challenges in working with a diverse student population (approximately one page, single-spaced)
a completed application form (http://www.cpp.edu/~faculty-affairs/documents/acadapplication_feb2017.pdf)
the names, titles, addresses, and telephone numbers of at least three individuals who can speak to the candidate's potential for success in this position. Please arrange for three of these individuals to send signed, PDF-format letters of reference to the e-mail address above. 
Initial screening can begin without the letters of reference, but they must be received to advance to finalist status. Official graduate transcripts showing highest degree earned will also be required of all finalists.
In case of questions, please contact Dr. Matthew Povich, search committee chair, at mspovich@cpp.edu or (909) 869-3608.
The Department
The Cal Poly Pomona Department of Physics and Astronomy is one of the largest in the Cal State University (CSU) system, and focuses entirely on undergraduate education, from classroom instruction, to advising, to research. The Department serves about 250 Physics majors and thousands of other students through its service and general education courses.
Faculty members maintain active research programs that provide hands-on learning opportunities for undergraduates. The department currently has 11 tenured/tenure track faculty with interests in a variety of areas of Physics and Astronomy and a history of success in obtaining funding from NSF, NASA, and other external sources. Four current faculty members have research interests in astrophysics, including star formation, the ISM, H II regions, massive stars, black holes, relativity, cosmology, and astronomy education.
The University
Cal Poly Pomona, one of two polytechnic universities in California, is a member of the 23-campus CSU system. Our student population of approximately 23,000 enrolls in 51 baccalaureate, 30 master's degree programs, 11 credential and certificate programs, and a doctorate in Educational Leadership, presented by 1,200 faculty. We recruit successful and career-focused students from throughout California and beyond. We are proud of our status as an Hispanic-Serving Institution. We have a strong commitment to supporting scholarship, research, and student achievement. Our scenic and historic 1,400-acre campus, once the winter ranch of cereal magnate W. K. Kellogg, is located about 30 miles east of downtown Los Angeles in one of the most dynamic economic and cultural regions in the country, and within an hour's drive of beaches, mountains, and desert. The university is committed to diversifying its faculty and staff and has made educational equity one of its highest priorities. The mission of the university is to advance learning and knowledge by linking theory and practice in all disciplines, and to prepare students for lifelong learning, leadership, and careers in a changing, multicultural world. For additional information about the university, please visit our website at www.cpp.edu.
California State Polytechnic University, Pomona is an Equal Opportunity, Affirmative Action Employer. The University seeks to recruit and retain a diverse workforce as a reflection of our commitment to serve the people of California, to maintain the excellence of the University, and to offer our students richly varied disciplines, perspectives and ways of knowing and learning.  Cal Poly Pomona subscribes to all state and federal regulations and prohibits discrimination based on race, color, religion, national origin, sex, gender identity/gender expression, sexual orientation, marital status, pregnancy, age, disability, genetic information, medical condition, and covered veteran status.  The university hires individuals that have proof of eligibility to work in the United States. As required by the Clery Disclosure Act, the university's annual security report is available at https://www.cpp.edu/~police/annual-security-report.shtml. The person holding this position is considered a "mandated reporter" under the California Child Abuse and Neglect Reporting Act and is required to comply with the requirements set forth in CSU Executive Order 1083 as a condition of employment.