Students Hack Way to Top at MIT Competition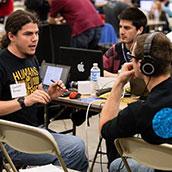 While most Cal Poly Pomona students began this school year getting back into the swing of things — buying books, adding or dropping classes and perusing syllabi — four of them were preparing for something else entirely. They were getting ready to hack MIT.
That's not to say they were going to be illegally accessing the Massachusetts Institute of Technology's computer networks for malicious mischief.
Electrical engineering students Ethan Chow and Garrett Porter and computer science students Bryan Thornbury and Rafael Rayo — collectively known as Project Coeus — were preparing for hackMIT, a hackathon, or collaborative programming competition, in which 1,000 students from around the country competed to craft the best program from scratch in less than a day.
"You're not supposed to build anything before you're there, but brainstorming is OK," says Chow. "There are actually no rules. They encourage you to use your imagination."
What the team envisioned was a mobile app that would collect location data from phones and create "trending places of interest" — hotspots on a map that shows where people are eating and hanging out.
"Oh, it's U-hour and I have nothing to do, let's pull out my phone and see what's going on," Chow says. "What we built is real-time big data analysis of the mobile user."
What the team didn';t plan on were some last-minute surprises.
"They set us up with hosts in the dorms," Thornbury says. "They gave us air mattresses and we just threw them on someone's floor. None of us even thought to bring pillows."
Then they found themselves facing a deadline that was much shorter than expected.
"Because of some logistical issues, they cut it from a 48-hour hackathon to a 24-hour hackathon," Chow says, "We sat in one seat for 24 hours. We only left to go to the bathroom."
In spite of that, the team managed to impress the judges sufficiently to be given the Best Use of Algorithms award, beating out competitors that included Yale, Stanford and Carnegie Mellon. "Top-notch engineering schools," Chow says.
Thornbury says the judges appreciated that the team processed large amounts of data efficiently and intelligently.
"We have tons of data. If algorithms aren't fast, we are losing that data," Thornbury says.
Their success was no fluke, Chow says. He credits Cal Poly Pomona's learn-by-doing educational model with giving him and his teammates the tools they needed.
"They (the other schools) were skilled in the sense of theoretical applications," he says. "But we can build things faster and better."
Their impressive showing also bumped up Cal Poly Pomona's ranking in the Major League of Hacking, an organization that organizes hackathons and provides student hackers with tools and resources. Cal Poly Pomona is now ranked 15th, ahead of Caltech, UC Berkeley and Princeton.
Thornbury says the event also offered the team a chance to network with students from other universities and many big-names in the tech industry, including Akamai, Pinterest and Mailchimp.
"It was awesome to see that community. To see so many like-minded people," Thornbury says. "All of us came out of it better programmers."
And they're now hoping to share that experience with the Cal Poly Pomona campus by organizing a local version of the event, which they have dubbed hackpoly.
"It's going to be a hackathon just for Cal Poly Pomona students," Thornbury says.
For more information on the event, which is scheduled for January, visit the hackpoly Facebook page. Visit the Major League Hacking website to see the entire list of rankings.
(Photo: Copyright 2013 Kevin Yiming Chen/hackMIT)