Alliance for Gradate Education and the Professoriate (AGEP)
2023 AGEP Retreat
This year's AGEP Retreat will be held on our own Cal Poly Pomona campus. The 2023 Retreat will allow participants in the 2022-2023 cohort to reflect upon their experiences, participants in the upcoming 2023-2024 cohort to have a strong start for their program, and bring participants from all cohorts together for community-building, networking, and resource sharing.
CSU Alliance for Diversity in STEM
The Center for the Advancement of Faculty Excellence (CAFE) at Cal Poly Pomona is working with collaborators from Cal Poly San Luis Obispo (SLO), CSU Fresno, and CSU Dominguez Hills on a 5-year project funded by the National Science Foundation (NSF) Alliance for Graduate Education & the Professoriate (AGEP) to support success for STEM faculty from historically minoritized and underrepresented groups.
We employ a culturally informed, strengths-based faculty development approach to support new faculty to bring their authentic selves to their roles. The program encourages new faculty to leverage their natural talents and strengths, embedded in social and cultural identities, to:
Enhance teaching experience and effectiveness
Increase research and grant activity
Create a strong professional networking community
The program components include training for tenured STEM faculty coaches, culturally informed strengths coaching, retreats and web-based workshops, and peer coaching for newly hired faculty. The total award is $2.6 million over 5 years.
We are currently recruiting coachees for the 2022/23 cohort.

Cal Poly Pomona Participants
Monica Palomo, Coach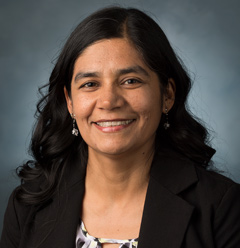 "I have always enjoyed supporting students and faculty in different ways, and I thought that it was just something fun that I liked to do. My participation with the AGEP team has immersed me in a journey that has allowed me to become cognizant of my natural strengths. What I used to informally call 'supporting others' has now become the active coaching approach that I am using deliberately to support the success and retention of underrepresented faculty in STEM. I am excited to be part of the multi-campus AGEP team that is promoting a culturally informed strengths mindset for personal and professional development across the CSU. I am grateful with CPP CAFE for inviting me to be part of this life time changing opportunity."

Mónica Palomo has been a faculty member in the Department of Civil Engineering since fall 2008. She holds a Civil Engineering degree from the University of Guanajuato, México, and her M.S. and Ph.D. degrees (both in Civil Engineering with Environmental emphasis) from Kansas State University. Through Cal Poly Pomona and professional associations, Mónica has been mentor/facilitator/coach in formal and informal mentoring programs to support the development of junior and mid-career faculty members. Her top 5 strengths are Achiever, Belief, Learner, Developer, and Connectedness.
Amy Dao, Coachee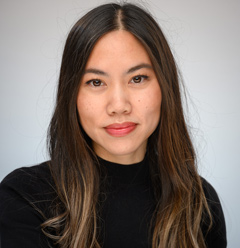 "It's been great to meet and exchange ideas with other CSU faculty who understand the nuances of being a person of color in the academy."

Dr. Dao is a sociocultural anthropologist who studies the cultural dimensions of health and economic life. Her current project examines how people in Vietnam become motivated to join the government's newly reformed health insurance program. Follow Amy on Twitter @amydao if you're interested in anthropology, global health, or health policy. Her top 5 strengths are Individualization, Learner, Input, Developer, and Achiever.
Zakkoyya Lewis-Trammell, Coachee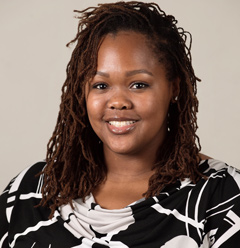 "My experience with the AGEP grant has helped me realize how I can take ownership of my strengths in any setting, whether that be within my department, in the classroom, or in my personal life."

Dr. Lewis-Trammell, Assistant Professor in Kinesiology and Health Promotion, is a first-generation college student with a Ph.D. in Rehabilitation Sciences. She is a certified athletic trainer (ATC), certified exercise physiologist (ACSM EP-C), and is credentialed in Exercise is Medicine. Her research combines exercise science with technology and health behavior science to promote physical activity among adults. Her top 5 strengths are Relator, Futuristic, Focus, Analytical, and Discipline.
Brian Ramirez, Coachee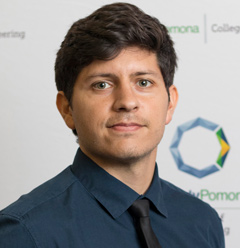 "The program has provided me with the opportunity to reflect on my strengths and how I can use them to become a more effective teacher and mentor!"

Dr. Ramirez is currently an Assistant Professor in the Mechanical Engineering Department. Before joining CPP, he was a postdoctoral scholar at Caltech and received his Ph.D. and Master's from UCLA and his Bachelor's from Cal Poly Pomona (Yes, he is a proud Bronco!), all in mechanical engineering. His top 5 strengths are Relator, Futuristic, Focus, Achiever, and Learner.
Helen Trejo, Coachee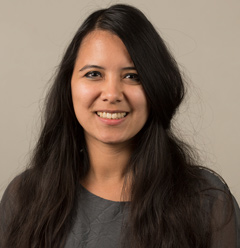 "It has been a great way to explore my strengths, how I have used them in the past, and how I can use them more effectively in the future."

Dr. Helen Trejo is an Assistant Professor in the Department of Apparel Merchandising & Management. She teaches textile science, apparel construction, and research courses. Her research explores the intersections of fibers, fashion, agriculture, technology, and economic development. She obtained her B.A. from UC Davis, her M.A., and Ph.D. from Cornell University. Her top 5 strengths are Learner, Achiever, Maximizer, Analytical, and Responsibility.

Cal Poly Pomona Grant Leadership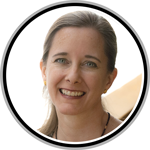 Victoria Bhavsar, Ph.D.
Director, Center for the Advancement of Faculty Excellence (CAFE)
Lecturer, Don B. Huntley College of Agriculture
Cal Poly Pomona PI

Victoria is certified as a strengths coach by the Gallup Organization. Her top 5 strengths are Input, Intellection, Relator, Connectedness, and Responsibility.

April Dawn, M.A.Ed.
Lead, Senior Instructional Designer & Faculty Development Consultant, Center for the Advancement of Faculty Excellence (CAFE)
Cal Poly Pomona Co-PI
April is certified as a strengths coach by the Gallup Organization. Her top 5 strengths are Achiever, Strategic, Futuristic, Responsibility, and Ideation.