Distinguished Alumni Award
The Distinguished Alumni Award is presented by the Cal Poly Pomona Alumni Association to honor those who have shown outstanding achievement in a profession or a vocation. Through their generosity, these alumni have also engaged in servicing local, national, or global communities and to their alma mater, Cal Poly Pomona.
2019 Distinguished Alumni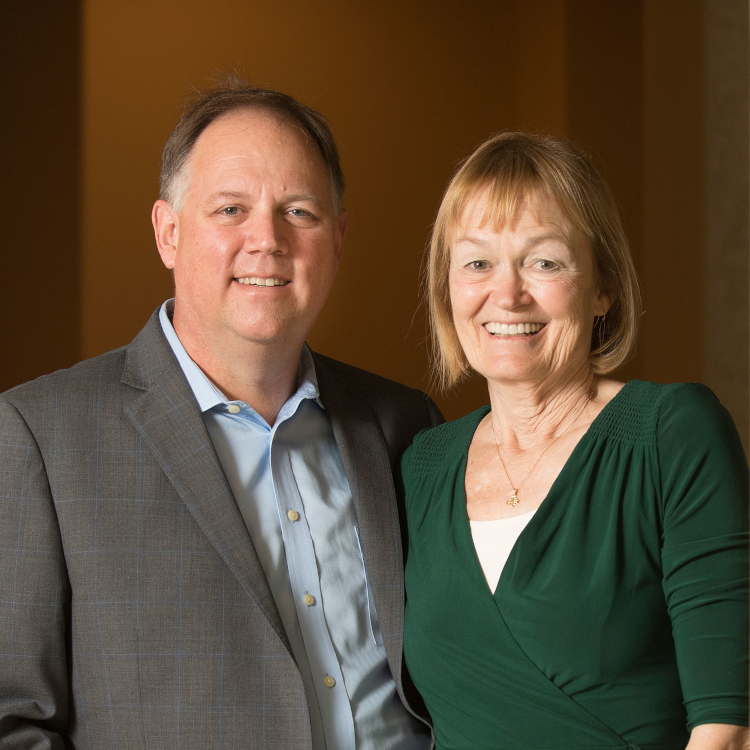 David Singelyn
Information Systems & Accounting, '84
Ruth Singelyn
Information Systems, '84
David and Ruth Singelyn graduated from Cal Poly Pomona's College of Business Administration in 1983 and 1984 and each has taken lessons learned at the university to thrive in their respective fields.
David earned bachelor's degrees in accounting and computer information systems. He started his career at Arthur Young & Company (now part of Ernst & Young LLP) and later served as controller of Winchell's Donut Houses. He currently is chief executive officer and a trustee of American Homes 4 Rent. For more than 25 years, he has held senior positions in private and publicly traded real estate companies, including as CEO and a director of American Commercial Equities, a private real estate company that owns and manages a portfolio of retail and office properties in California and Hawaii, and was president and a director of Public Storage in Canada. He remains a director of both ACE and PSC.
Ruth majored in information systems at Cal Poly Pomona. In May 2018, she earned a master's degree in psychology, with an emphasis in marriage and family therapy, from California Lutheran University (CLU) in Thousand Oaks. She is employed with CLU's Community Counseling Services as an associate marriage and family therapist. She also participates in clinic leadership with employees and therapist colleagues, and mentors new therapists completing master's degrees in counseling psychology at CLU.
"My positive, hands-on experience at Cal Poly Pomona led me to become a lifelong learner and to model this value to my family and community," Ruth says. "The computer information system program in the business school at CPP taught me several life skills that have helped me be successful personally and professionally. These include establishing my priorities, setting long- and short-term goals, and working hard both on a team and individually."
David and Ruth are active alumni of Cal Poly Pomona and "believe that in our current season of life it is time for each of us to give back to our community and to students pursuing a college degree," Ruth says. This includes David serving on Cal Poly Pomona's Philanthropic Board and the Dean's Advisory Council in the College of Business Administration. Ruth also volunteers with her church and other ministry areas.
Past Awardees
YEAR HONORED
FULL NAME
DEGREE
GRAD YEAR
2019
Ruth Singelyn
Information Systems
1984
2019
David Singelyn
Accounting & Information Systems
1984
2018
Diane G. Miller
Information Systems
1981
2017
Pawan Tomkoria
MBA
1984
2016
Lance K. Williams
Finance, Real Estate and Law
1991
2015
Marissa J. Andrada
Management & Human Resources
1989
2014
Joe Guerra
Finance, Real Estate and Law
1985
2013
A. Barry Hirschfeld
M.S. Business Administration
1964
2012
Victor Stenger Tanon
Finance, Real Estate, and Law
1994
2011
Mahvash Yazdi
Business Administration
1974
2010
John Finton
Finance, Real Estate, and Law
1989
2009
Lawrence Taff
Accounting
1980
2008
Kathy Lynn Tully
Marketing Management,
MBA
1976,
1980
2007
Steven P. Cesinger
Accounting
1985
2006
Viggo Butler
Business Administration
1964
2005
Bruce Ray
Business Administration
1965
2004
Dorothy L. Roberts
Business Administration,
M.S. Business Administration
1968,
1978
2003
D. Scott Mercer
Accounting
1976
2002
Lance Calvert
Marketing Management
1969
2001
Ronald W. Gregoire
Accounting
1974
1999
John B. Pollara
Accounting
1974
1998
Mark S. Segal
Accounting
1980
1997
Dennis Pope
Accounting
1980
1996
J. Douglas Ramsey
Finance, Real Estate, and Law
1982
1995
Douglas G. Wageman
Operations Management
1984
1994
Marie Porter Royce
Marketing Management,
Human Resources
1984
1993
Barbara A. Henderson
Accounting
1970
1991
Nolan H. Spencer
Accounting
1979
1990
Carolyn D. Beaver
Accounting
1979
1989
Donald N. Ecker
Accounting
1968
1988
Dudley W. Williams
Business Administration
1966
1987
Linda L. Holmes
Business Management
1982
1986
Joseph G. D'Oliveira
Accounting
1974
1985
Lolita G. Beltramo
Business Management
1969
1984
Richard A. Yardley
Data Processing
1971
1983
Alford B. Neely
Accounting
1972
1982
Frederick Gallegos
Data Processing
1972
1981
Duane C. Slocum
Business Administration
1963
1980
Karen Dillon
Business Administration
1971
1979
Jay Bonacci
Accounting
1963
1978
James R. Smirl
Business Administration
1970
1977
Clifton C. Booth
Business Administration
1964