FUELing young minds:
August 28, 2023
CBA partners with Avanade on fifth annual FUEL: Innovation, Technology and Leadership Conference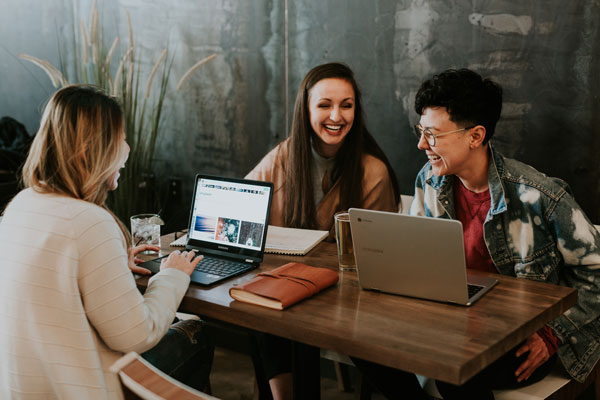 In a world where knowledge evolves at the speed of light, bridging the gap between academia and practical application is essential.
Recognizing this need, Cal Poly Pomona's College of Business partnered with pioneering technology and digital solutions company, Avanade, in 2019 to create the Avanade FUEL: Innovation, Technology and Leadership Conference, a unique space that helps attendees grasp the nuances of networking, convert theoretical concepts into practical projects, and learn essential career skills.
Now in its fifth year, the 2023 FUEL conference, held virtually this past June, has expanded from 150 CPP students to a global event that welcomed over 750 participants from more than 200 universities and institutions across the globe.
Drawing on this year's theme of "We are the change," the conference empowered participants to do what matters in a digital future, and covered relevant topics including AI, sustainability, inclusion and diversity, and personal development workshops.
A highlight of every FUEL conference is its hackathon. Working in teams, participants harness their creativity and technical prowess to address real-world issues. Their submissions are judged by a panel of Avanade employees and mentors, including Heba Ramzy, Avanade's Executive Global Citizenship Lead and Responsible Business Co-Lead, and Chair of CBA Dean's Advisory Board. Winners receive a year's worth of mentorship to transform their innovative concepts into market-ready applications.
This year participants could choose between two themes: Path to Net-Zero and AI-First World. The two winning teams created an AI-based tutoring app called "AInstein" and an "Education Advancement" app that applied artificial intelligence to educational advancement.
Dr. Laura Pohopien, CBA faculty and conference host, said, "Our Cal Poly Pomona Avanade STEM scholars have a unique opportunity to gain valuable career and professional development knowledge during the FUEL conference. They also get to connect with other scholars and interns from around the world. This shared career interest connects them, but it's their personal interactions that make this a very special conference."
The Avanade FUEL Conference stands as a testament to the power of collaboration, mentorship, and innovation. It embodies the spirit of transforming education into action, forging a path for the next generation of STEM leaders to shape the future. As the conference continues to evolve and touch lives across the globe, it reinforces the belief that with the right guidance and opportunities, young minds can ignite transformative change.