CBA hosts internationally recognized thought leader Professor Jagdish N. Sheth
August 21, 2023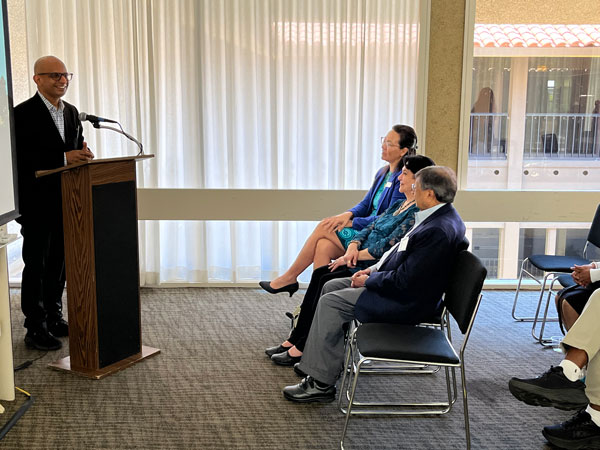 On August 8, the College of Business Administration (CBA) at Cal Poly Pomona welcomed renowned scholar and internationally recognized thought leader Jagdish N. Sheth and his wife, Madhu Sheth, to campus in connection with the Jagdish N. Sheth Award for Scholarly Excellence Celebration.
The event celebrated Sheth's scholarly contributions and recipients of the Jagdish N. Sheth Award for Scholarly Excellence. Established by Nirmal Sethia (professor emeritus in management and human resources) and Tara Sethia (professor emeritus of history, founding director of the Ahimsa Center, and the first Shri Shantinath Chair in Ahimsa Studies in CLASS), the financial award is given to meritorious CBA faculty with consistent and quality scholarly contributions during the previous five years.
Sheth, who is widely recognized for his contributions to the discipline of marketing, including consumer behavior, relationship marketing, competitive strategy, and geopolitical analysis, has published more than 300 research papers and more than 30 books on various disciplines and topics. He and his wife founded the Sheth Foundation, a nonprofit organization that supports emerging scholarship in marketing.
As part of the event, Sheth spoke about the growing responsibilities of business and society, the challenges and opportunities brought about by rapidly changing technology, and shared key concepts from his forthcoming book Seven Side Effects of the Digital Age.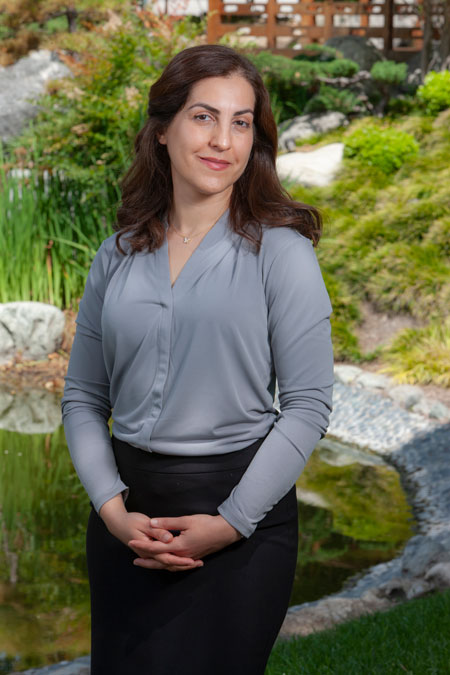 Following his talk, Nastaran Simarasl, associate professor in management and human resources (MHR) department and 2022-23 awardee, spoke about the importance of the award in supporting her research, which focuses on entrepreneurial processes among unique and understudied groups, including women and immigrants in hard-to-access contexts (the Middle East, Africa, and India). Simarasl thanked Sethia and Sheth for their contributions and support of faculty research.
Simarasl thanked Sheth for the prestige his name lends to her award, and she also thanked Sethia for encouraging faculty scholarship through the establishment of the Sheth Award in the College.
Below is a complete list of Jagdish N. Sheth Award for Scholarly Excellence awardees to date:
• Professor of Technology and Operations Management Yuanjie (Ed) He (2018-2019)
• Associate Professor of Computer Information Systems • Mohammad Salehan (2020-2021)
• Professor of Marketing Jae Min Jung (2021-2022)
• Associate Professor of Strategic Management and Entrepreneurship Nastaran Simarasl (2022-2023)
Visit the links below to learn more about Sheth and his work.
https://goizueta.emory.edu/faculty/profiles/jagdish-n-sheth